1
Welcome to the newly reauthorized National Integrated Drought Information System!
Drought is one of the most costly natural disasters affecting the U.S. Since 2006, NIDIS has promoted collaboration among government agencies regarding information about drought, and worked to provide the nation with a drought early warning system. On Thursday, March 6, 2014, President Obama signed into law the bipartisan legislation reauthorizing NIDIS through 2018.
NIDIS continues to pursue its goals of:
Leadership and networking for drought monitoring and forecasting
Research on risk assessment, forecasting, and management
Creating "early warning systems" for drought
Developing interactive systems to support these goals
Providing educational resources about droughts
Here on drought.gov, you will find a clearinghouse of drought-related materials including maps, tools, and information to help prepare for and mitigate the effects of drought.
2
Just how bad is the drought? New tool lets you compare present and past
The National Drought Mitigation Center's Drought Risk Atlas is a web-based tool that provides visualizations of historic drought data for specific locations. Users can find the station closest to their area of interest or a cluster of stations with similar precipitation attributes. The stations with the longest and most complete records, a minimum of 40 years, were used to compute drought indices.
Why a drought atlas? Every time there is a drought, people ask, "How does this drought compare … ?" and the comparisons are usually to the last drought, the drought of record for an area, or a significant historical drought that may even be from a different area. The answers to their questions, up to this point, have not been readily available for precise geographic locations.
Developers of the drought atlas recognize that not every drought index is ideal for every location. By providing several different indices with multiple time steps, the Drought Risk Atlas gives users a vast menu of options. They can decide which indicators and time steps are ideal for their location. Understanding drought history helps put current droughts and drought risk into perspective.
Explore the Drought Risk Atlas here.
3
Nov 15, 2013 - As part of the President's Climate Action Plan, the Administration is launching a National Drought Resilience Partnership (the Partnership). The Partnership will make it easier for communities to access the drought assistance they need by promoting strong partnership and information sharing at all levels of government. It will also build on existing efforts to provide States, Tribes and local communities risk-informed decision making tools for drought preparedness planning. The Partnership aims to align Federal drought polices across the government and help communities manage the impact of drought by linking information (monitoring, forecasts, outlooks, and early warnings) with drought preparedness and long-term resilience strategies in critical sectors such as agriculture, municipal water systems, energy, recreation, tourism and transportation.
4
New report documents changes in Navajo Nation lands, offers hope for resilience
In the Southwest, the decade of 2001-10 has been warmer than any of the previous 10 decades of the 20th century, with greater temperature increases during spring and summer, decreases in number of cold waves, and increases in number of heat waves.Since 1994, there has been an overall drought coupled with brief periods of wetness. During the past 2,000 years, there have been droughts more severe and longer than droughts in modern times. It is possible that the relative wetness of the previous century could have been an anomaly.
Rising temperatures, prolonged drought, increases in extreme weather events, and ecosystem changes have the potential to significantly alter the 27,000 square miles of Navajo Nation reservation lands. More than 170,000 people live in this arid region about the size of West Virginia.
The new report Considerations for Climate Change and Variability Adaptation on the Navajo Nation provides foundational information for planning for anticipated and proven challenges from climatic shifts on the Navajo Reservation. The report highlights potential and actual climate changes occurring in the Southwest and Four Corners region and presents an example of an adaptation planning and implementation process, applicable to any group facing disruption.
Read the report here. (pdf)
5
Early warning system on tap for vast Western basin vulnerable to drought and flood
More than 70 federal, state, tribal, academic, regional and national institutions met in Nebraska this February to discuss the current state of drought awareness, planning and capacity across the Missouri River Basin. The meeting was the first of a multi-year engagement process in the basin to better understand existing resources, vulnerabilities, impacts and priorities. The goal is to create a Drought Early Warning System (DEWS) incorporating drought monitoring and prediction information in partnership with federal, state, tribal and local agencies, organizations and other users.
Read the report here. (pdf)
6
7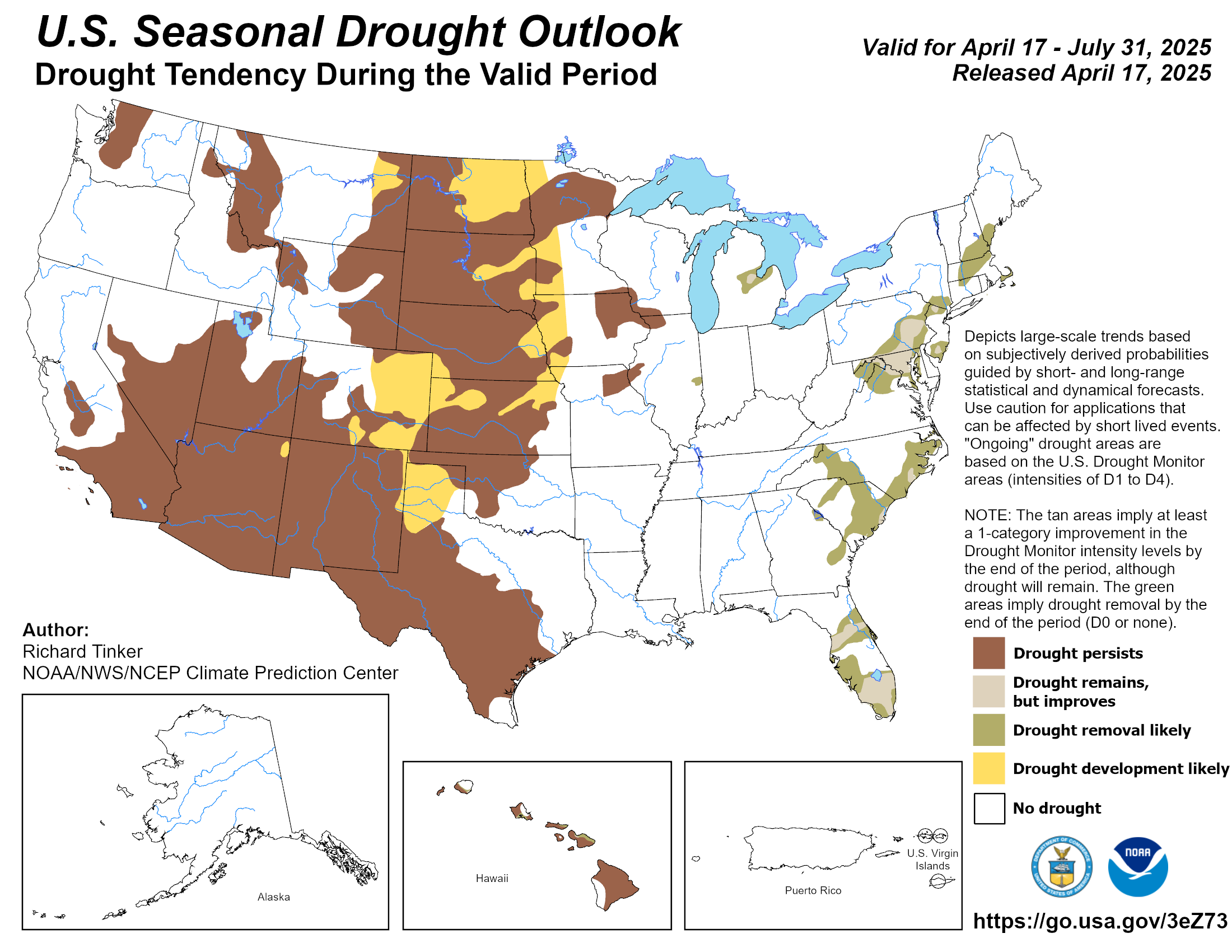 NIDIS Announcements
Thu, May 15 2014,

1:00pm

to

2:00pm
Thu, Apr 17 2014,

1:00pm

to

2:00pm
Fri, Apr 4 2014,

1:00pm

to

2:00pm
Thu, Mar 20 2014,

1:00pm

to

2:00pm
Drought in the News
Updated:
Mon, Apr 7 2014, 12:25pm
Updated:
Mon, Apr 7 2014, 2:57pm
Updated:
Mon, Apr 7 2014, 12:26pm
Updated:
Mon, Apr 7 2014, 2:38pm
Updated:
Mon, Apr 7 2014, 2:40pm
Updated:
Mon, Apr 7 2014, 2:42pm
Updated:
Mon, Apr 7 2014, 2:44pm