Where is the drought? Will it change? What are its impacts?
1
2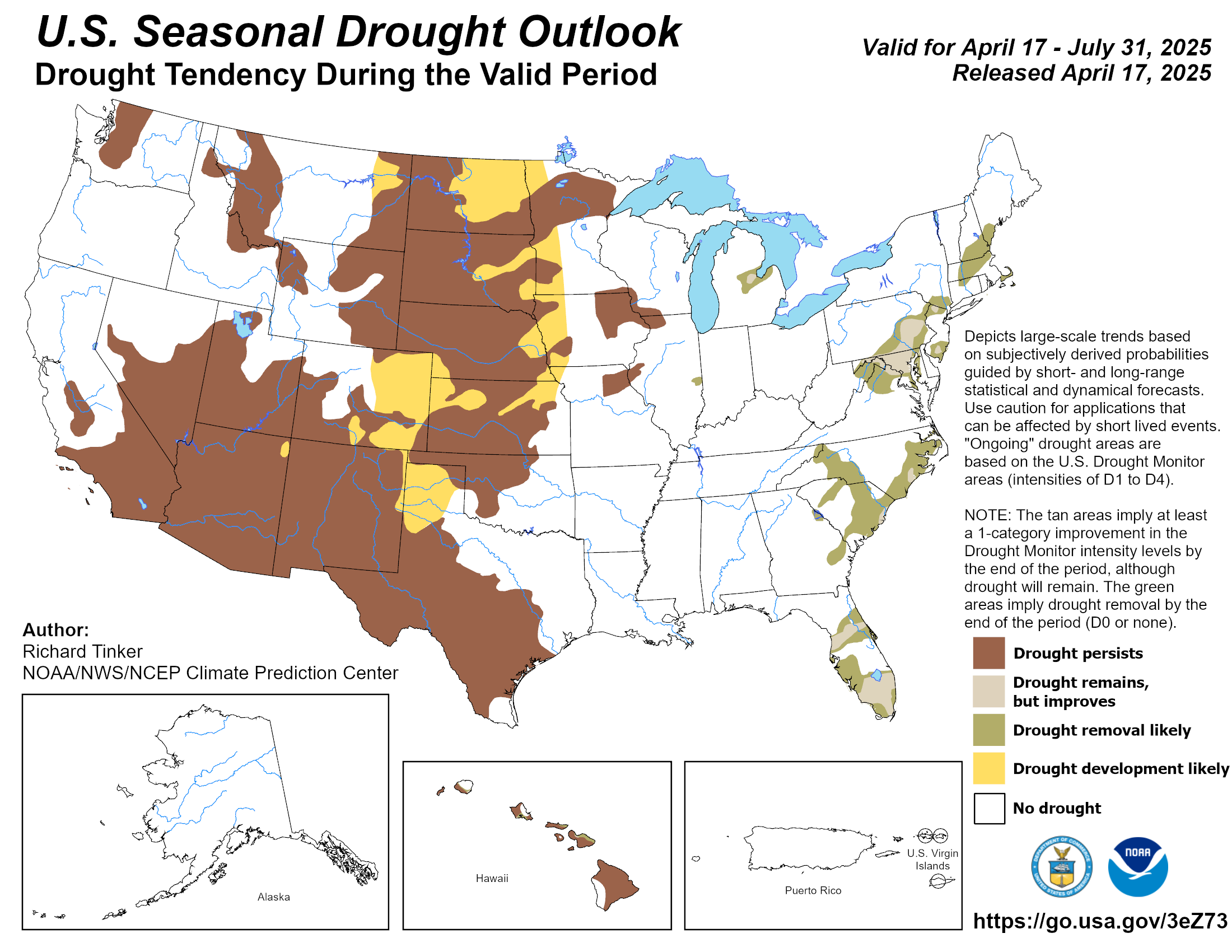 3
Reports from media, observers and other sources on drought impacts by state and county, by category, and by time period. >> Launch Site
4
Wildfire Risks
Wildfire risk is mostly normal for the continental U.S. However, long term drought coupled with increasing potential for offshore winds will keep potential elevated in California through October. >>Click for more information on US Wildfire
5
Summary of Drought This Week
As of June 30, 2015, drought (D1-D4) is impacting:
23.3% of the area of U.S. and 25.9% of the lower 48 states.
79.5 million people in the U.S. and 77 million people in the lower 48 states.
Much of the West experienced record high temperatures from June 23-30. The heat along with very dry conditions over the last 30 days has elevated the fire risk over much of the West. Rain fell and temperatures cooled from the Midwest into New England, and in Texas. Warmer than normal temperatures dominated the central Plains into the Dakotas.
For more information, see the narratives for the:
6
NIDIS in Your Region
Click for more information on NIDIS Regional activities
///// TRY OUT ZIP CODE APP DIRECTLY INSIDE SLIDER CODE ?>
Drought in your backyard
How is drought affecting you? Enter your zip code for current conditions:
New drought research center in Nebraska
NIDIS announces the establishment of the new Drought Risk Management Research Center at the National Drought Mitigation Center at the University of Nebraska-Lincoln. The center will focus on research to improve drought monitoring, impacts assessment and risk management in close partnership with NIDIS and its federal, state, tribal and local partners, domestically and internationally.
July 7: Stakeholder meeting for Southern California
NIDIS' California Drought Early Warning System will hold a drought outlook meeting on July 7 at Scripps Institution of Oceanography in La Jolla. The agenda includes the outlook, water supply topics, new tools, new indicators and more. For information, contact Julie Kalansky.
The DEWS recently summarized conditions, water supply impacts, and a history of California droughts describing the situation in Southern California for late spring 2015 in this 2-pager. Download the pdf.