Where is the drought? Will it change? What are its impacts?
1
2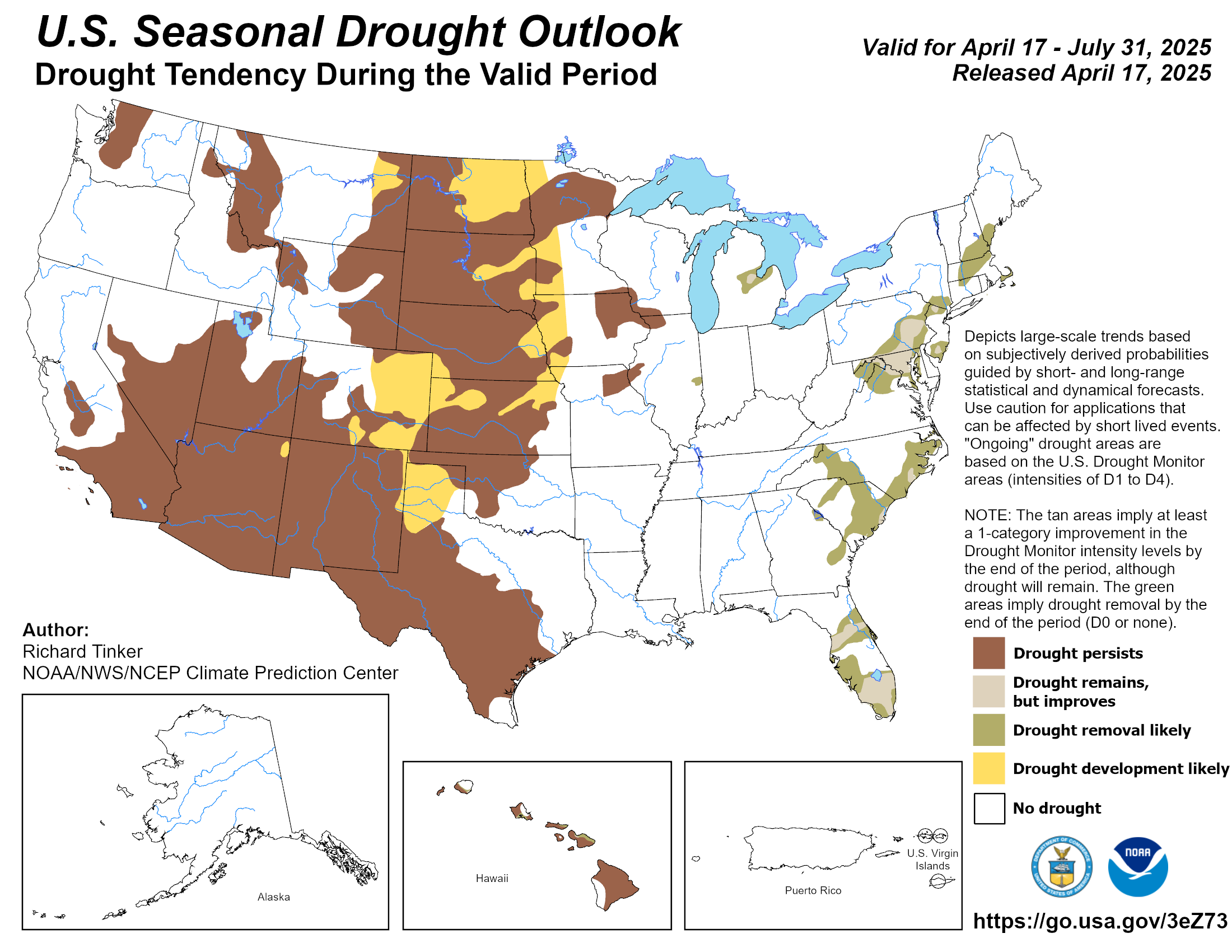 3
Reports from media, observers and other sources on drought impacts by state and county, by category, and by time period. >> Launch Site
4
Wildfire Risks
Wildfire risk is mostly normal for the continental U.S. However, long term drought coupled with increasing potential for offshore winds will keep potential elevated in California through October. >>Click for more information on US Wildfire
5
Summary of Drought This Week
As of Nov. 24, 2015, drought (D1-D4) is impacting:
18.3% of the area of U.S. and 21.9% of the lower 48 states.
80.7 million people in the U.S. and 78.7 million people in the lower 48 states.
Drought and abnormal dryness contracted over large parts of the country, a several storms dropped rain and snow over the past week. States affected included parts of Texas, Missouri, Mississippi, Illinois, northwest Kansas to central Nebraska, Iowa, Minnesota, and the western Great Lakes. One to three inches of precipitation fell across the Southeast, Tennessee Valley, and Upper Mississippi Valley, moving onto the East Coast. Rain and snow fell in the Pacific Northwest, and a yet another system left a blanket of snow across the Plains to the southern Great Lakes. Storm systems missed the Southwest and northern Plains. Virtually no precipitation fell across California, parts of Colorado, New Mexico, and Texas, with a tenth of an inch or less widespread across the northern Plains.
For more information, see the narratives for the:
6
NIDIS in Your Region
Click for more information on NIDIS Regional activities
///// TRY OUT ZIP CODE APP DIRECTLY INSIDE SLIDER CODE ?>
Drought in your backyard
How is drought affecting you? Enter your zip code for current conditions:
El Niño resources and regional outlooks, in one place
This year's El Niño phenomenon has implications for drought, favoring drier than average conditions for parts of the Pacific Northwest, Rockies, Great Lakes and Ohio Valley. NIDIS is collecting links and documents to offer insight into what this could mean for your region.
Read NIDIS fall newsletter, Dry Times
Inside this edition: Tribes partner to plan for drought; progress in snowpack monitoring; how climate variability modulates droughts; forecasting a crab fishery using freshwater flow data; indicators for coastal zone fire risk; where droughtbusters happen; a portrait of Pacific Northwest drought and more.
Download the pdf