Where is the drought? Will it change? What are its impacts?
1
2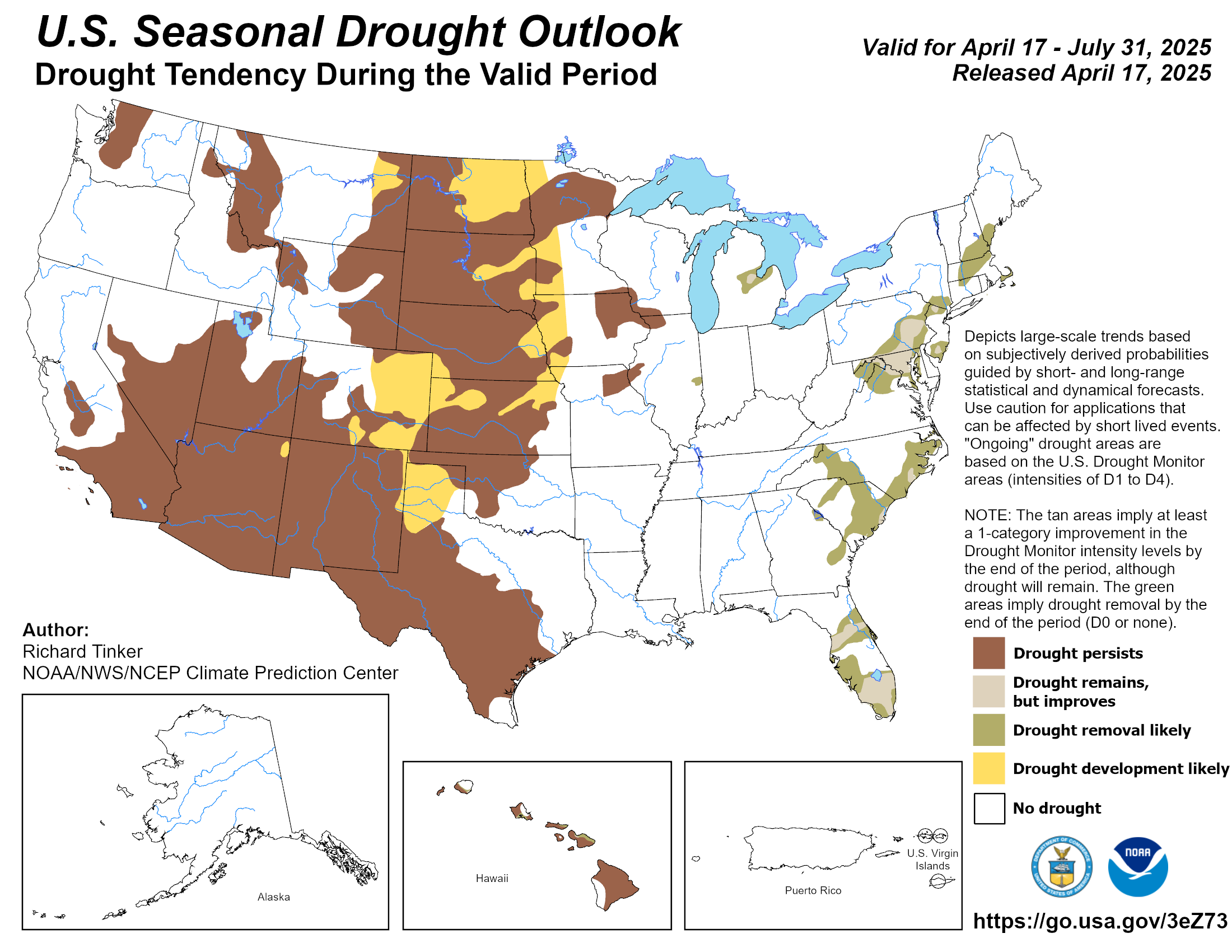 3
Reports from media, observers and other sources on drought impacts by state and county, by category, and by time period. >> Launch Site
4
Wildfire Risks
Wildfire risk is mostly normal for the continental U.S. However, long term drought coupled with increasing potential for offshore winds will keep potential elevated in California through October. >>Click for more information on US Wildfire
5
Summary of Drought This Week
As of May 19, 2015, drought (D1-D4) is impacting:
26.4% of the area of U.S. and 31.5% of the lower 48 states.
89.1 million people in the U.S. and 88 million people in the lower 48 states.
Nearly coast-to-coast storminess reduced drought's footprint across the nation's mid-section from May 13-19. In the Northeast, another mostly dry week raised concerns about lack of soil moisture and declining streamflows. Cool, wet weather in the upper Midwest provided much-needed moisture, and precipitation in the West boosted topsoil moisture, aided winter grains, and reduced irrigation requirements. Beneficial showers dampened parts of California and Nevada, but failed to dent the Far West's serious hydrological drought.
For more information, see the narratives for the:
6
NIDIS in Your Region
Click for more information on NIDIS Regional activities
///// TRY OUT ZIP CODE APP DIRECTLY INSIDE SLIDER CODE ?>
Drought in your backyard
How is drought affecting you? Enter your zip code for current conditions:
NIDIS spring newsletter: Snowpack, research, California drought and more
24 pages of drought news include a conversation about snowpack in the West; reports on research in drought predictions, La Nina and heat waves; assessing the predictability of the California drought; evaluating the success of the monthly drought outlook; an introduction to the NIDIS Working Group co-chairs; a list of 15 research projects underway and more.
NOAA identifies tactics, strategies to improve drought science, forecasts, data
Using feedback from more than 100 stakeholders and employees, NOAA released a service assessment that identifies tactics and strategies the agency can take to better provide California decision makers with the scientific data and tools they need to lessen the impacts of extreme drought. The NOAA California Drought Service Assessment contains more than three dozen findings and recommendations.