Where is the drought? Will it change? What are its impacts?
1
2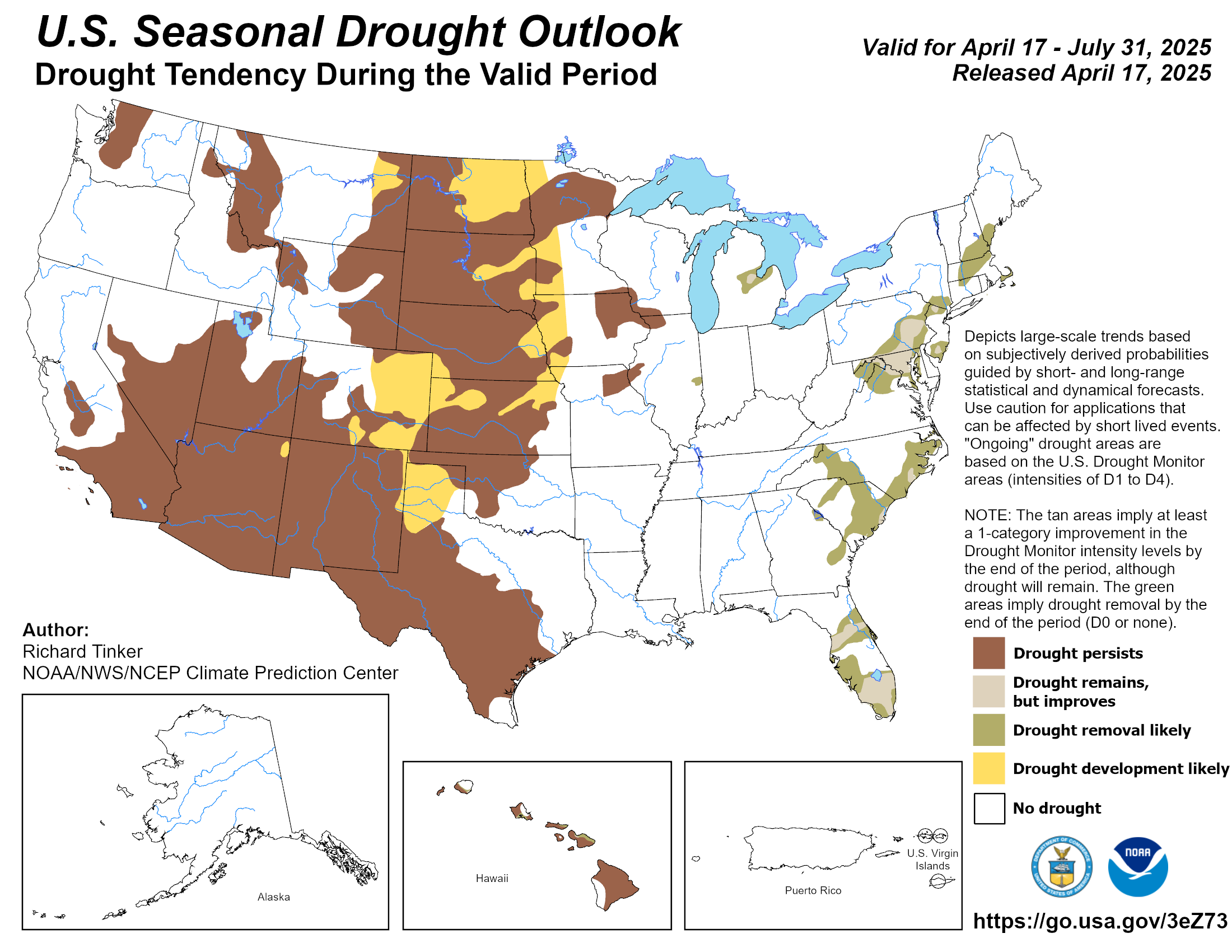 3
Reports from media, observers and other sources on drought impacts by state and county, by category, and by time period. >> Launch Site
4
Wildfire Risks
Wildfire risk is mostly normal for the continental U.S. However, long term drought coupled with increasing potential for offshore winds will keep potential elevated in California through October. >>Click for more information on US Wildfire
5
Summary of Drought This Week
As of March 3, 2015, drought (D1-D4) is impacting:
26.7% of the area of U.S. and 31.8% of the lower 48 states.

73.4 million people in the U.S. and 73.0 million people in the lower 48 states.
This U.S. Drought Monitor week saw a series of storms deliver much-needed rain and mountain snow to portions of the Southwest. Significant snowfall accumulations were observed in the mountains of northern Arizona, southwestern Colorado, northern New Mexico, and southwestern Utah helping to improve snowpack conditions. In the Northeast, snow showers and cold temperatures persisted. Average temperatures east of the Continental Divide were well below normal.
For more information, see the narratives for the:
6
NIDIS in Your Region
Click for more information on NIDIS Regional activities
///// TRY OUT ZIP CODE APP DIRECTLY INSIDE SLIDER CODE ?>
Drought in your backyard
How is drought affecting you? Enter your zip code for current conditions:
February national drought outlook features snowpack conditions in the West
The 2-page update shows how drought conditions have changed over the past year; the outlooks for drought, temperature, precipitation and wildfire through May; and how snowpack in the Northwest was far below the median despite near-normal precipitation since Oct. 1.
Webinar series features Western experts on water and drought management
Inspired by its Drought Forum initiative, the Western Governors' Association is presenting a five-webinar series examining the challenges of drought management. Topics include re-used, produced and brackish water; reducing municipal water consumption; the role of data in understanding and predicting dry conditions; managing forests for water resource needs; and how local approaches to hydrology and legal structures can be applied regionally.
More information and registration here.