Where is the drought? Will it change? What are its impacts?
1
2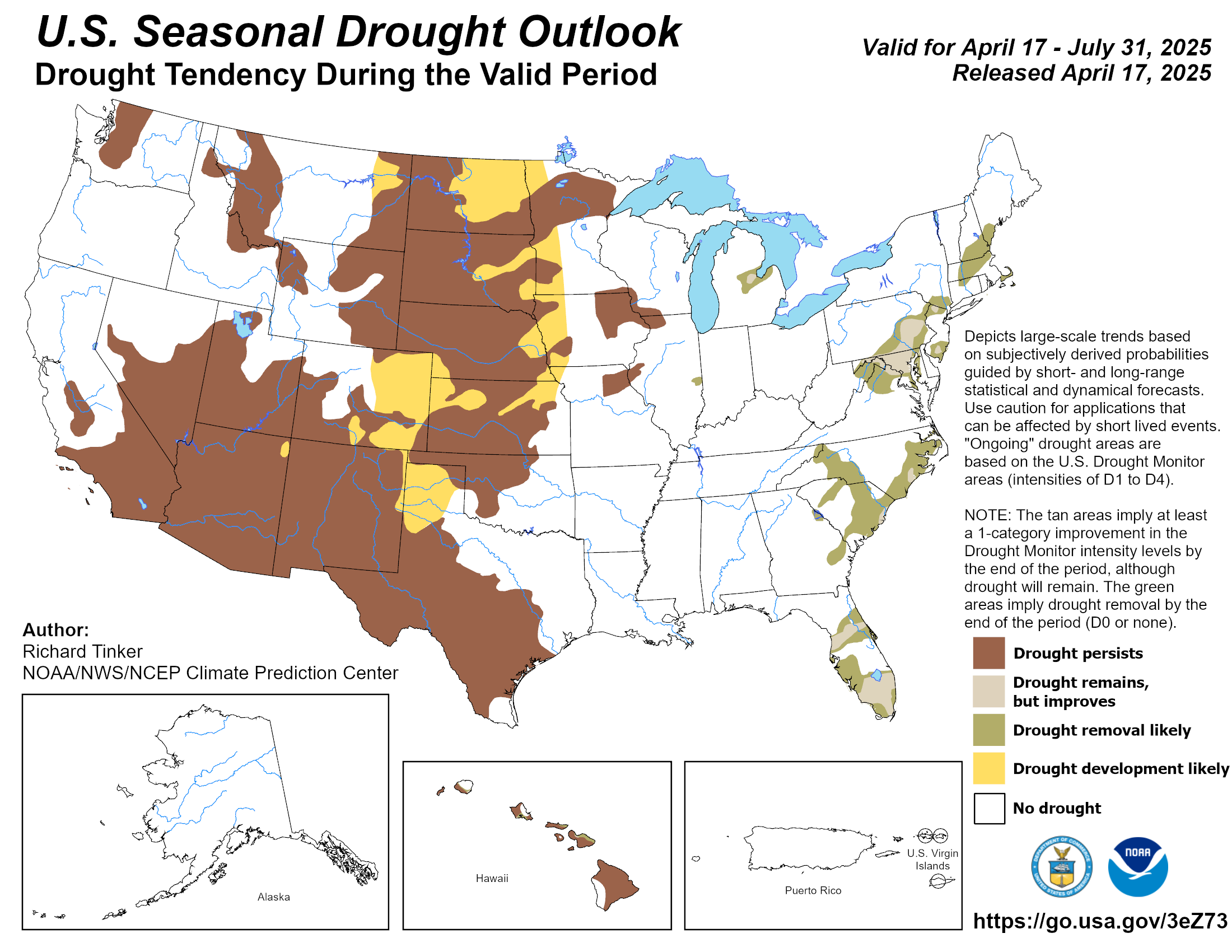 3
Reports from media, observers and other sources on drought impacts by state and county, by category, and by time period. >> Launch Site
4
Wildfire Risks
Wildfire risk is mostly normal for the continental U.S. However, long term drought coupled with increasing potential for offshore winds will keep potential elevated in California through October. >>Click for more information on US Wildfire
5
Summary of Drought This Week
As of March 24, 2015, drought (D1-D4) is impacting:
28.9% of the area of U.S. and 34.6% of the lower 48 states.
77.5 million people in the U.S. and 77.1 million people in the lower 48 states.
Rain across the southernmost portions of the nation provided drought relief, while dry weather maintained or worsened drought from California into parts of the Rockies, Plains, and Upper Midwest. In addition, above-normal temperatures further reduced already dire amounts of mountain snowpack over much of the West and accelerated pasture and crop-water demands in the nation's midsection. Dryness also increased in the Northeast, though below-normal temperatures mitigated the impacts of the precipitation deficits.
For more information, see the narratives for the:
6
NIDIS in Your Region
Click for more information on NIDIS Regional activities
///// TRY OUT ZIP CODE APP DIRECTLY INSIDE SLIDER CODE ?>
Drought in your backyard
How is drought affecting you? Enter your zip code for current conditions:
NOAA and the CA Water Action Plan: Partnership for resilience
NOAA and its partners have been providing
California with research, analyses, publications,
forecasts, communications and stakeholder
engagements to support drought preparedness,
mitigation and recovery.
NOAA's activities illustrate
its ongoing commitment to support the state in
addressing the issues and actions identified in the Water Action Plan.
Webinar series features Western experts on water and drought management
Inspired by its Drought Forum initiative, the Western Governors' Association is presenting a five-webinar series examining the challenges of drought management. Topics include re-used, produced and brackish water; reducing municipal water consumption; the role of data in understanding and predicting dry conditions; managing forests for water resource needs; and how local approaches to hydrology and legal structures can be applied regionally.
More information and registration here.