Where is the drought? Will it change? What are its impacts?
1
2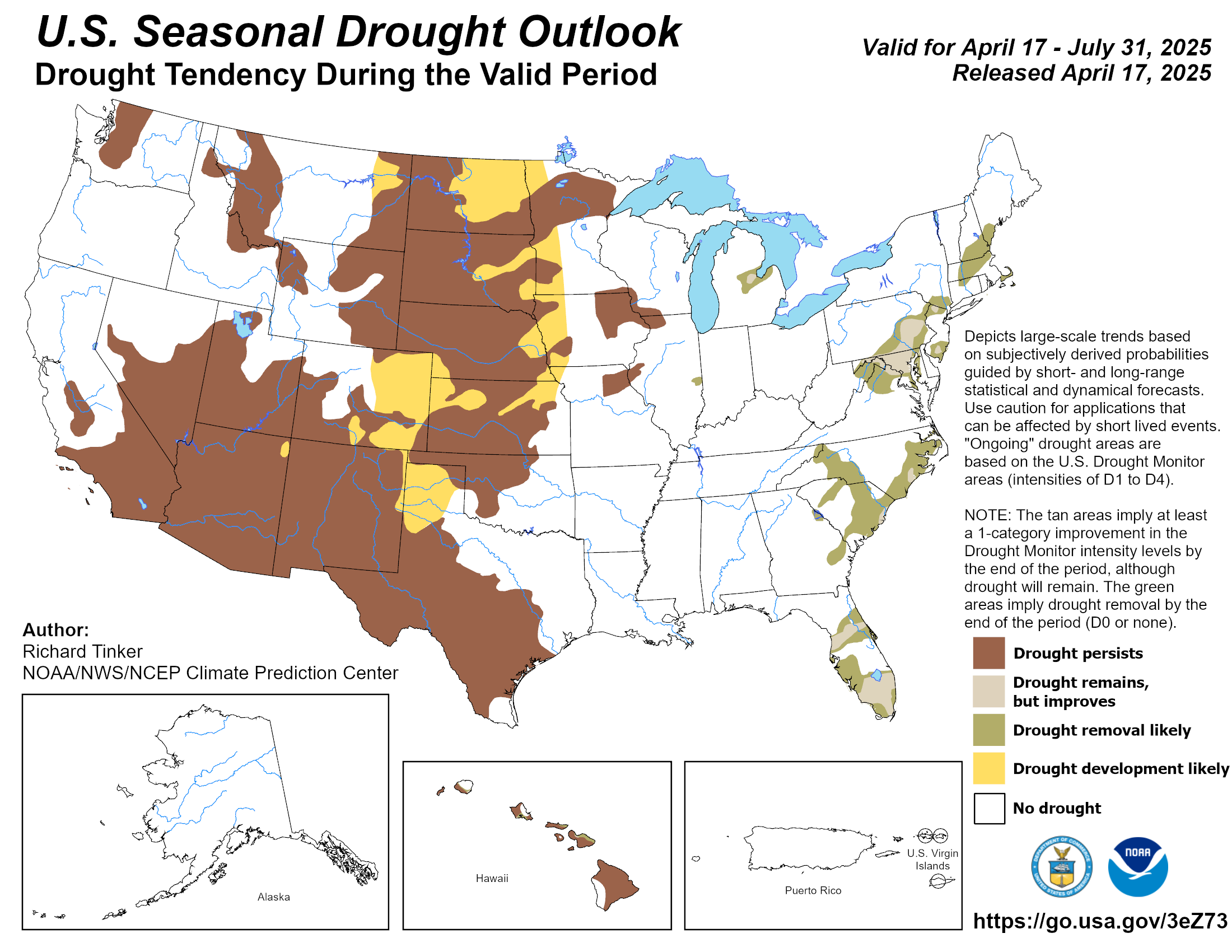 3
Reports from media, observers and other sources on drought impacts by state and county, by category, and by time period. >> Launch Site
4
Wildfire Risks
Wildfire risk is mostly normal for the continental U.S. However, long term drought coupled with increasing potential for offshore winds will keep potential elevated in California through October. >>Click for more information on US Wildfire
5
Summary of Drought This Week
As of Sept. 1, 2015, drought (D1-D4) is impacting:
28.4% of the area of U.S. and 30.4% of the lower 48 states.
100.7 million people in the U.S. and 97.1 million people in the lower 48 states.
Improvements in this week's depiction include areas of Alaska, Washington State, Minnesota, Iowa and Wisconsin. Degradations affected Louisiana, Arkansas, Mississippi, parts of the Northeast and East Coast, Nebraska, Oklahoma and North Carolina. States where conditions worsened in some areas and improved in others include Georgia, Alabama and Florida.
For more information, see the narratives for the:
6
NIDIS in Your Region
Click for more information on NIDIS Regional activities
///// TRY OUT ZIP CODE APP DIRECTLY INSIDE SLIDER CODE ?>
Drought in your backyard
How is drought affecting you? Enter your zip code for current conditions:
Western states drought coodinators, emergency managers confer in Seattle
More than 60 drought coordinators, emergency managers, climatologists, water managers and others met July 21-22 in Seattle to address drought-related issues throughout the West. Representing from states from Texas to Alaska, the group explored the array of ways they each monitor, respond to and plan for drought.
What does El Niño mean, really?
Simply put, El Niño is a warming of the ocean surface, or above-average sea surface temperatures (SST), in the central and eastern tropical Pacific Ocean. And it has potential implications for weather in the Western Hemisphere. What does that mean for you? NOAA's Climate.gov hosts a blog exploring the phenomenon.