Where is the drought? Will it change? What are its impacts?
1
2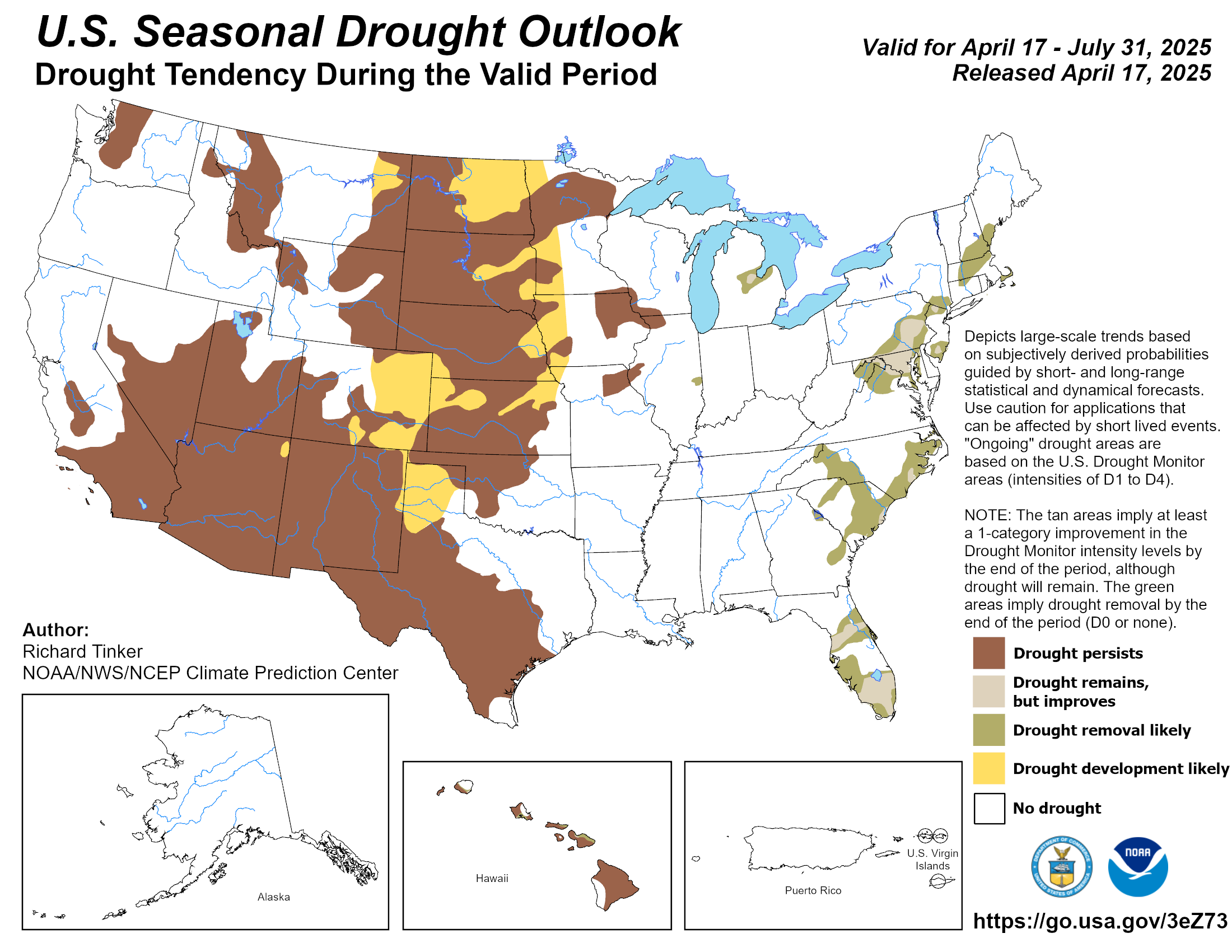 3
Reports from media, observers and other sources on drought impacts by state and county, by category, and by time period. >> Launch Site
4
Wildfire Risks
The likelihood for significant wildfire in September is above normal in parts of California and Oregon, and below normal in Hawaii, most of Florida, Kentucky, West Virginia, Virginia and northern Tennessee and North Carolina. >>Click for more information on US Wildfire
5
Summary of Drought This Week
As of Sept. 16,2014, drought (D1-D4) is impacting :
26.00% of the area of U.S. and 31.11% of the lower 48 states.
71.0 million people in the U.S. and 70.8 million people in the lower 48 states.
Following the 9th wettest summer on record for the U.S., drought decreased slightly across the country this week. Rains in the Southwest and into the Midwest alleviated drought conditions. The West Coast remains a hotbed for drought with all large fire activity occurring in that region this week.
For more information, see the narratives for the:
U.S. Drought Monitor
U.S. Drought Outlook
6
NIDIS in Your Region
Click for more information on NIDIS Regional activities
///// TRY OUT ZIPCODE APP DIRECTLY INSIDE SLIDER CODE ?>
Drought in your backyard
How is drought affecting you? Enter your zipcode for current conditions:
How many Americans are affected by drought?
The Drought Monitor shows where drought affects the U.S. and how many people drought touches as well. To find the statistics:
1. Click on a state or region on the map. On the page that pops up, under the table of figures, you'll see the total population affected by drought, and a brown button to click for more statistics. 2. Go directly to the population data archive. In the drop-down menu to the left of the key, select your state or region.
Behind drought in the West, and what to expect
How did this drought happen? What do temperatures and storms have to do with it? Will El Niño help? How does the drought compare to past droughts? The California Nevada Climate Applications Program (CNAP) explores these questions in a four-page guide to the 2014 drought. Download the document here or visit the CNAP website for more in-depth information on the two states.