1
2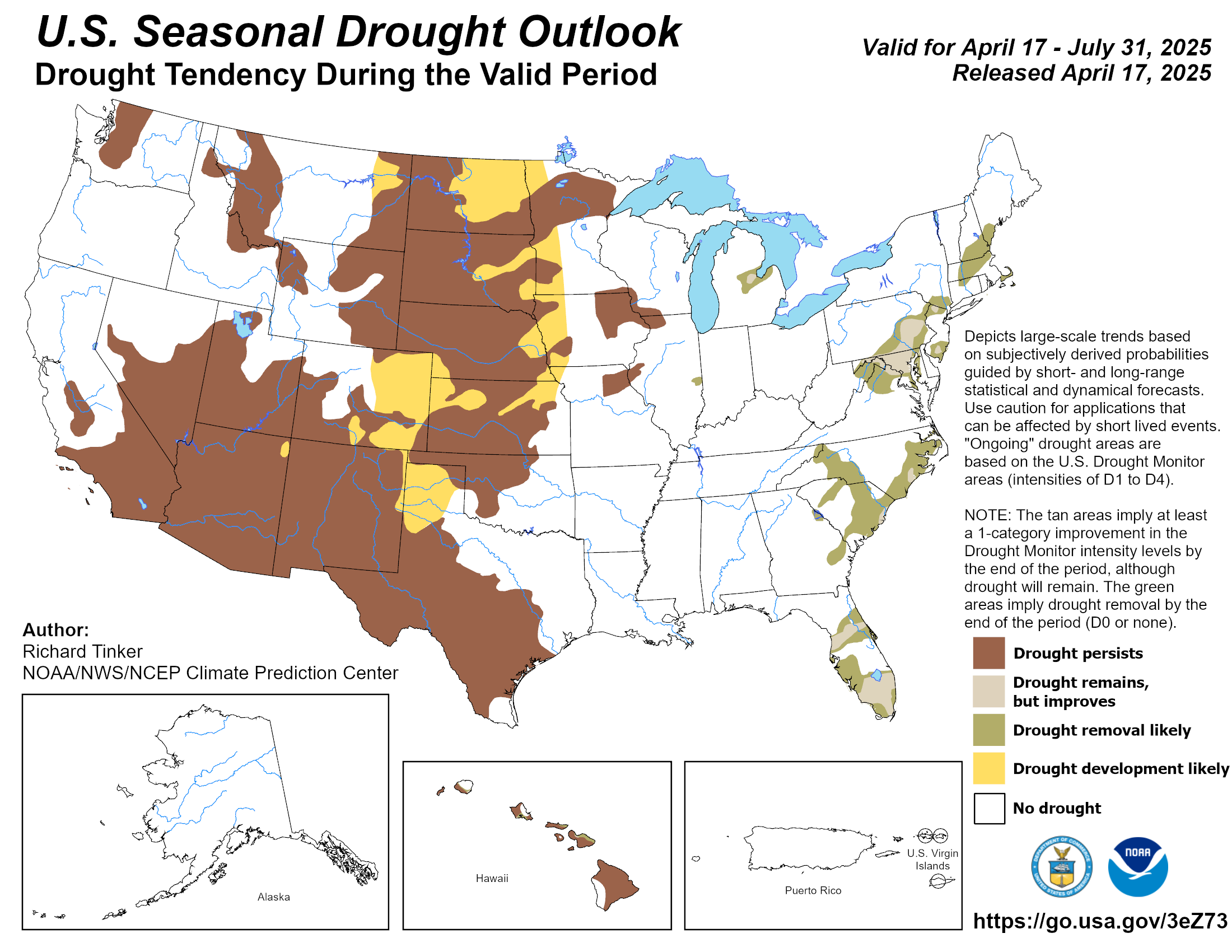 3
4
Big turnout for Texas Drought Forum
More than 200 people attended the Texas Drought Outlook and Assessment Forum in Wichita Falls on June 24. The agenda included (1) an overview of the current drought situation in north and west Texas, with a focus on the current state of water resources in the area; (2) summer, fall, and winter weather and climate forecasts and outlooks; and (3) presentations on monitoring, planning, and financial resources available to assist those whose organizational management is being impacted by the drought. Find the presentations here.
5
What do an oyster fishery in the Gulf of Mexico, fallowed lands in the Central Valley and salt in the estuaries of the Carolina coast have in common?
Stories on them all appear in the NIDIS newsletter for April 2014.
From Capitol Hill to California, NIDIS promotes research, information and actions which foster understanding, planning, mitigation and resilience in the face of drought. Our April 2014 newsletter, "Dry Times," opens a window on NIDIS' efforts this past year, featuring:
What the Senate committees heard from NIDIS: Explaining the science of drought and urging cooperation among federal agencies
Drought in California: Where things stand
How to restore the oyster fishery in Apalachicola Bay
Salinity's role in predicting coastal drought
Monitoring fallowed lands to help California manage its water bank
Evapotranspiration as a promising indicator for rapidly developing agricultural drought
NIDIS kicks off a drought early warning system in the Missouri River Basin
An interpretation of the 2012 drought in the Central Great Plains by NOAA's Drought Task Force
Developing an impacts reporting system with the Hopi Tribe
Tools for adaptation to changing climate in the Navajo Nation
… and more!
For comments and inquiries, contact Kathy Bogan, NIDIS Communications Specialist, at kathleen.bogan@noaa.gov.
Download pdf here.
6
What's Ahead for the Summer and Beyond: U.S. Quarterly Drought Outlook
This two-page summary looks at the likelihood of drought easing or intensifying; wildfire danger; drought disaster areas; the impact on hay, winter wheat and cattle in selected states; and chances for hotter than normal or wetter than normal conditions through September.
Download the pdf here
7
Nov 15, 2013 - As part of the President's Climate Action Plan, the Administration is launching a National Drought Resilience Partnership (the Partnership). The Partnership will make it easier for communities to access the drought assistance they need by promoting strong partnership and information sharing at all levels of government. It will also build on existing efforts to provide States, Tribes and local communities risk-informed decision making tools for drought preparedness planning. The Partnership aims to align Federal drought polices across the government and help communities manage the impact of drought by linking information (monitoring, forecasts, outlooks, and early warnings) with drought preparedness and long-term resilience strategies in critical sectors such as agriculture, municipal water systems, energy, recreation, tourism and transportation.
NIDIS Announcements
Thu, Oct 16 2014,

1:00pm

to

2:00pm
Thu, Sep 18 2014,

1:00pm

to

2:00pm
Thu, Aug 21 2014,

1:00pm

to

2:00pm
Tue, Aug 19 2014,

1:00pm

to

2:00pm
Drought in the News
Updated:
Mon, Aug 18 2014, 10:29am
Updated:
Mon, Aug 18 2014, 10:30am
Updated:
Mon, Aug 18 2014, 10:31am
Updated:
Mon, Aug 18 2014, 10:33am
Updated:
Mon, Aug 18 2014, 10:35am
Updated:
Mon, Aug 18 2014, 10:36am
Updated:
Mon, Aug 18 2014, 10:38am