Where is the drought? Will it change? What are its impacts?
1
2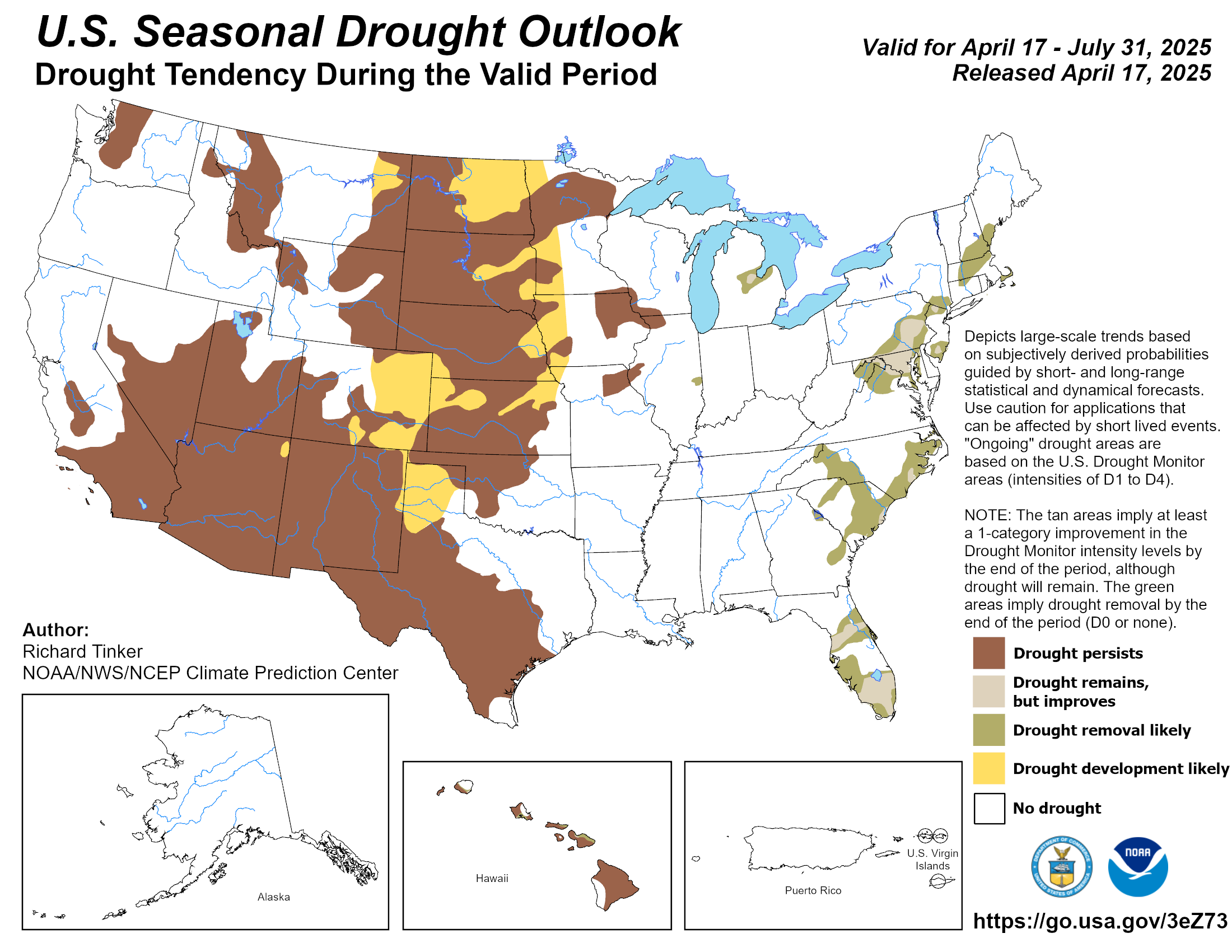 3
Reports from media, observers and other sources on drought impacts by state and county, by category, and by time period. >> Launch Site
4
Wildfire Risks
Wildfire risk is mostly normal for the continental U.S. However, long term drought coupled with increasing potential for offshore winds will keep potential elevated in California through October. >>Click for more information on US Wildfire
5
Summary of Drought This Week
As of July 21, 2015, drought (D1-D4) is impacting:
24.9% of the area of U.S. and 26.1% of the lower 48 states.
80.2 million people in the U.S. and 77 million people in the lower 48 states.
This U.S. Drought Monitor week saw improvements in New Mexico and Arizona, but little positive change elesewhere. Despite well-above-average precipitation in Southern California during the past 90 days, recent rainfall has had little impact on the overall drought situation. In the Pacific Northwest, above average temperatures and precipitation deficits continue to mount across the region with growing concern about potential crop losses. The Northern Plains eperienced slight deterioration due to lack of rain. In the Southeast, conditions continued to worsen in Alabama, Georgia, and South Carolina where excessive heat and lack of rainfall dried soils and reduced streamflows.
For more information, see the narratives for the:
6
NIDIS in Your Region
Click for more information on NIDIS Regional activities
///// TRY OUT ZIP CODE APP DIRECTLY INSIDE SLIDER CODE ?>
Drought in your backyard
How is drought affecting you? Enter your zip code for current conditions:
New drought research center in Nebraska
NIDIS announces the establishment of the new Drought Risk Management Research Center at the National Drought Mitigation Center at the University of Nebraska-Lincoln. The center will focus on research to improve drought monitoring, impacts assessment and risk management in close partnership with NIDIS and its federal, state, tribal and local partners, domestically and internationally.
Bouncing Back: Drought Recovery and Panning for the Next Texas Drought
This all-day workshop on August 4 in Henrietta, Texas, is for rangeland managers and advisors, featuring information on recovery, insurance options, and planning ahead to manage future droughts. Sponsored by the Managing Drought Risk on the Ranch program at the National Drought Mitigation Center.