Where is the drought? Will it change? What are its impacts?
1
2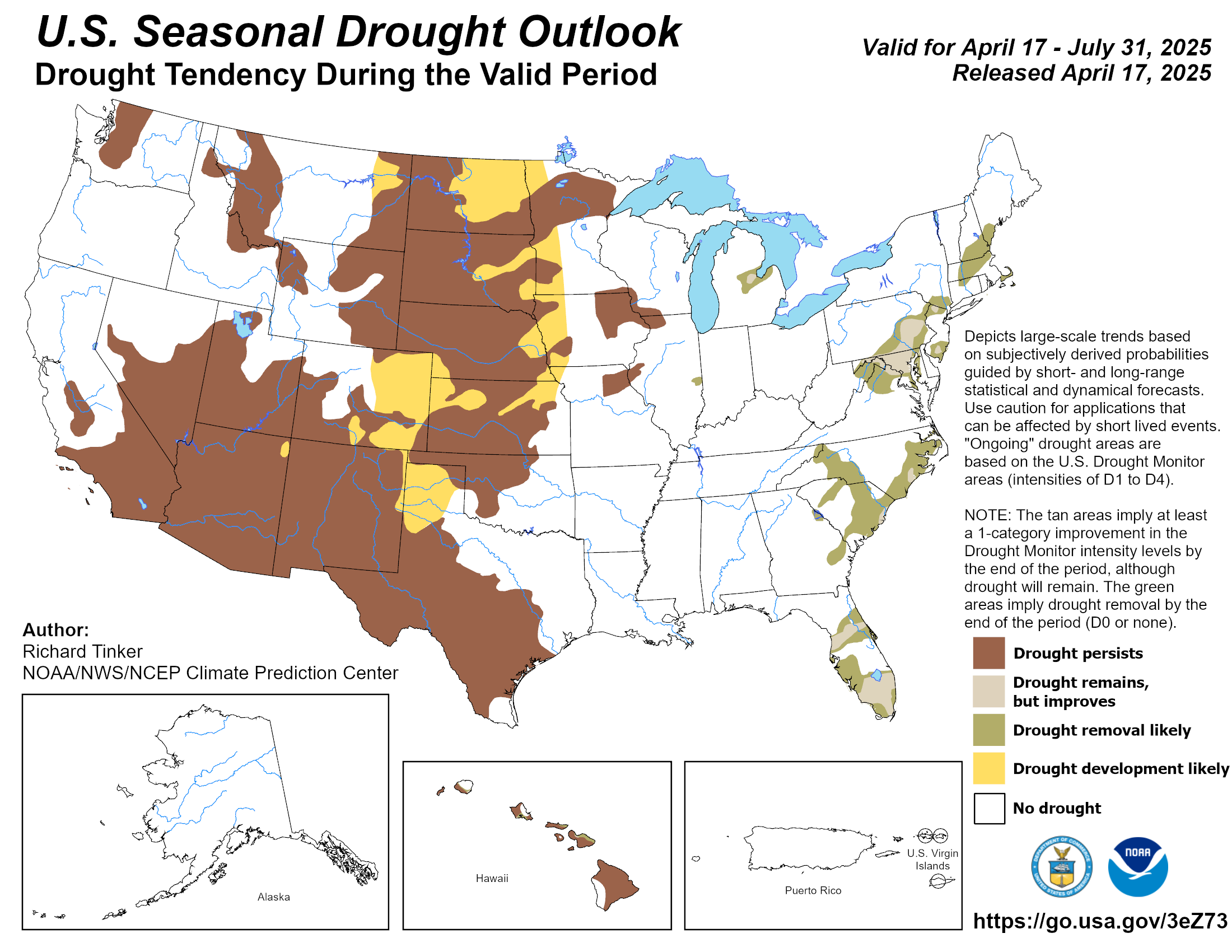 3
Reports from media, observers and other sources on drought impacts by state and county, by category, and by time period. >> Launch Site
4
Wildfire Risks
Wildfire risk is mostly normal for the continental U.S. However, long term drought coupled with increasing potential for offshore winds will keep potential elevated in California through October. >>Click for more information on US Wildfire
5
Summary of Drought This Week
As of July 28, 2015, drought (D1-D4) is impacting:
24.8% of the area of U.S. and 25.7% of the lower 48 states.
79.1 million people in the U.S. and 75.8 million people in the lower 48 states.
Moderate to exceptional drought maintained its hold on the West. Low streams, parched soils, and the risk of wildfires helped extreme drought to tighten its grip on the Pacific Northwest, while the lack of rainfall in the Caribbean continued to worsen conditions in Puerto Rico. Hit-or-miss precipitation across the Southeast gave local downpours to some localities while their neighbors remained parched. Compared to one year ago, a bit less area of the country is undergoing drought: for the entire country about 25 percent is in drought (D1-D4) today, compared to 28 percent a year ago. For the contiguous states, almost 26 percent today, compared to 34 percent at this time in 2014.
For more information, see the narratives for the:
6
NIDIS in Your Region
Click for more information on NIDIS Regional activities
///// TRY OUT ZIP CODE APP DIRECTLY INSIDE SLIDER CODE ?>
Drought in your backyard
How is drought affecting you? Enter your zip code for current conditions:
Western states drought coodinators, emergency managers confer in Seattle
More than 60 drought coordinators, emergency managers, climatologists, water managers and others met July 21-22 in Seattle to address drought-related issues throughout the West. Representing from states from Texas to Alaska, the group explored the array of ways they each monitor, respond to and plan for drought.
Bouncing Back: Drought Recovery and Panning for the Next Texas Drought
This all-day workshop on August 4 in Henrietta, Texas, is for rangeland managers and advisors, featuring information on recovery, insurance options, and planning ahead to manage future droughts. Sponsored by the Managing Drought Risk on the Ranch program at the National Drought Mitigation Center.