Where is the drought? Will it change? What are its impacts?
1
2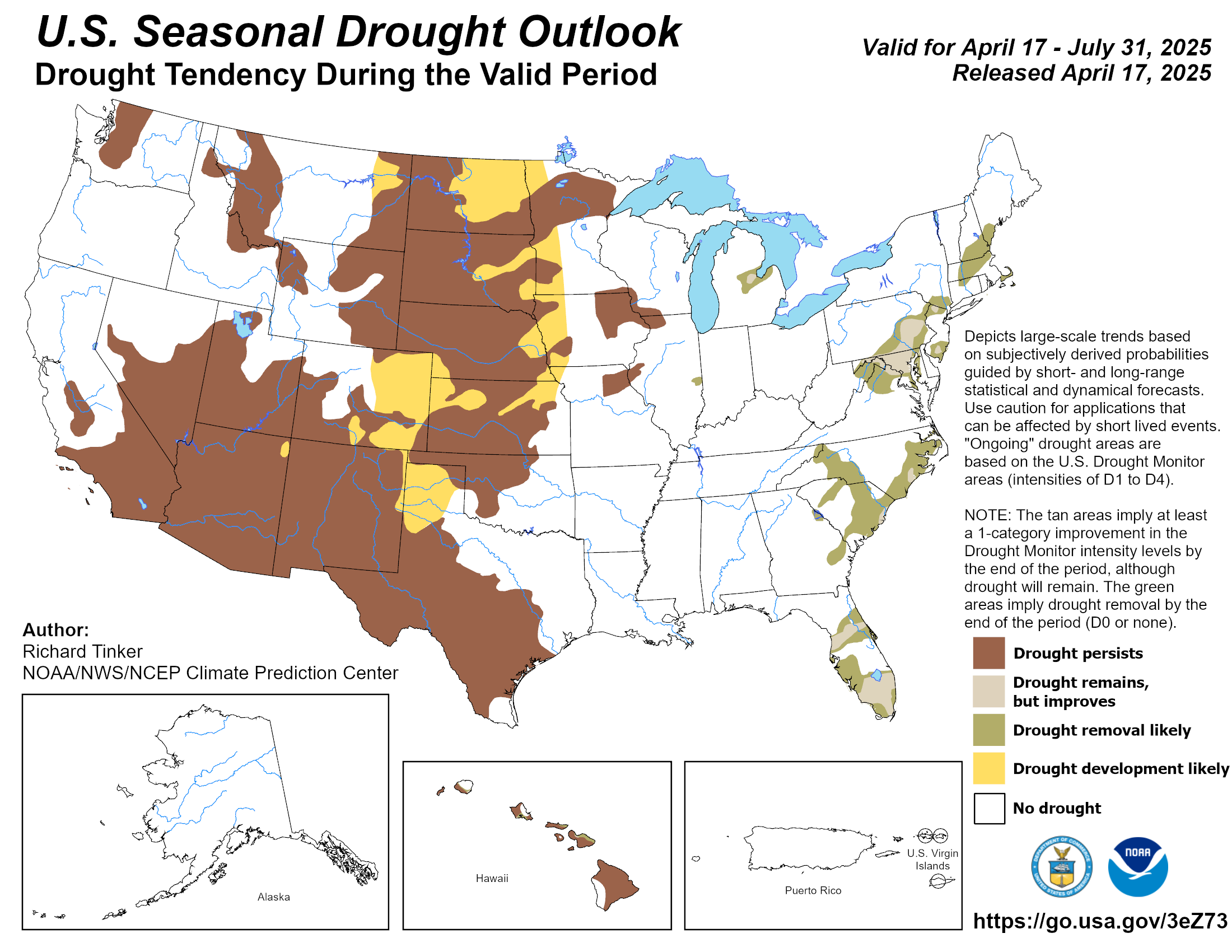 3
Reports from media, observers and other sources on drought impacts by state and county, by category, and by time period. >> Launch Site
4
Wildfire Risks
Wildfire risk is mostly normal for the continental U.S. However, long term drought coupled with increasing potential for offshore winds will keep potential elevated in California through October. >>Click for more information on US Wildfire
5
Summary of Drought This Week
As of February 24, 2015, drought (D1-D4) is impacting:
27.5% of the area of U.S. and 32.8% of the lower 48 states.

76.2 million people in the U.S. and 76.1 million people in the lower 48 states.
This week, a strong trough dominated the eastern United States, funneling cold air masses into the central and eastern United States. Storm systems moving along the southern edge of the trough generated a wintry mix of weather, dumping locally heavy rain and snow from the Lower to Mid-Mississippi Valley on the western end to the Mid-Atlantic coast in the east, improving drought conditions especially in the Mississippi and Ohio Valleys. The precipitation mostly missed the immediate Gulf of Mexico coastal areas, where drought expanded. Above-normal precipitation fell across parts of the Southwest and Rocky Mountains.
For more information, see the narratives for the:
6
NIDIS in Your Region
Click for more information on NIDIS Regional activities
///// TRY OUT ZIP CODE APP DIRECTLY INSIDE SLIDER CODE ?>
Drought in your backyard
How is drought affecting you? Enter your zip code for current conditions:
February national drought outlook features snowpack conditions in the West
The 2-page update shows how drought conditions have changed over the past year; the outlooks for drought, temperature, precipitation and wildfire through May; and how snowpack in the Northwest was far below the median despite near-normal precipitation since Oct. 1.
Webinar series features Western experts on water and drought management
Inspired by its Drought Forum initiative, the Western Governors' Association is presenting a five-webinar series examining the challenges of drought management. Topics include re-used, produced and brackish water; reducing municipal water consumption; the role of data in understanding and predicting dry conditions; managing forests for water resource needs; and how local approaches to hydrology and legal structures can be applied regionally.
More information and registration here.