Where is the drought? Will it change? What are its impacts?
1
2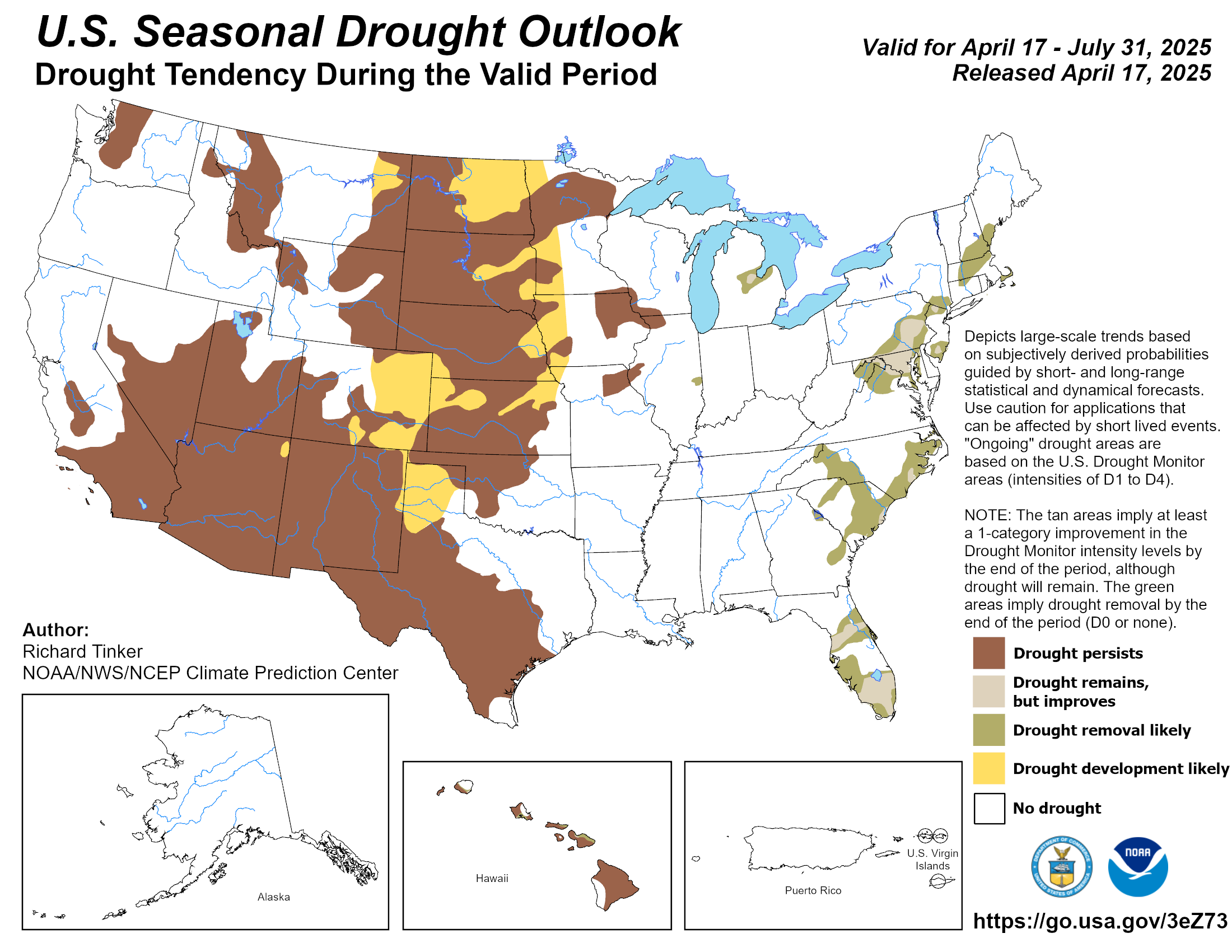 3
Reports from media, observers and other sources on drought impacts by state and county, by category, and by time period. >> Launch Site
4
Wildfire Risks
Wildfire risk is mostly normal for the continental U.S. However, long term drought coupled with increasing potential for offshore winds will keep potential elevated in California through October. >>Click for more information on US Wildfire
5
Summary of Drought This Week
As of Sept. 30, 2014, drought (D1-D4) is impacting:
25.54% of the area of U.S. and 30.57% of the lower 48 states.
76.5 million people in the U.S. and 76.4 million people in the lower 48 states.
An inch or more of rain fell across many areas of the West with some areas receiving as much as five inches. Even the three-plus inches of rain in northern California was not able to put a dent in the drought that has been going on for three years. Dry weather in part of the South led to rapid deterioration of soil moisture.
For more information, see the narratives for the:
6
NIDIS in Your Region
Click for more information on NIDIS Regional activities
///// TRY OUT ZIPCODE APP DIRECTLY INSIDE SLIDER CODE ?>
Drought in your backyard
How is drought affecting you? Enter your zipcode for current conditions:
How many Americans are affected by drought?
The Drought Monitor shows where drought affects the U.S. and how many people drought touches as well. To find the statistics:
1. Click on a state or region on the map. On the page that pops up, under the table of figures, you'll see the total population affected by drought, and a brown button to click for more statistics. 2. Go directly to the population data archive. In the drop-down menu to the left of the key, select your state or region.
Drought/Energy Forum highlights case studies, best practices
The Western Governors' Association kicked off its 2014-15 drought initiative Sept. 18-19 in Norman, Oklahoma, with a forum on drought and the energy sector. The initiative includes five meetings, each addressing a different economic sector, including mining, agriculture and water supply. Findings will help to build an online drought resource library. The goal is to foster a dialogue in which states and industry can share insight on drought management. For highlights from the energy forum, click here.