Where is the drought? Will it change? What are its impacts?
1
2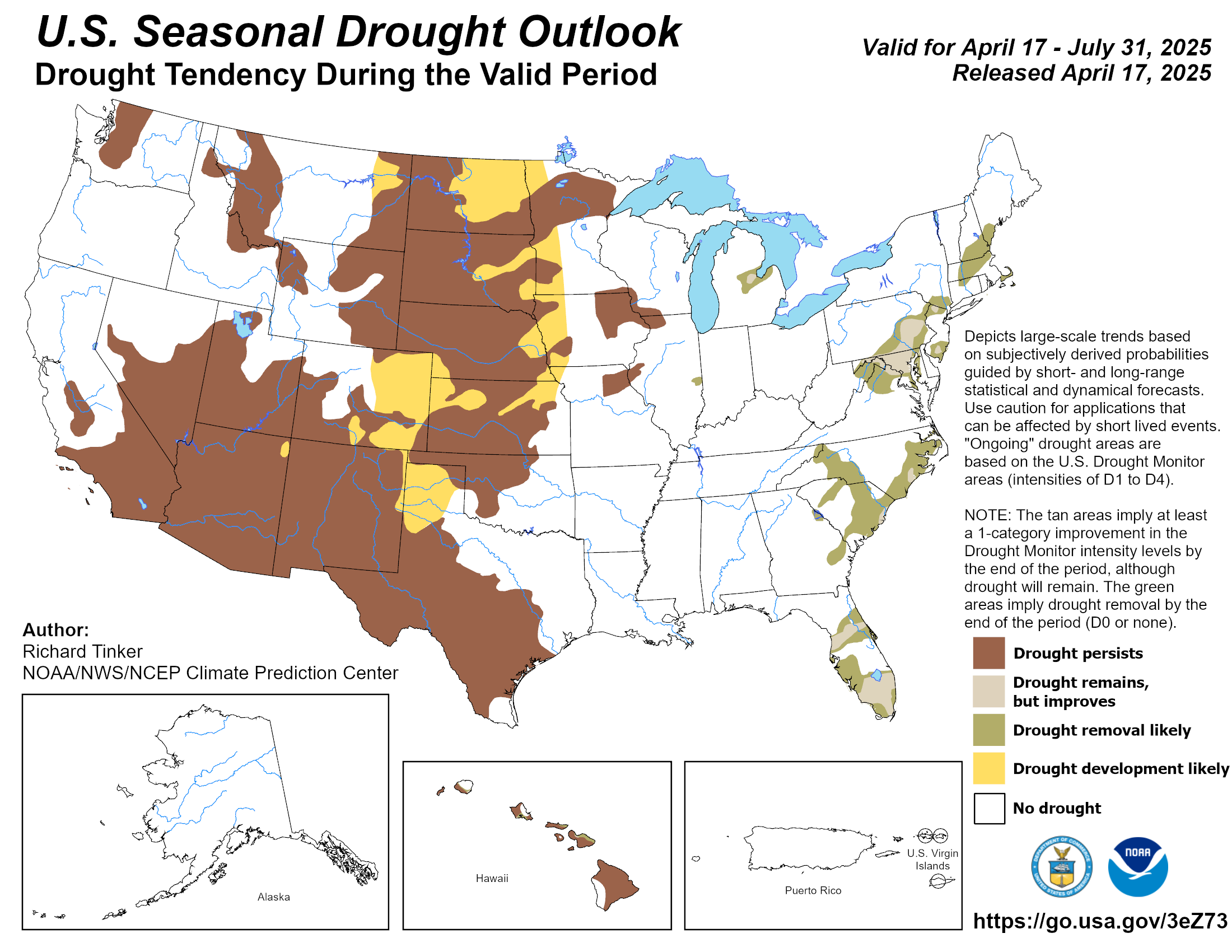 3
Reports from media, observers and other sources on drought impacts by state and county, by category, and by time period. >> Launch Site
4
Wildfire Risks
Wildfire risk is mostly normal for the continental U.S. However, long term drought coupled with increasing potential for offshore winds will keep potential elevated in California through October. >>Click for more information on US Wildfire
5
Summary of Drought This Week
As of May 26, 2015, drought (D1-D4) is impacting:
22.1% of the area of U.S. and 26.4% of the lower 48 states.
94 million people in the U.S. and 92.9 million people in the lower 48 states.
The latest round of heavy rain pushed Oklahoma to its wettest month on record, based on preliminary data, supplanting October 1941. Showery weather extended beyond the Plains, reaching into the lower Mississippi Valley, parts of the upper Midwest, and much of the northern Intermountain West. Meanwhile, drier-than-normal conditions dominated much of the eastern U.S., where diminishing soil moisture began to have some adverse effects on pastures and summer crops. In contrast, beneficial rain dampened some of the hard-hit drought areas of the Far West, including parts of Oregon, Nevada, and northern California.
For more information, see the narratives for the:
6
NIDIS in Your Region
Click for more information on NIDIS Regional activities
///// TRY OUT ZIP CODE APP DIRECTLY INSIDE SLIDER CODE ?>
Drought in your backyard
How is drought affecting you? Enter your zip code for current conditions:
Your feedback please!
We are seeking user feedback on our California and Missouri River Basin Drought Early Warning System pages here on drought.gov. The National Drought Mitigation Center has put together a survey where you can offer your opinions and comments. Please take a few minutes to let us know how well we are meeting your information needs. We appreciate your participation.
NOAA identifies tactics, strategies to improve drought science, forecasts, data
Using feedback from more than 100 stakeholders and employees, NOAA released a service assessment that identifies tactics and strategies the agency can take to better provide California decision makers with the scientific data and tools they need to lessen the impacts of extreme drought. The NOAA California Drought Service Assessment contains more than three dozen findings and recommendations.