Where is the drought? Will it change? What are its impacts?
1
2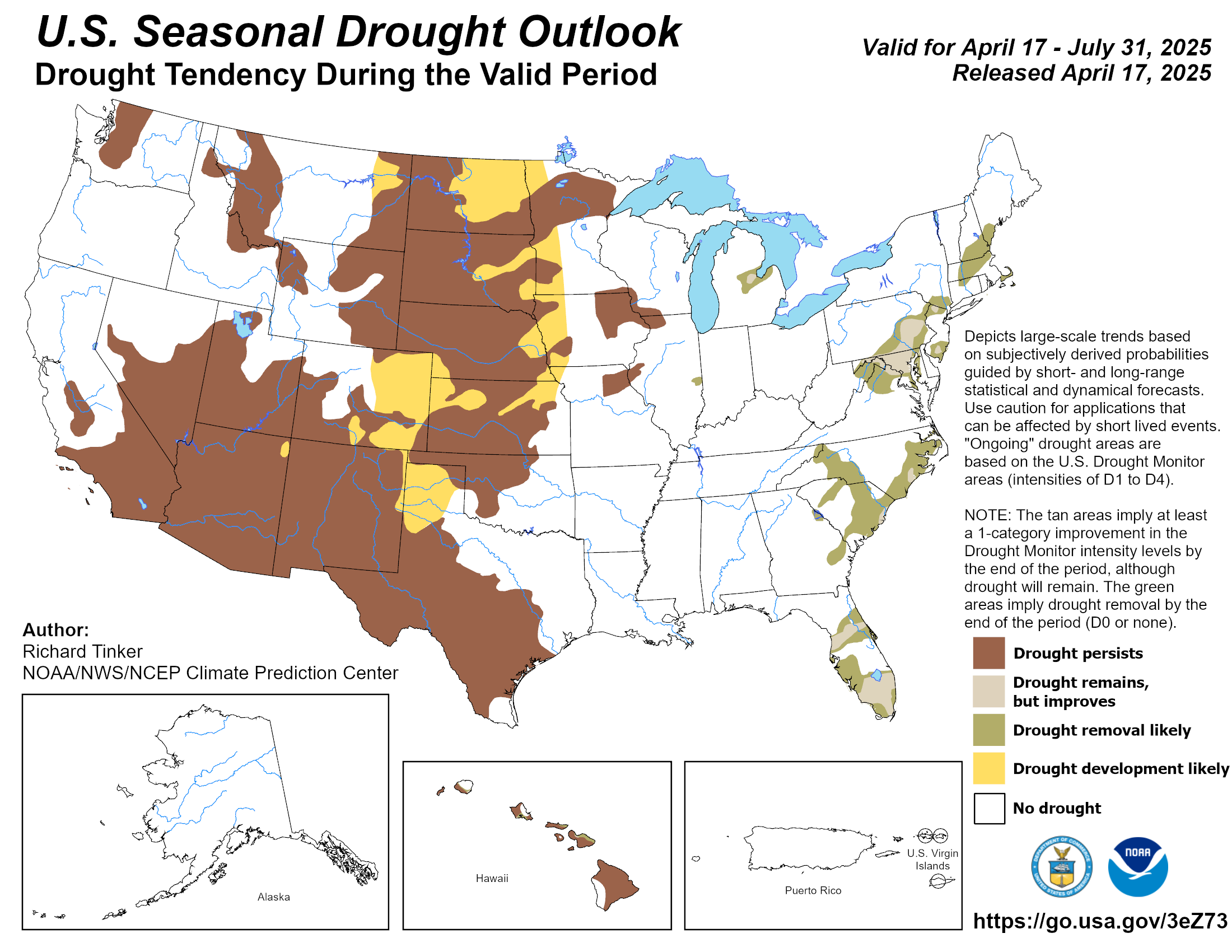 3
Reports from media, observers and other sources on drought impacts by state and county, by category, and by time period. >> Launch Site
4
Wildfire Risks
Wildfire risk is mostly normal for the continental U.S. However, long term drought coupled with increasing potential for offshore winds will keep potential elevated in California through October. >>Click for more information on US Wildfire
5
Summary of Drought This Week
As of January 20, 2014, drought (D1-D4) is impacting:
23.6% of the area of U.S. and 28.2% of the lower 48 states.

67.4 million people in the U.S. and 67.3 million people in the lower 48 states.
Drier than normal conditions prevailed over most of the country last week. Precipitation was restricted to a swath from the eastern Carolinas northward up the coast and through New England, and across the northern Intermountain West and the Pacific Northwest and southward to northwestern California. Generally 3 to 6 inches soaked areas of northern Oregon and Washington to the west of the Cascades, and 1 to 3 inches were observed in much of the Intermountain West and from Delaware norteastward to central Maine.
For more information, see the narratives for the:
6
NIDIS in Your Region
Click for more information on NIDIS Regional activities
///// TRY OUT ZIP CODE APP DIRECTLY INSIDE SLIDER CODE ?>
Drought in your backyard
How is drought affecting you? Enter your zip code for current conditions:
Drought and public health webinar on tap for Jan. 28
The NIDIS Engaging Preparedness Communities Working Group will host a drought and public health webinar on January 28 at 12:00 p.m. Central Time. Originators of the Community Capitals Framework Model will discuss how the model is applied towards global climate change adaptation, specifically in the health sector. A talk related to the application of CCF to drought and public health will follow.
Register here.
From too much to too little: How the drought of 2012 evolved from the floods of 2011
This assessment identifies how the drought in the central U.S. developed, progressed, and impacted the region, and how different states responded to the challenge. State and regional experts who were actively involved in monitoring conditions and responding to the impacts tell the story of this multi-billion-dollar disaster.