Where is the drought? Will it change? What are its impacts?
1
2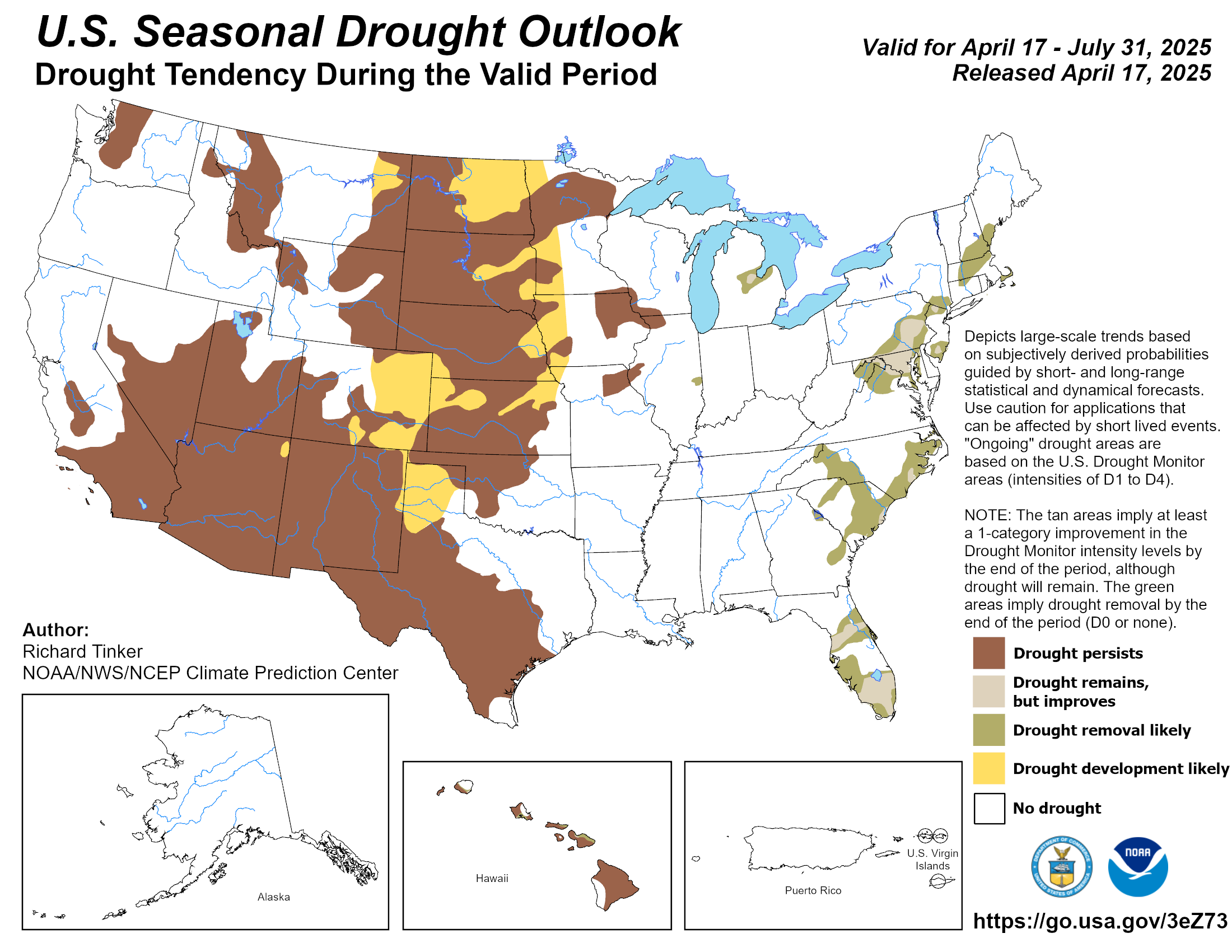 3
Reports from media, observers and other sources on drought impacts by state and county, by category, and by time period. >> Launch Site
4
Wildfire Risks
Wildfire risk is mostly normal for the continental U.S. However, long term drought coupled with increasing potential for offshore winds will keep potential elevated in California through October. >>Click for more information on US Wildfire
5
Summary of Drought This Week
As of Oct. 6, 2015, drought (D1-D4) is impacting:
26.4% of the area of U.S. and 31.6% of the lower 48 states.
104 million people in the U.S. and 101.7 million people in the lower 48 states.
Record rains and flooding inundated parts of North and South Carolina over the past week. During the first 6 days of October, maximum Carolina storm amounts totaled 26.88 inches at Mt. Pleasant, SC, and 22.25 inches at Calabash, NC. Heavy rains also fell across much of the eastern third of the nation, easing or eliminating lingering short-term drought and dryness. Unseasonably heavy rains affected parts of the West and Southwest, and wet weather in most of Alaska and Hawaii eased drought and dryness. Since record rains in May and June eliminated long-term drought in Texas and Oklahoma, very little precipitation has fallen there since early July, creating large short-term (at 2- and 3-months) deficits and extreme drought.
For more information, see the narratives for the:
6
NIDIS in Your Region
Click for more information on NIDIS Regional activities
///// TRY OUT ZIP CODE APP DIRECTLY INSIDE SLIDER CODE ?>
Drought in your backyard
How is drought affecting you? Enter your zip code for current conditions:
Mapping El Niño's effect on the frequency of climate risks
NOAA's Dr. Klaus Wolter has led an update to the "Risk of Seasonal Climate Extremes in the U.S. Related to ENSO" (El Niño/Southern Oscillation). The updated maps show regions with increased or decreased risk of extreme warm/cold (or dry/wet) seasons during an ENSO event.
View the maps
What does El Niño mean, really?
Simply put, El Niño is a warming of the ocean surface, or above-average sea surface temperatures (SST), in the central and eastern tropical Pacific Ocean. And it has potential implications for weather in the Western Hemisphere. What does that mean for you? NOAA's Climate.gov hosts a blog exploring the phenomenon.
What El Niño might mean for the Midwest