Site Section
Research and Learn
Drought Effects on Coastal Restoration Success: Quantifying Impacts and Testing Strategies to Enhance Resilience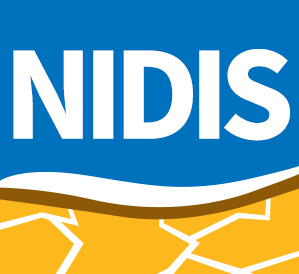 NIDIS-Supported Research
Main Summary
Salt marshes are usually wet places, covered with lots of plants—and, like other coastal ecosystems, they are exceptionally vulnerable to climate change (e.g., sea level rise and drought). When projects rebuild landscapes to bring back lost marshes (restoration), the starting point is a bare landscape. With no plants and no roots to hold in moisture and provide shade, the landscape is almost like a desert rather than a wetland. New plant seedlings have difficulty growing in the dry and salty conditions. And the effects of longer and more intense droughts can decrease the success of restoration projects. 
This project will provide novel scientific information about drought effects on marsh restoration by looking at the causes of plant death and testing whether providing freshwater with temporary sprinklers can help jumpstart plant growth at restoration sites.
The project will directly enhance salt marsh restoration success at Elkhorn Slough, which is an enormously popular recreational destination in California, and provides outdoor access for the local disadvantaged rural communities. Elkhorn Slough habitats are critical as nurseries for juvenile fish, which are caught recreationally and commercially offshore, and play a key role in removing carbon dioxide from the air and storing it deep in estuary sediments, thereby slowing climate change. The results will help improve restoration of salt marshes nationwide in the face of climate change stressors, by highlighting the need for proactive management strategies to enhance resilience.
This research was funded by NIDIS through the FY 2022 Coping with Drought Competition – Ecological Drought. For more information, please contact Britt Parker (britt.parker@noaa.gov).
Research Snapshot
Research Timeline
September 2022 – August 2024
Principal Investigator(s)
Anna Braswell, University of Florida
Co-Principal Investigator(s)
Margaret Zimmer, University of California-Santa Cruz
Monique Fountain and Kerstin Wasson, Elkhorn Slough National Estuarine Research Reserve
Project Funding
FY 2022 Coping with Drought Competition – Ecological Drought
Focus Areas (DEWS Components)
What to expect from this research
In California and across the U.S., salt marsh restoration through sediment placement is becoming increasingly common, and millions of taxpayer dollars are invested in such projects. The research and tools resulting from this project will allow managers and practitioners to decide when to implement drought mitigation measures in restoration projects.
Expected results from this research include:
Enhance our understanding of what physical and environmental properties of the marsh cause hydrologic conditions that produce favorable growing conditions for vegetation during drought conditions.

Develop mitigation strategies for conducting restoration projects during drought conditions.

Develop a conceptual model of the risk posed to tidal marsh restoration by ecological drought, and how this interacts with other factors such as elevation, tidal inundation, salinity, and sediment conditions.

Develop relatively straightforward decision-support tools, such as flow charts indicating the likely need for drought mitigation strategies under different conditions (based on sediment/hydrology results) or different marsh species (based on mesocosm results).

Develop illustrated drought outreach tools drawing on the case study of Elkhorn Slough to highlight through photographs both drought effects and mitigation strategies.

Incorporate ecological drought concepts and research results into the Elkhorn Slough National Estuarine Research Reserve K–12 curriculum.