Site Section
News & Events
Preparing for the Health Effects of Drought: California Climate Action Team Public Health Workgroup Meeting
February 4, 2019
10:00 am - 4:00 pm
Location
CalEPA Headquarters, Sacramento, CA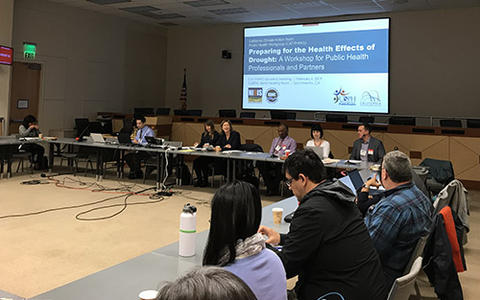 On February 4, 2019, the California Department of Public Health, NIDIS, the Centers for Disease Control and Prevention (CDC), and the National Drought Mitigation Center (NDMC) co-hosted a workshop on Preparing for the Health Effects of Drought: A Workshop for Public Health Professionals and Partners. This workshop was hosted by the California Department of Public Health as part of the California Climate Action Team Public Health Workgroup meeting series and took place at the CalEPA headquarters in Sacramento, CA with webinar participation available.
The morning session was an informational and educational session for public health professionals on the health impacts of drought, and drought projections, with a focus on California. The afternoon was a facilitated session by NDMC to help participants better understand and use a new CDC National Center for Environmental Health resource guide called Preparing for the Health Effects of Drought: A Resource Guide for Public Health Professionals. The focus of this workshop was on California and is the first of several planned state or regional workshops co-hosted by NIDIS, CDC, and NDMC on the new CDC Resource Guide.
All meeting materials including the agenda, worksheets, presentations, and webinar recording are available here.
For more details, please contact: Amanda Sheffield (amanda.sheffield@noaa.gov) or Dan Woo (daniel.woo@cdph.ca.gov).