Site Section
News & Events
Ecological Drought Enters Unfamiliar Territory
Published on
October 6, 2020
By Shelley D. Crausbay1 and Imtiaz Rangwala2
1 Conservation Science Partners, Inc., Fort Collins, CO
2 North Central Climate Adaptation Science Center, Cooperative Institute for Research in Environmental Sciences, University of Colorado, Boulder, CO
Novel forms of drought are emerging globally due to a warming climate, shifting ocean and atmospheric teleconnection patterns, expanding human water use, and a history of human influence on the environment. These droughts are increasing the probability for transformational ecological impacts that cascade to human communities in costly and consequential ways. Developing a better understanding of the changing expression and impacts of drought across different ecosystems is one of today's grand challenges.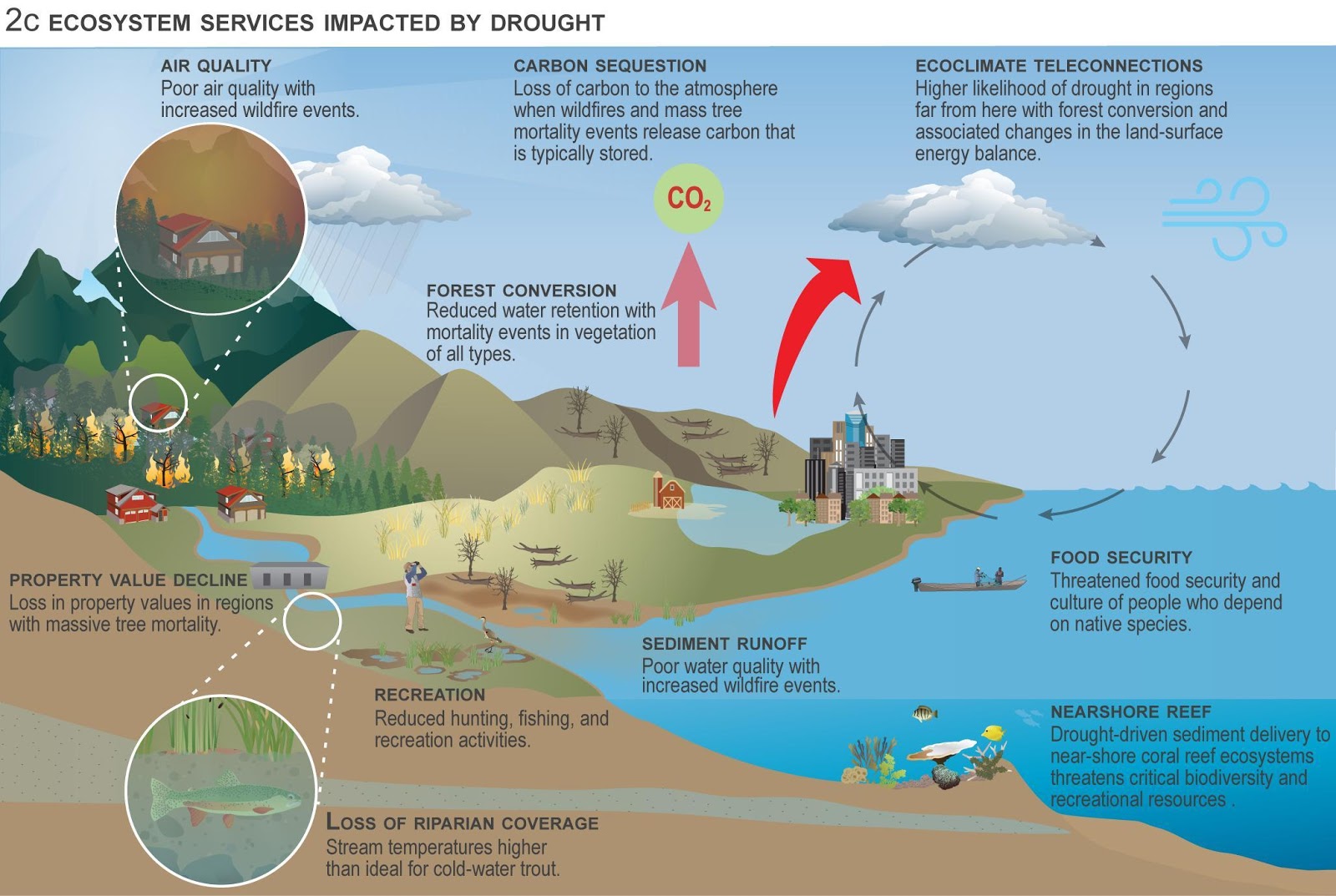 A recent study, published in One Earth, included scientists, managers, and decision-makers in a unique horizon-scanning approach—a systematic way to explore a topic that is looming—to identify the emerging issues in ecological drought. This approach included a series of workshops across the eight regional USGS Climate Adaptation Science Centers (CASCs) with land managers, stakeholders, and a group of researchers, including scientists at the Alaska, North Central, Southwest, Northeast, and National CASCs and members of the Science for Nature and People Partnership's (SNAPP) Ecological Drought working group. Horizon scans are great opportunities to determine the direction of future work, and this study provides a roadmap to facilitate the research and management innovations that we need to reduce the risk of drought to our social-ecological systems as we enter unfamiliar territory in the 21st century.
First, the authors of the study identified various kinds of droughts we are currently experiencing that are fundamentally different from historical droughts, making it hard for experts to adequately anticipate future droughts until several key knowledge gaps are filled. For example, drought projections are highly sensitive to the different ways of measuring evaporative demand in a warming world and different ways of depicting plant water-use efficiency given elevated CO2. In addition, understanding how teleconnection patterns may change and interact in a warming world is critical to adequately anticipate novel drought regimes, especially the occurrence of megadrought. Further, droughts of today are driven or exacerbated by human water use, so understanding how human water and land use might alter drought regimes and ecologically available water is crucial for decision-making, because human activities are under our direct control. 
Next, the study emphasized that emerging 21st-century droughts are more likely to transform ecosystems, that is, to fundamentally change the species composition, structure, and function to such a degree that it affects ecosystem services that humans and wildlife rely upon. Today, human and climate stressors are overwhelming ecosystems' abilities to recover from droughts, causing many species to be replaced by new organisms that often fill different ecological roles (for example, a forest being replaced by a grassland). Anticipating when and where processes that maintain ecological stability will be overwhelmed, and drought-induced ecological transformation might occur, requires filling some diverse science gaps. For example, predicting mortality events, understanding how ecological community assembly will unfold under the now unfamiliar climates of drought recovery, and knowing when typical management tactics to resist ecological transformation might fail, or on the other hand, when tactics could be directed to allow ecological transformation along a particular trajectory, is a fundamental management need.
Finally, the study highlighted the vital role scientist-stakeholder partnerships will have in co-developing science to inform ecological drought management strategies in the 21st century. Strong partnerships are essential for anticipating droughts and making decisions under uncertainty, for developing a stronger degree of stakeholder readiness for impending changes under a changing climate, and for working to align the incongruent scales of drought and management.
A recently funded NIDIS project, "Visualizing Ecological Drought Impacts, Vulnerabilities, and Drivers to Inform Decision-Making," and led by Conservation Science Partners, Inc., will build on this work to better understand the ecological impacts from drought by strengthening our understanding of ecological drought vulnerability and translating and delivering that information for drought planning processes. NIDIS and the USGS Climate Adaptation Science Centers are also planning a series of webinars focused on ecological drought. Stay tuned!
Acknowledgements:
The study highlighted in this article, "Unfamiliar Territory: Emerging Themes for Ecological Drought Research and Management," was funded by the USGS National Climate Adaptation Science Center through Cooperative Agreements with the University of Maryland Center for Environmental Science and The Nature Conservancy.