Drought heats up into summer as impacts are widely felt.
Register here for the July 21 Western U.S. Drought & Heat Webinar.
Key Points
Precipitation over the last several weeks throughout northern California and Nevada alleviated some fire risk, but did not significantly improve the drought conditions.
Streamflows across California and Nevada are forecasted to be below normal, generally 75% of normal or less. Reservoir levels are varied throughout the region, with reservoirs in the Western Sierras at approximately 80% of normal. 
Current projections are for a shortage on the Lower Colorado River in 2023, though official forecasts are issued in August. 
California statewide emergency water regulations adopted in May went into effect in June. In southern California, the regulations largely consist of limiting outdoor watering to one or two days a week with the potential for a complete ban starting in September. 
Drought impacts will continue to intensify and expand given a third dry year. Applying lessons learned from past droughts and drought preparedness is key.
Current Conditions
U.S. Drought Monitor Conditions | June 21, 2022
The U.S. Drought Monitor (USDM) is updated each Thursday to show the location and intensity of drought across the country. Drought categories show experts' assessments of conditions related to dryness and drought including observations of how much water is available in streams, lakes, and soils compared to usual for the same time of year.
California/Nevada conditions as of June 21, 2022:
99.79% of California is experiencing Moderate (D1) to Exceptional (D4) Drought (48.22% in D3, 11.59% in D4)
California population in drought: 37,244,591
100% of Nevada is experiencing Moderate (D1) to Exceptional (D4) Drought (37.22% in D3, 21.32% in D4)
Nevada population in drought: 2,700,551
U.S. Drought Monitor Categories

| Value | Map Hex Color |
| --- | --- |
| D0 - Abnormally Dry | #ffff00 |
| D1 - Moderate Drought | #ffcc99 |
| D2 - Severe Drought | #f5ad3d |
| D3 - Extreme Drought | #ff0000 |
| D4 - Exceptional Drought | #660000 |
Main Stats
99.9%
of California and Nevada are in drought (D1–D4)
59.8%
of California is in extreme (D3) to exceptional (D4) drought
58.5%
of Nevada is in extreme (D3) to exceptional (D4) drought
Current Conditions
Precipitation over the last several weeks has generally totaled 2 inches or less throughout northern California and Nevada, alleviating some of the fire risk, but did not significantly improve the drought conditions; California and Nevada remain in a third year of drought. 
Since last year at this time, there have been drought improvements throughout western and eastern California and Nevada and degradation in southeastern California and northern Nevada, according to the U.S. Drought Monitor.
Snow has mostly melted throughout the region. Combined, the Western Sierra reservoirs in California are about 80% of the normal level for this time of year, while Lake Tahoe is less than 50% of its normal level for this time of year. Some of the lowest northern California reservoirs are Shasta (57% of normal), Oroville (61% of normal), and Trinity Lake (35% of normal). 
Evaporative demand, the atmospheric influence on the drying of the landscape, over the last two months has been below normal in northern California and Nevada, but above normal (meaning greater drying) throughout much of Southern and Central California and Nevada. 
The NOAA National Weather Service's California Nevada River Forecast Center is forecasting below-normal water supply at almost all forecast points. Of the total 75 forecast points, 35 points are below 50% and 37 points are between 50%–70% of normal. The three-year water accumulation for the Central Valley Water Supply Index is expected to be at or near record low. 
Dead fuel moistures status has not changed significantly since May and remains at near normal or slightly below throughout much of the region. Recent precipitation events in northern California have kept fire danger (or dead fuel moisture) in check.
On March 28, 2022, California Governor Newsom directed the State Water Board to consider adopting an emergency regulation for urban water conservation. On May 24, 2022, the Board adopted an emergency regulation, which went into effect on June 10, 2022. The ​​Emergency Regulation Requirements include no watering for commercial, industrial, and institutional decorative grass and urban water suppliers implementing all Level 2 demand reduction actions.
In Southern California, water-saving restrictions began on June 1 and impact dozens of cities and communities in Los Angeles, Ventura, and San Bernardino counties—home to about 6 million people. Restrictions vary by city, but largely consist of limiting outdoor watering to one or two days a week or implementing water budgets for residents. Further, the Metropolitan Water District of Southern California stated that "if use doesn't drop enough in the coming months, or if conditions worsen, a complete ban on outdoor watering could be implemented in September."
Camille Calimlim Touton, Bureau of Reclamation Commissioner, gave a statement on June 14 addressing the drought on the Colorado River basin: "According to the May 2022 Most Probable 24-Month Study, the April-July runoff forecast into Lake Powell is 3.80 maf [million acre-feet], or 59 percent of average. Lake Powell's water surface elevation is projected to end the calendar year at 3,522.94 feet (22 percent full). Lake Mead is projected to reach an elevation of 1,039.92 feet (27 percent full) on December 31, 2022. While not official until the August 2022 24-Month Study, a shortage condition for the Lower Basin is projected in calendar year 2023". 
For more information, check out Living with Drought in Nevada and the California Water Watch.
How is drought affecting your neighborhood? Click to see drought indicators, outlooks, and historical conditions by city, county, and state, as well as sign up for alerts.
U.S. Drought Monitor 52-Week Change Map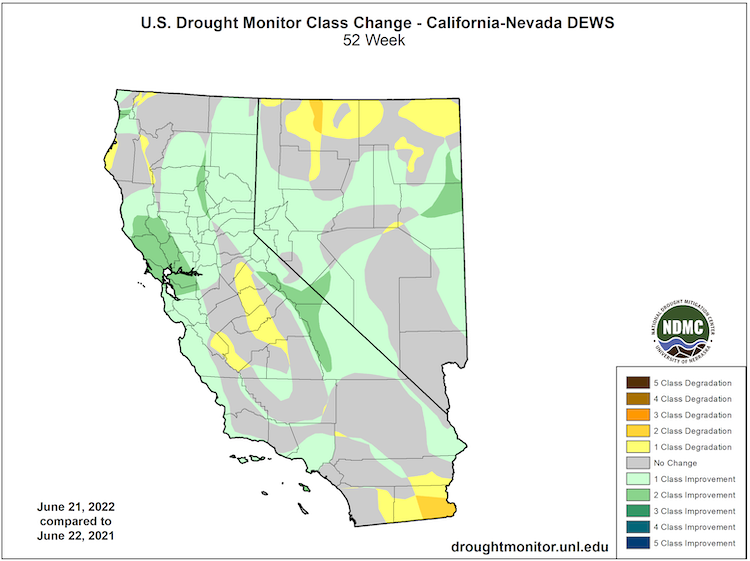 Percent of Normal Precipitation: Water Year & Last 60 Days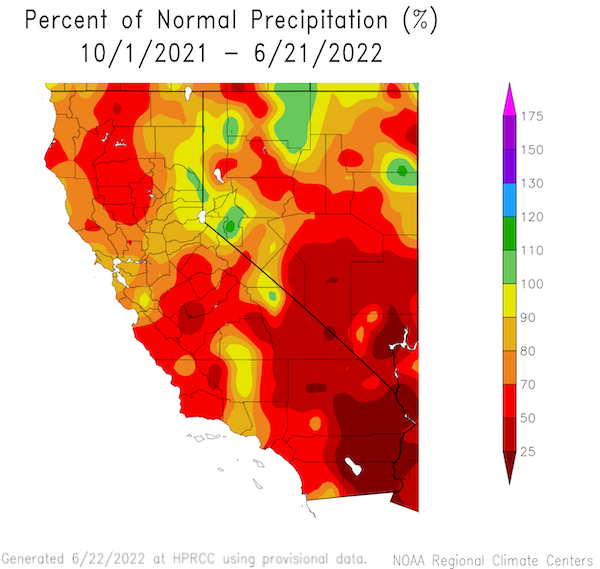 2-Month Evaporative Demand Drought Index (EDDI)
Western Sierra Reservoir Storage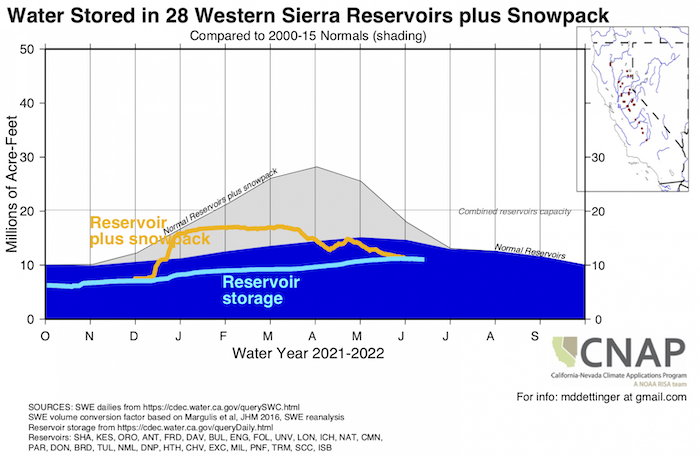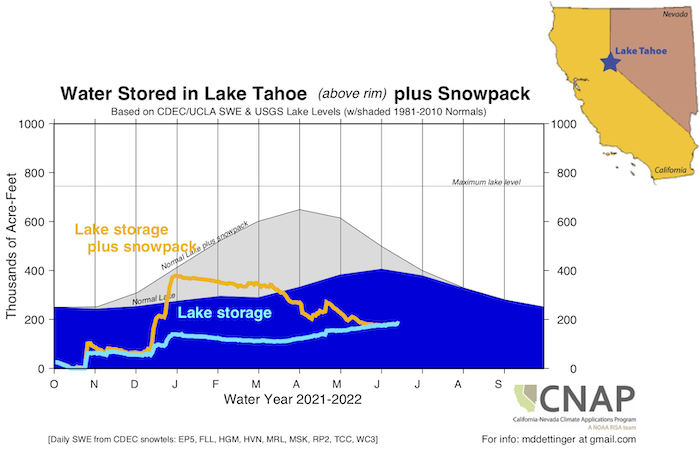 Water Storage: Trinity Lake and Oroville Lake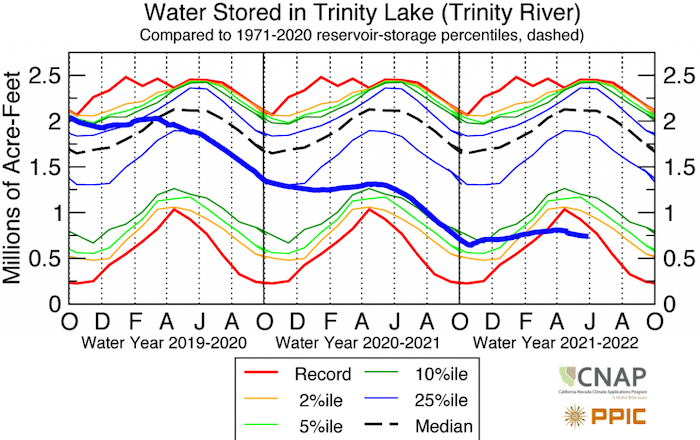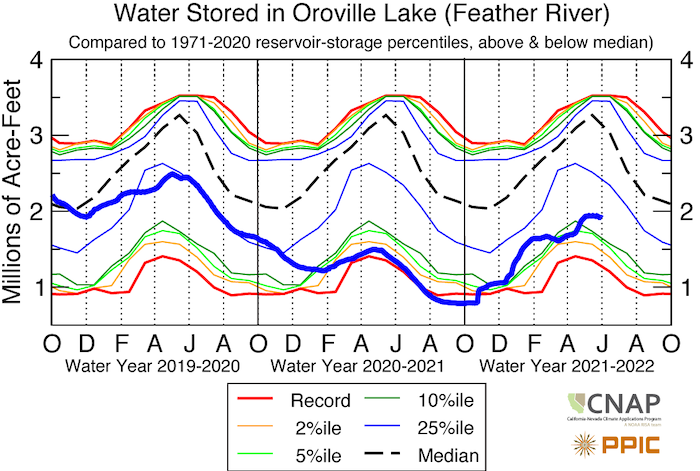 Central Valley Water Resources Index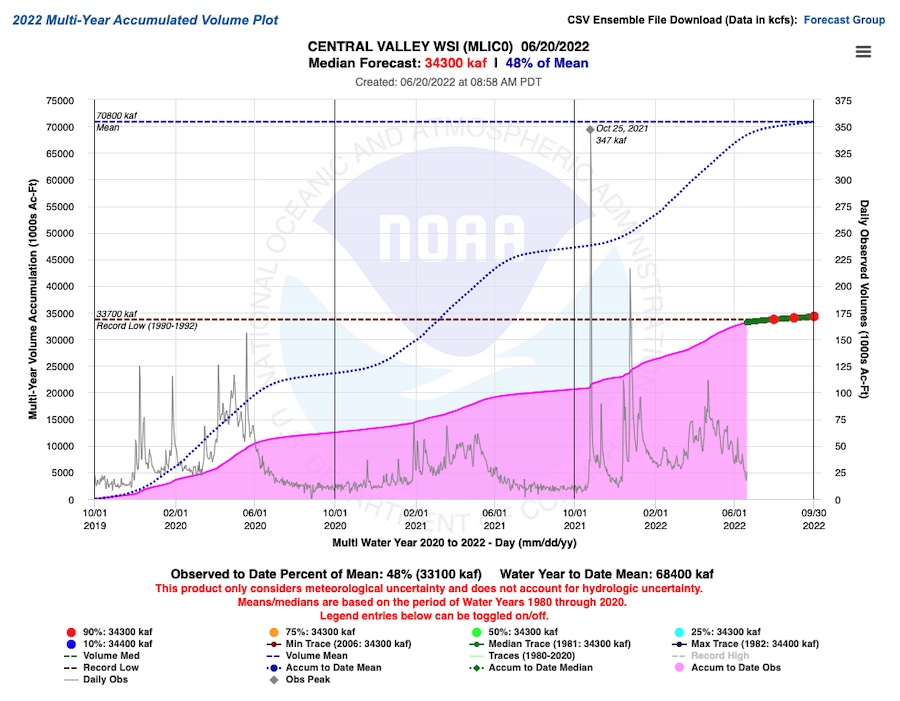 Water Year 2022 Streamflow Volume Forecast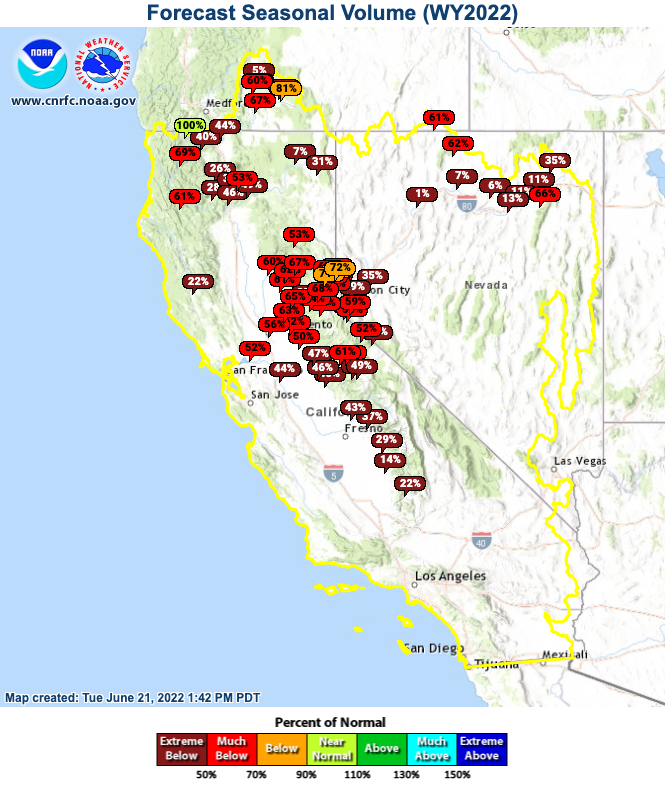 Drought and Climate Outlook
El Niño–Southern Oscillation (ENSO)
NOAA's ENSO alert system status is currently a La Niña Advisory. Though La Niña is favored to continue through the end of the year, the odds for La Niña decrease into the Northern Hemisphere late summer (52% chance in July–September 2022) before slightly increasing through the Northern Hemisphere fall and early winter 2022 (58%–59% chance). For more information, check out the NOAA ENSO blog.
Subseasonal to Seasonal Drought, Temperature, Precipitation, and Fire Outlooks
The NOAA National Weather Service's Climate Prediction Center is forecasting above-average temperatures for most of the U.S., including California-Nevada, for July through September. For the same time period, precipitation is forecasted to be equal chances except in those areas impacted by the Monsoon, as an enhanced Monsoon is slightly favored across parts of the Southwest. When extended periods of below-normal precipitation overlap with extended periods of above-normal evaporative demand—which is influenced by above-normal temperatures as well as clear skies, wind speed, and low humidity—fuels can become critically dry, favoring rapidly spreading wildfires. (Read more here from CNAP).
According to the National Interagency Fire Center, fire activity increased in May, mostly across the Southwest area, with activity also across portions of California, the southern Great Basin, and southern Colorado. Above-normal temperatures are likely across most of the contiguous U.S. through summer, and critically windy and dry periods are likely to continue through mid-June for the Southwest and southern Great Basin. The North American Monsoon is likely to arrive on time and be robust this summer, but potential early moisture surges during June could result in periods of lightning across the Southwest, Colorado, and the southern Great Basin. Most of the Southwest, southern Great Basin, and southern Colorado is forecast to have above-normal significant fire potential in June, before returning to normal in July. Above-normal significant fire potential is forecast across northern California, with above-normal potential spreading into the southern Sierra and Coast Ranges of southern California in August and September.
More details can be found here. 
Seasonal Drought Outlook: June 16–September 30, 2022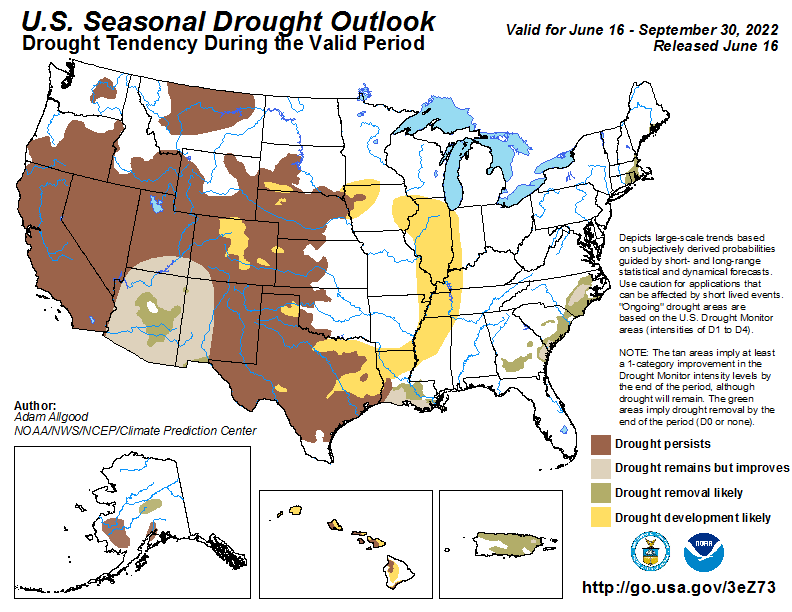 Seasonal (3-Month) Temperature and Precipitation Outlooks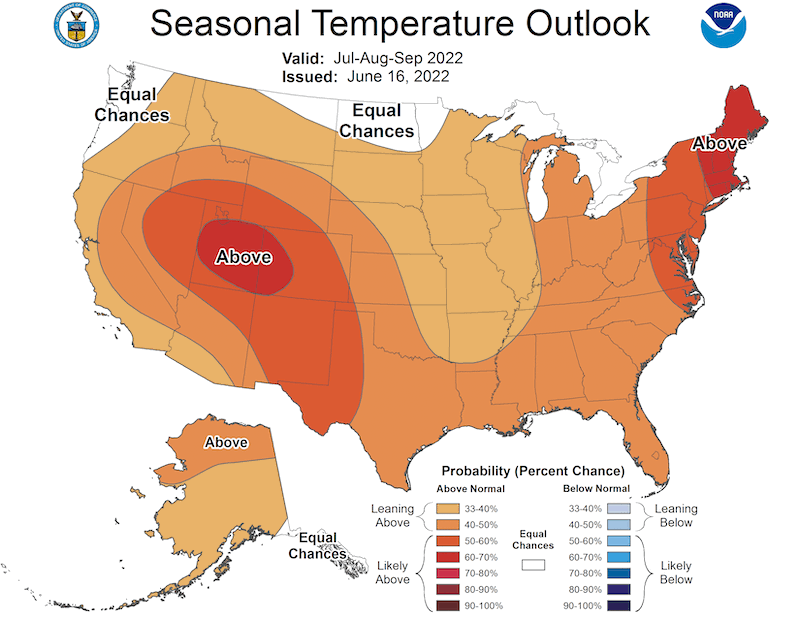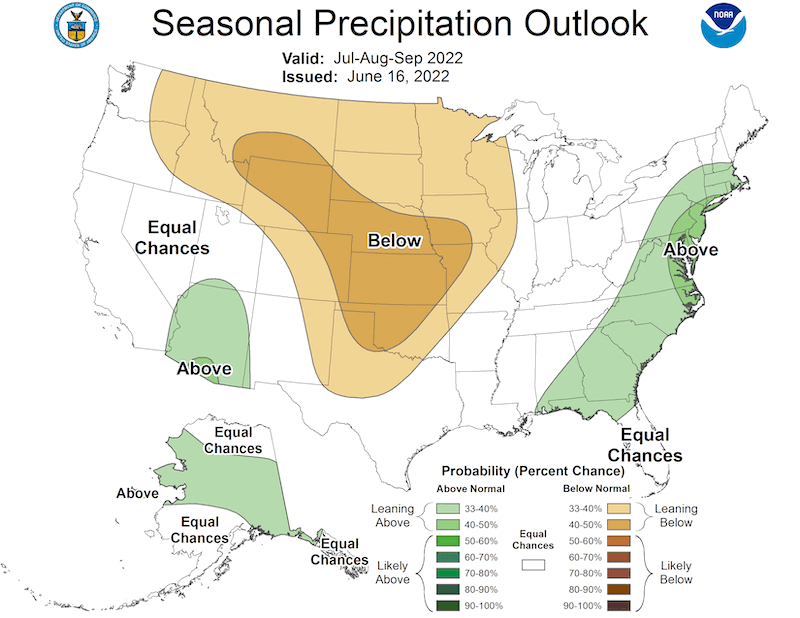 Significant Wildland Fire Potential Outlook: July 2022
Drought Early Warning Resources
Prepared By
Amanda Sheffield
California-Nevada DEWS Regional Drought Information Coordinator, NOAA/NIDIS, CIRES
Julie Kalansky
California Nevada Applications Program (CNAP), Scripps Institution of Oceanography
Special Thanks
This drought status update is issued in partnership between the National Oceanic and Atmospheric Administration (NOAA), the California-Nevada Applications Program, a NOAA RISA team, and the Western Regional Climate Center at the Desert Research Institute to communicate the current state of drought conditions in California-Nevada based on recent conditions and the upcoming forecast. NIDIS and its partners will issue future drought status updates as conditions evolve.