Site Section
News & Events
Drought Recovery in the West: An Engagement to Implementation Success Story
Published on
September 19, 2018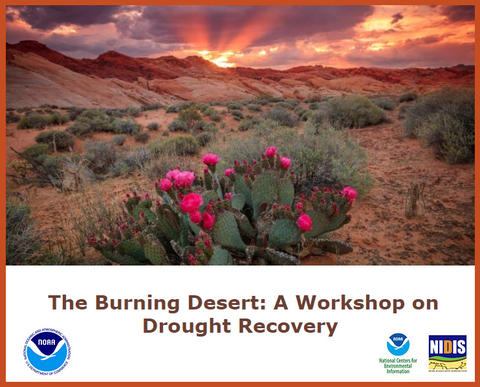 On September 11th and 12th, NIDIS and NOAA's National Centers for Environmental Information (NCEI) held the 3rd annual Drought Amelioration Workshop in Phoenix, Arizona: "The Burning Desert: A Workshop on Drought Recovery Tools and Perspectives." Representatives from Arizona, Colorado, Nevada, New Mexico, and Utah met in Phoenix to discuss the challenges of drought and water management in the West, and to evaluate selected  resources available to help decision makers plan for and respond to drought. 
The focus of this year's workshop, organized by Mike Kruk from ERT, supporting NCEI, and Elizabeth Weight from NIDIS, was to evaluate the newest prototype for NCEI's Drought Termination and Amelioration tool, which helps to answer one of the most common, but complicated, questions about drought: how much rain would it take to end a drought? This frequently-asked question is one familiar to resource managers, meteorologists, farmers, reservoir operators, journalists, and government representatives, owing to the far-reaching societal and economic impacts of drought. 
The tool has been recently updated and modified based on feedback received at last year's workshop.  Discussions centered around whether or not the tool was effective and intuitive to use, what features should be incorporated into the next version, and areas of enhancement that would make the tool more intuitive and easier to use, understand, and share.
Representing almost every state in the Colorado River Basin, workshop attendees included state climatologists for Arizona and New Mexico, water and resource managers, climate scientists from state universities and the Federal Government, and U.S. Drought Monitor authors. This group of experts discussed the strengths of NCEI's tool, as well as the challenges inherent to recovering from long-term droughts.
NCEI designed this tool to support decision makers in planning for, and responding to, drought and drought-related impacts like wildfire and water shortages. In the two previous workshops, participants voiced three primary concerns on the current delivery of drought recovery information: 
There is an array of government agencies, institutions, and academia with varying levels of drought recovery information online, yet the information is disparately located and can communicate conflicting information; 
Existing drought recovery tools rarely, if ever, account for the complex water delivery systems across the western U.S. and in particular California; and 
The need for a new product, based on seasonal precipitation, temperature, and streamflow outlooks: drought recovery outlooks.
In response, NCEI made substantial changes to the tool, which now offers dynamic mapping instead of static maps, is updated daily instead of monthly, and offers a glimpse into the future by providing seasonal projections of drought, based on NOAA National Weather Service Climate Prediction Center seasonal outlooks, that users specifically requested.
This year, participants identified and ranked the most-desired updates for the next generation of the Drought Termination and Amelioration tool - including adding more background layers to the map, such as the USDM and PRiSM rainfall; adding a search bar feature similar to that on drought.gov; and adding a disclaimer that there are many drought tools and that this is only one of them. Throughout the workshop, participants evaluated the usability and effectiveness of the tool in a series of user testing exercises. The results revealed areas for improvement, but overall demonstrated that the tool is effective, clear, and straightforward to use and interpret. 
Nancy Selover, State Climatologist for Arizona, observed that while the tool's calculation was likely accurate, it was unlikely that her state would receive the projected 412% of its yearly rainfall that would be necessary to end Arizona's record-breaking drought. Dr. Selover discussed the multi-year cycle of dry and wet periods in the state's history, highlighting the fact that the region likely needs multiple years of above-average precipitation to recover from the current drought. 
Highlighting the unique nature of drought in desert climates, Dr. Selover's presentation led to a conversation about how water is managed in the west, particularly when multi-year droughts increase the probability of water shortages along the Colorado River Basin. George Frisvold from the University of Arizona provided an overview of the Central Arizona Project (CAP) and how water shortages are managed between the states that share water from the Colorado River, including the Lake Mead and Lake Powell Reservoirs. 
Throughout the workshop, NCEI and NIDIS team members gathered feedback about NCEI's tool and heard recommendations to improve or develop new resources for drought forecasting and monitoring. Suggestions included opportunities to improve the Palmer Hydrological Drought Index (PHDI), incorporate historical data into current conditions monitoring, and establish a consolidated repository for drought-related research. 
To read more about NCEI's work on the Drought Termination and Amelioration tool, and the series of engagement to operations workshop, see the article in BAMS: https://journals.ametsoc.org/doi/abs/10.1175/BAMS-D-17-0177.1 
Published on
October 4, 2018