Quarterly Climate Impacts and Outlook for the Great Lakes Region - June 2019
Document Author
NOAA/NIDIS
Document Description
Quarterly Climate Impacts and Outlook for the Great Lakes Region for March – May 2019.  Dated June 2019.
Across much of the basin, spring averaged out to be colder than normal, with temperatures as much as 3°C (5°F) below normal while the far southeastern areas were near normal for the spring. Spring precipitation ranged from 101% to 118% of average.
NOAA's Regional Climate Services Program created these Climate Outlooks to inform the public about recent climate impacts within their respective regions. Each regional report contains easy-to-understand language, and anyone can access them through the Drought Portal.
Document Preview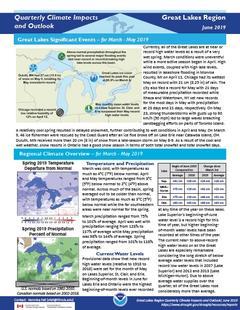 Climate Region(s)
Midwest Climate Region
Northeast Climate Region