Quarterly Climate Impacts and Outlook for the Northeast Region - December 2022
Document Author
NOAA/NIDIS
Document Description
Quarterly Climate Impacts and Outlook for the Northeast Region for September–November 2022. Dated December 2022.
The Northeast had its 17th-warmest autumn at 0.9°F above normal. Autumn was among the 20 warmest on record for 8 of the 12 Northeast states. The Northeast saw 101% of normal autumn precipitation, ranking in the wettest third of all years. Maine had its 20th-wettest autumn. 
NOAA's Regional Climate Services Program created these climate outlooks to inform the public about recent climate impacts within their respective regions. Each regional report contains easy-to-understand language, and anyone can access them through the Drought Portal.
Document Preview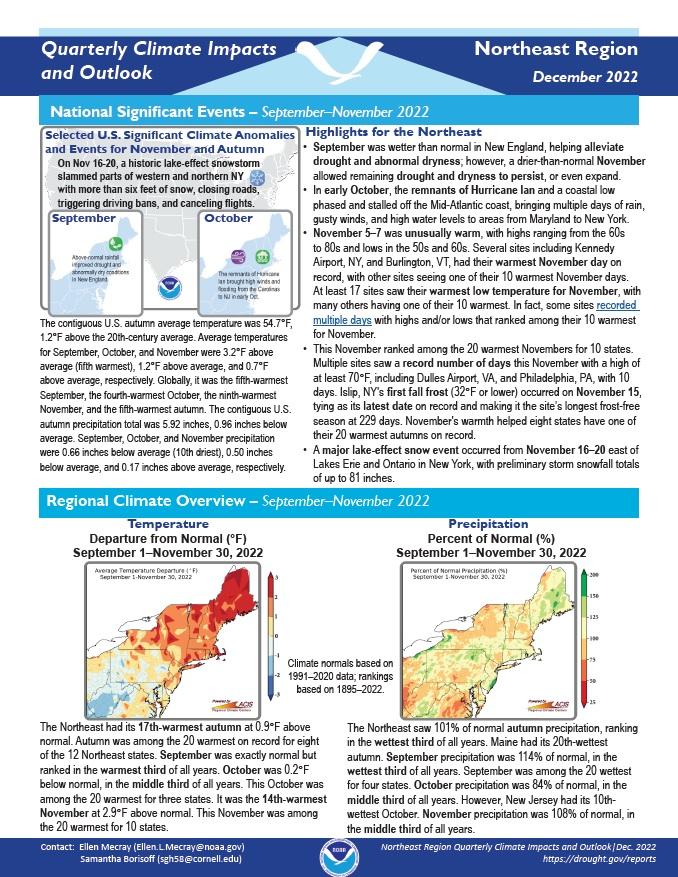 State(s)
Connecticut
,
Delaware
,
Maine
,
Maryland
,
Massachusetts
,
New Hampshire
,
New Jersey
,
New York
,
Pennsylvania
,
Rhode Island
,
Vermont
,
West Virginia