2020 closes and 2021 begins with rain and snow chipping away at some regional drought conditions.
Key Points
California and Nevada saw drought expand and worsen in 2020 as dry conditions built over the last year. Below-average precipitation, including a weak monsoon, and above-normal temperatures and evaporative demand intensified drought conditions and brought a record-breaking wildfire season. Benefits of spring wetness in the southern part of the region have diminished with a dry fall.

Recent storms have brought some rain to Southern California and increased the Sierra snowpack, but the water year precipitation deficits and snow drought remains. 

Forecasts indicate storms in early and mid-January, potentially leading to some drought improvements in northern California, but less so in Nevada and southern California.

The La Ni

ñ

a pattern that developed in the tropical Pacific in Autumn 2020 remains firmly in place. Over the historical record, La Ni

ñ

a tilts odds toward wetter water years in the Pacific Northwest and drier water years in the Southwest U.S. There is large uncertainty in the northern parts of California and Nevada.

The next 3-4 months remain to see if conditions improve, but overcoming deficits that have accumulated in California and Nevada will require substantial wetness, and preparation for another sub-par water year should be seriously considered, especially in the driest areas. 

This update includes data as of January 4, 2021. 
Current Conditions
U.S. Drought Monitor Conditions: California-Nevada |
December 29, 2020
States Affected by Moderate to Exceptional (D1 - D4) Drought:
95%
of California is experiencing Moderate to Exceptional Drought (D1-D4)
33.75%
of California is experiencing Extreme to Exceptional Drought (D3-D4)
99.7%
of Nevada is experiencing Moderate to Exceptional Drought (D1-D4)
24%
of Nevada is experiencing Exceptional Drought (D4)
Populations Affected by Drought:
30.5 Million
people in California are in Moderate to Exceptional (D1 - D4) Drought
2.7 Million
people in Nevada are in Moderate to Exceptional (D1 - D4) Drought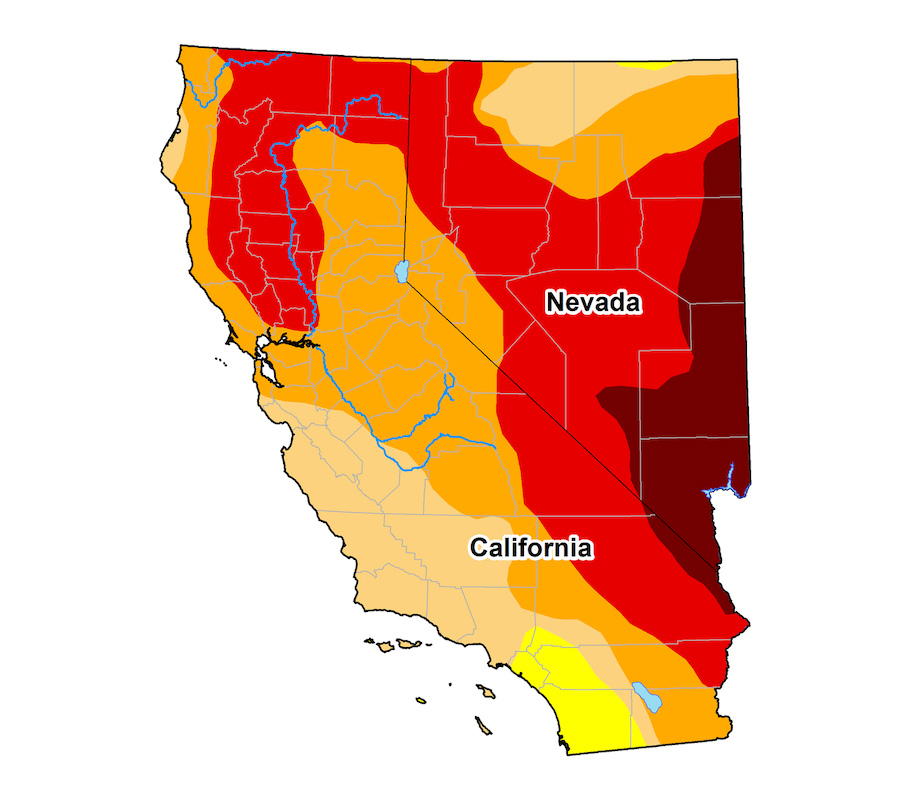 Main Stats
95%
of CA is in Moderate to Exceptional Drought (D1-D4)
99.7%
of NV is in Moderate to Exceptional Drought (D1-D4)
10%-30%
odds of reaching normal precipitation for Water Year 2021
4 million
acres burned in CA due to wildfires, as of early October 2020
2020 Recap
January and February 2020 were dry to record dry in several areas (central CA and northern CA-NV). Wetness only returned in spring to parts of the southern part of the region.
Last year's monsoon produced little precipitation and much above-normal summer temperatures, including August records. 
Conditions led to intensified drought conditions, high evaporative demand, and a record-breaking wildfire season. Over 4 million acres burned in California as of early October.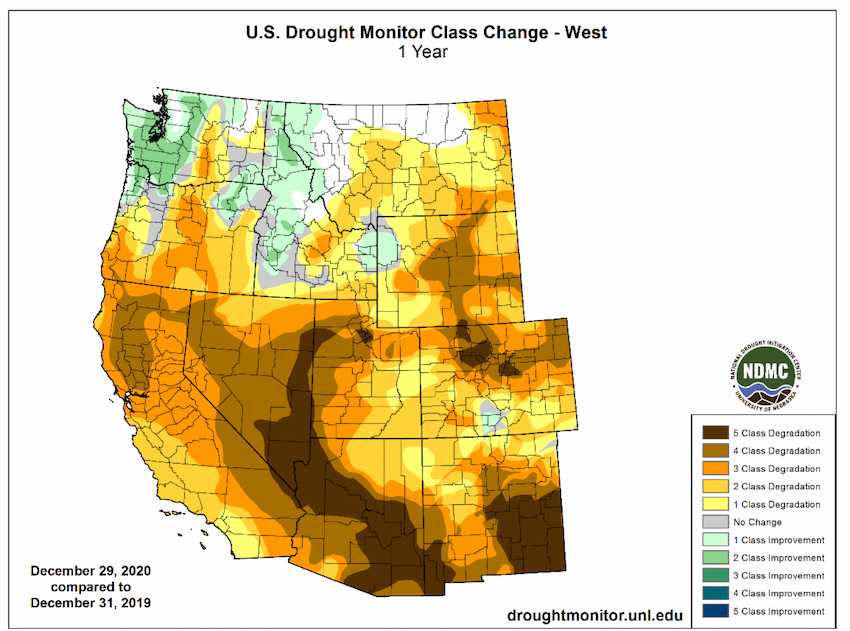 Current Conditions
Drought coverage over the past 2 weeks has remained the same as some rain and snow has fallen over California-Nevada. Long term precipitation deficits from the 2020 and first quarter of the 2021 water year thus far remain.
Around Dec. 28-29, a storm system finally tracked southward this season, bringing above-normal weekly precipitation to coastal southern California from San Luis Obispo County southward to the Mexico border. The heaviest rainfall was observed in Santa Barbara County, with some southeastern locations receiving more than 4 inches.
Even with the recent storm, California's 8 station index and the Reno/Carson City region are slightly above 15% of normal cumulative water year totals.
Snow water equivalent (SWE) values remain below normal across the Sierras and the Colorado River Basin. California Dept. of Water Resources first Phillips Station snow survey showed values 93% of average for the location. While conditions were positive at Phillips Station, statewide the snowpack is just 50% of average for this date (Jan 4th) and especially low in the Southern Sierra (31%).
Evaporative demand over the last month has been high and soil moisture and shallow groundwater is low throughout the region. 
The odds of reaching normal precipitation for the water year is between 10-30% throughout much of California and Nevada.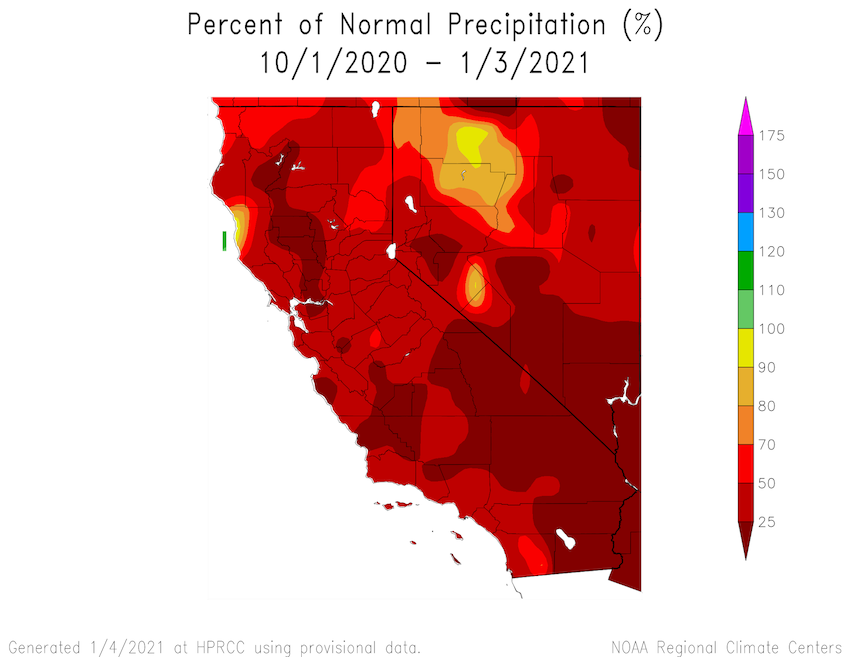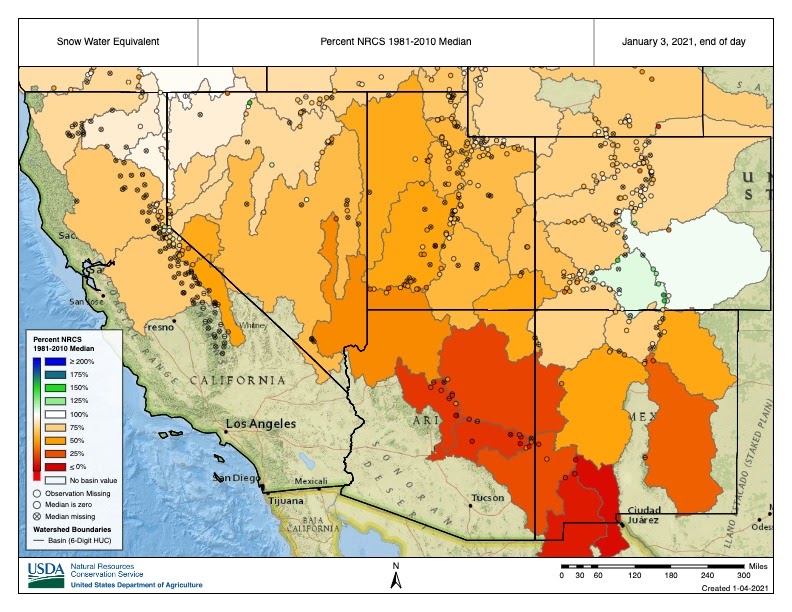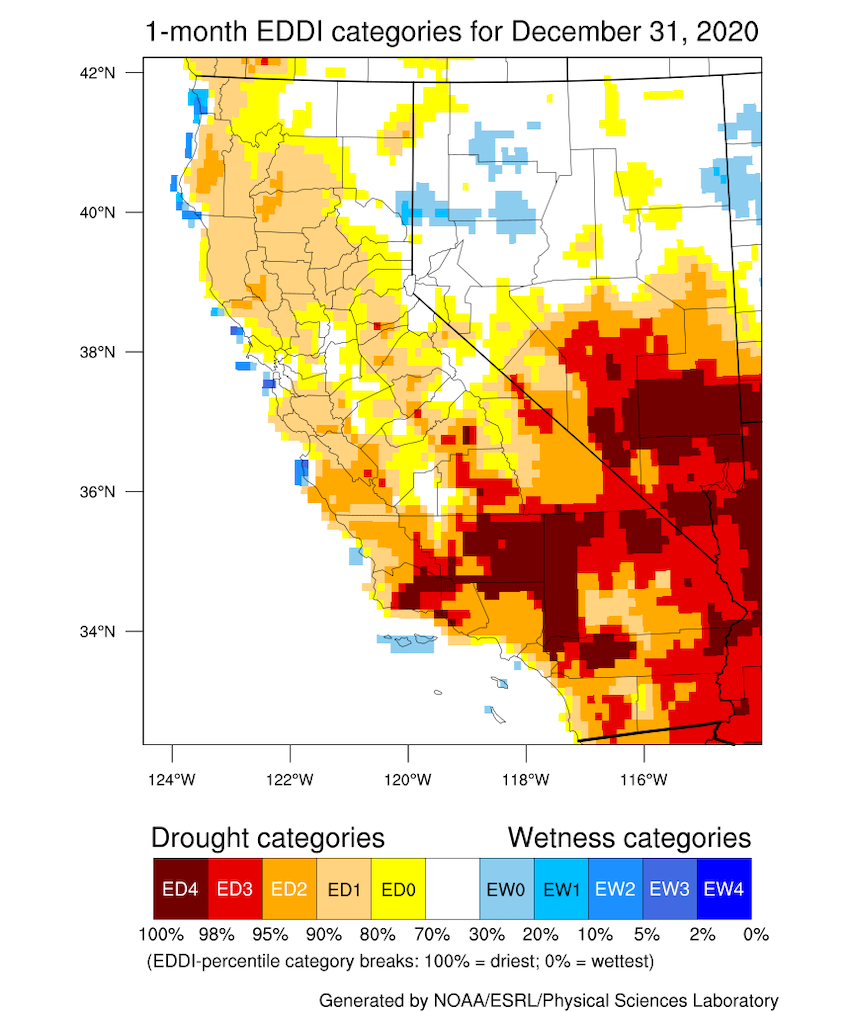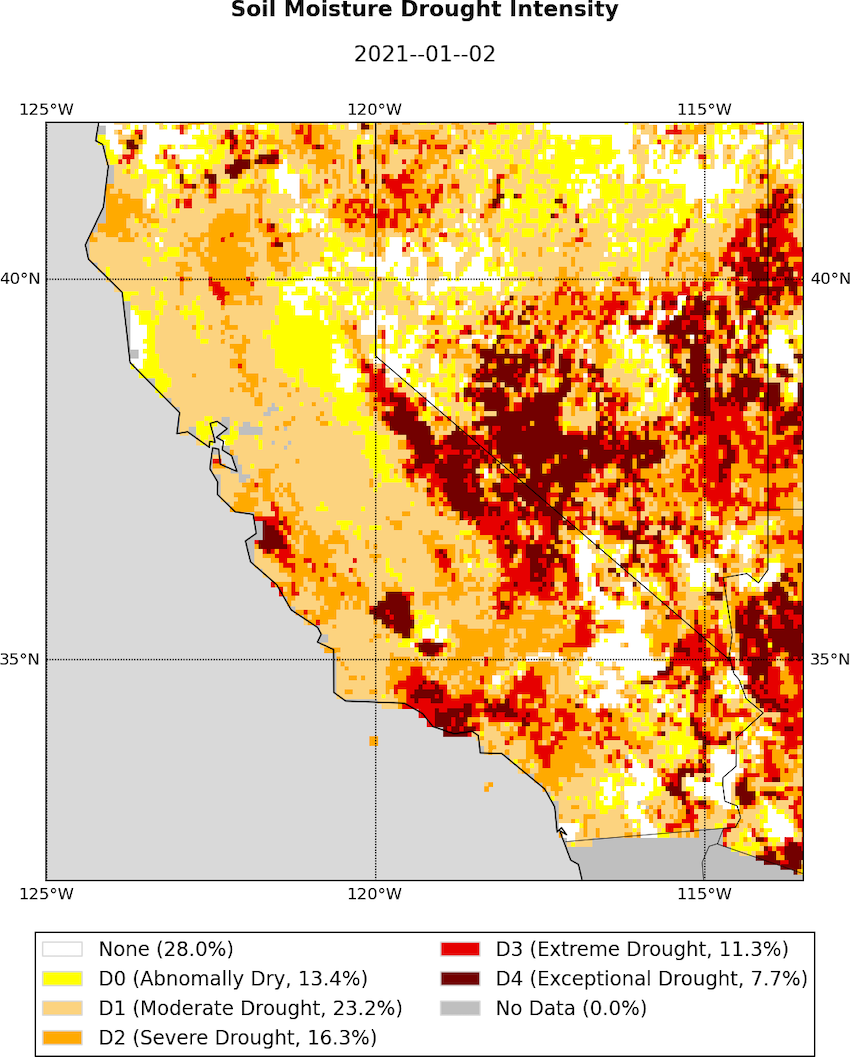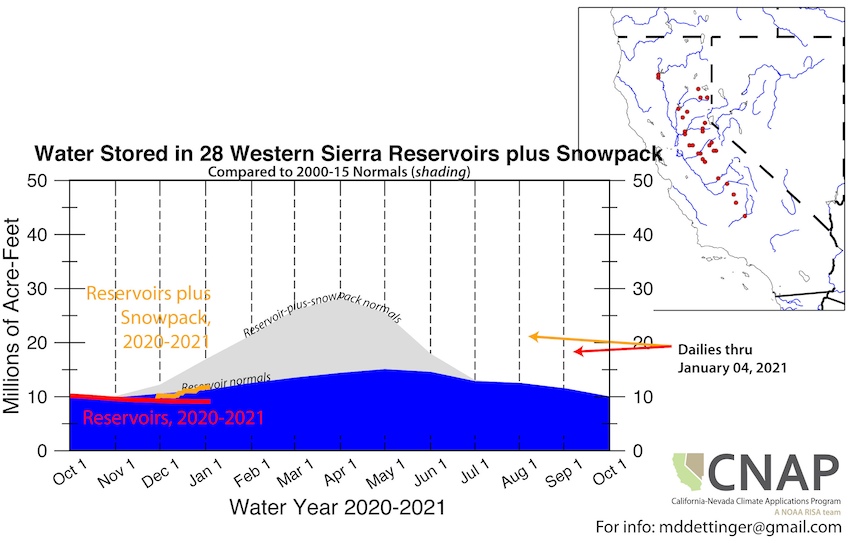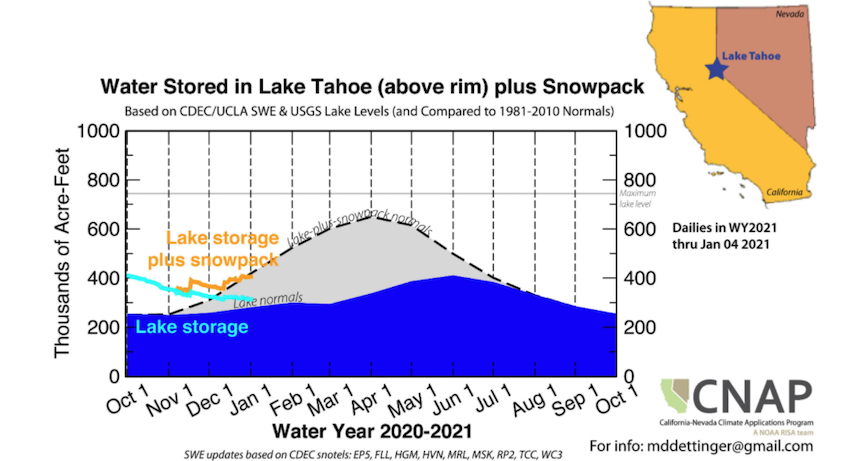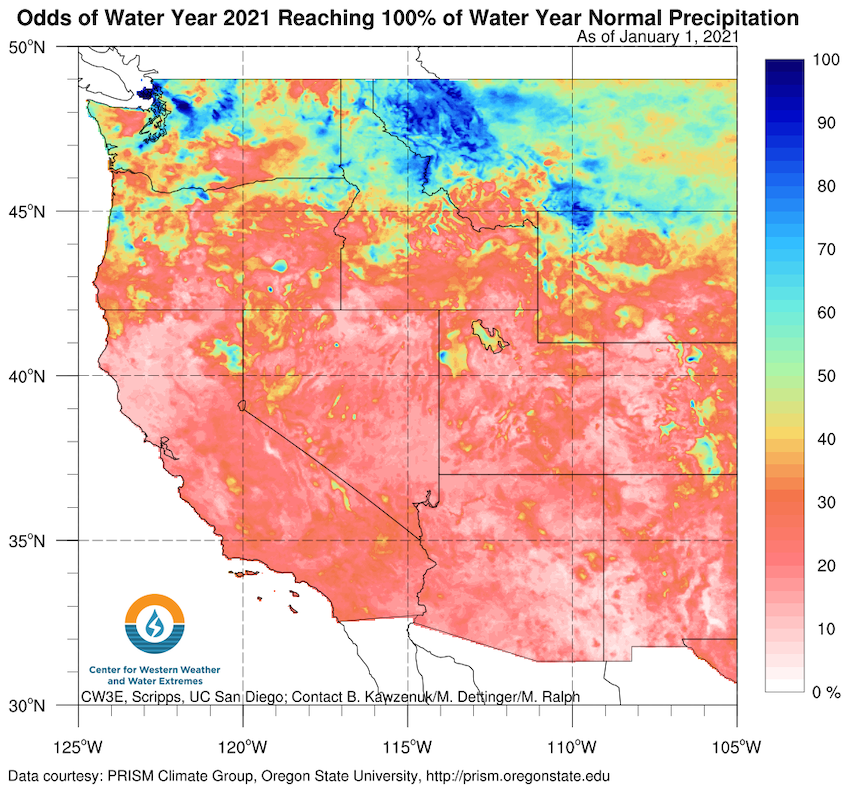 Drought & Climate Outlook
ENSO
NOAA's ENSO alert system status is currently a La Nina advisory and is likely to continue through the Northern Hemisphere winter 2020-21 (~95% chance during January-March). For more information please check out the NOAA ENSO blog.
Western Regional Climate Center recently developed a handout about the La Niña impacts for the West. Check it out to see how La Niña historically has affected your region.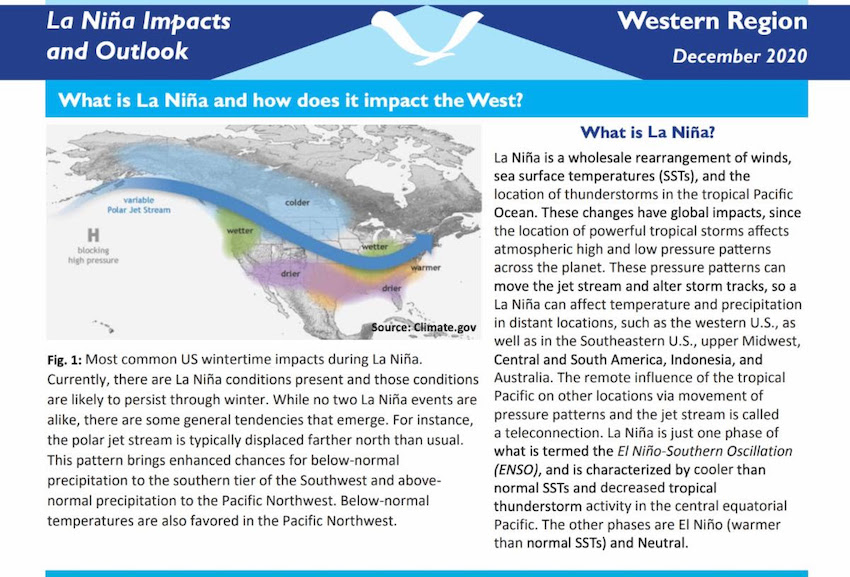 Seasonal & Monthly Drought Outlook
As of the mid-December seasonal (3-month) drought outlook, drought is expected to persist for most of the region and develop in the far southern coast of California. The more recently released monthly drought outlook shows drought persisting in the region except for northern California, where drought remains but improves due to recent and forecasted short-term precipitation.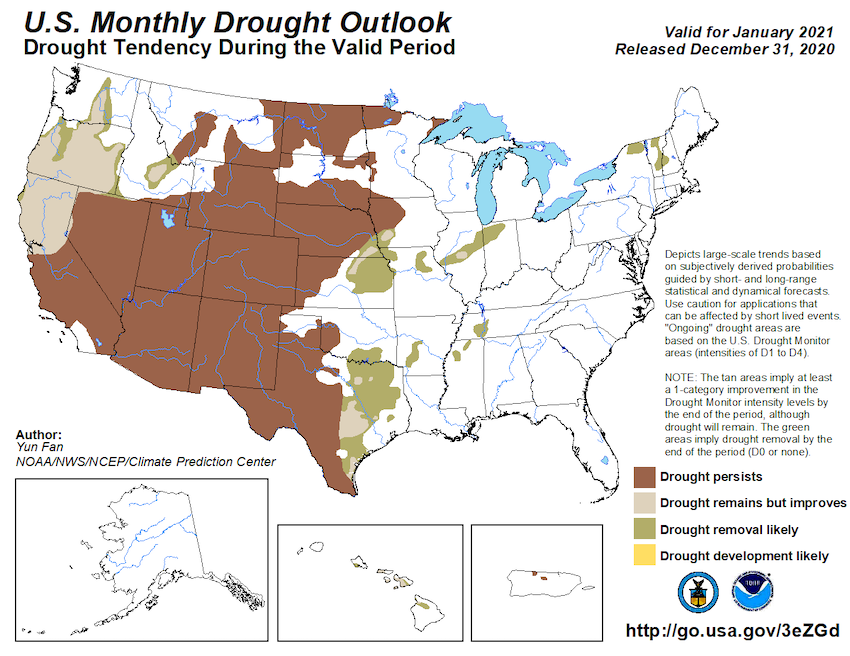 Temperature & Precipitation
Current forecasts for January favor above-normal precipitation and equal chance of above/below/normal temperatures for much of California-Nevada with highest odds of precipitation in Northern California. 7-day precipitation forecasts indicate that Northern California and Nevada and the Sierra Nevada Mountains are likely to get between 0.5-4 inches of precipitation. NOAA NWS Climate Prediction Center seasonal forecasts will be updated mid-January.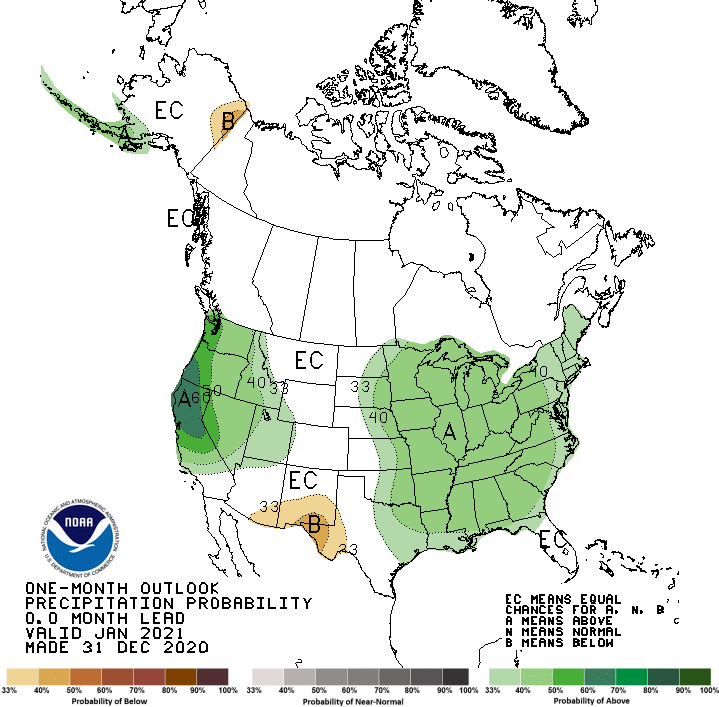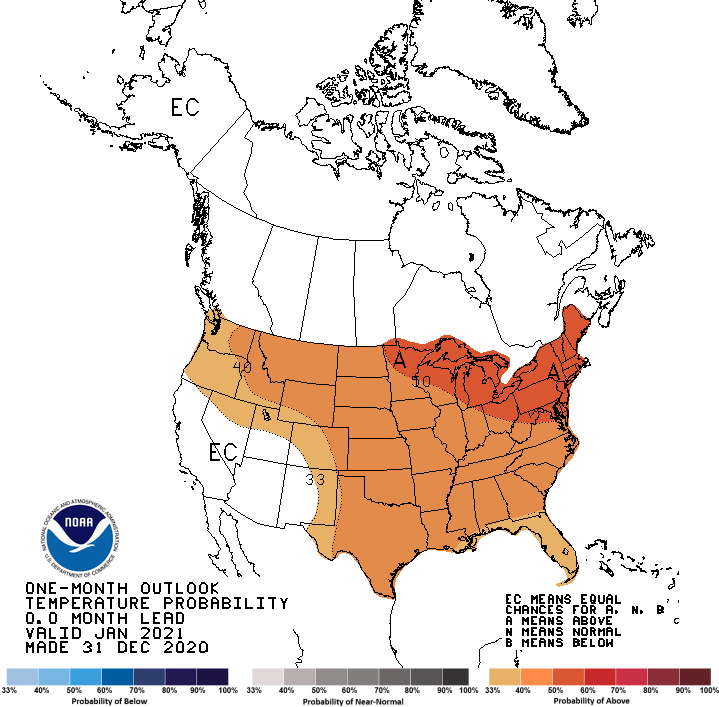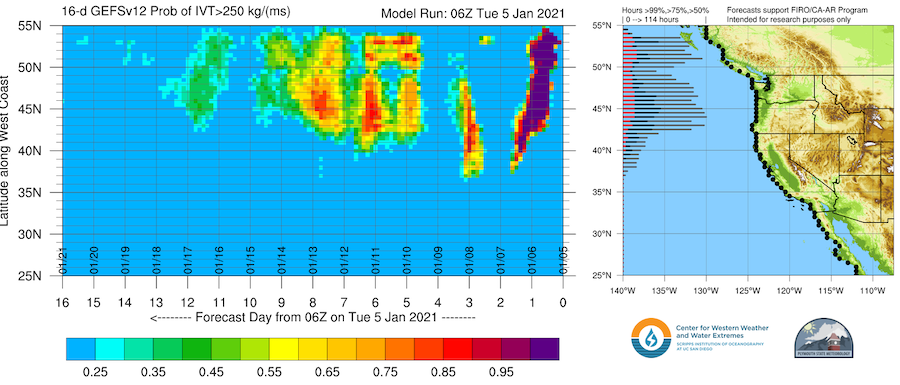 Drought Early Warning Resources
Observations & Monitoring
Predictions & Forecasting
Planning & Preparedness
Prepared By
Amanda Sheffield
NOAA/NIDIS California-Nevada DEWS Regional Drought Information Coordinator
Email: amanda.sheffield@noaa.gov
Julie Kalansky
Program Manager, California-Nevada Applications Program (NOAA RISA team)
Email: jkalansky@ucsd.edu
Special Thanks
This Drought Status Update is issued in partnership between the National Oceanic and Atmospheric Administration (NOAA) and the California-Nevada Applications Program, a NOAA RISA team, to communicate the current state of drought conditions in California-Nevada based on recent conditions and the upcoming forecast. NIDIS and its partners will issue future Drought Updates as conditions evolve. 
The next California-Nevada Drought & Climate Outlook webinar will take place on Monday, January 25 at 11 am PST.