Regional Drought Update Date
January 12, 2021
Site Section
Drought Status Update
Southeast Climate Update and Webinar Recap
---
Climate Conditions and Outlooks
2020 was very warm and wet for most of the Southeast U.S.
Record 22 billion-dollar disasters in the U.S. in 2020.
Slightly warmer and wetter than normal over the last 30 days.
"La Niña Advisory" now issued by NOAA, 100% chance of continuing through winter, 65% through spring.
Negative Arctic/North Atlantic Oscillation and Polar Vortex split is overriding typical La Niña impacts in December and January (article link below).
Looking ahead: NOAA Climate Prediction Center seasonal forecast favors above-normal temperatures and below normal rainfall.
Current Conditions
U.S. Drought Monitor Conditions: Southeast | January 5, 2021
Current U.S. Drought Monitor map for the Southeast with data valid for January 5, 2020. The U.S. Drought Monitor (USDM) is updated each Thursday to show the location and intensity of drought across the country. Drought categories show experts' assessments of conditions related to dryness and drought including observations of how much water is available in streams, lakes, and soils compared to usual for the same time of year.
There is no current drought in the Southeast and the U.S. Caribbean. A few pockets of abnormally dry conditions remain.
U.S. Drought Monitor Categories
The color with the hex code #ffff00 identifies:
D0 - Abnormally Dry
The color with the hex code #ffcc99 identifies:
D1 - Moderate Drought
The color with the hex code #ff6600 identifies:
D2 - Severe Drought
The color with the hex code #ff0000 identifies:
D3 - Extreme Drought
The color with the hex code #660000 identifies:
D4 - Exceptional Drought
Currently, data is only available for the contiguous U.S.
Main Stats
Above Normal
temperatures predicted in CPC's seasonal outlook
Below Normal
precipitation predicted in CPC's seasonal outlook
100%
chance of La Niña continuing through winter
65%
chance of La Niña continuing through spring
Drought
Drought: Small pockets of "abnormally dry" (D0) over north Florida, Georgia, and Alabama, according to the U.S. Drought Monitor.
Looking ahead: Drought could develop in late winter/spring if the La Niña winter plays out.
Water Resources and Flooding
Streamflow: Streamflows remain above normal across the Carolinas and Florida, and near normal for Georgia and Alabama.
Looking ahead: The streamflow forecast is more of the same for January, trending to near normal across the entire Southeast by February and March.
Agriculture Impact and Outlook
Recent wet conditions have improved stands of winter grains and pastures.
Cold temperatures have slowed the growth of strawberries and caused some frost damage.
Chill hours are still behind normal but are improving.
Looking ahead: Not a typical La Niña so far due to Sudden Stratospheric Warming in late December and expansion/displacement of polar vortex, but it may return to a typical pattern later in winter.
Spotlight: Living with Fire in the Southeastern U.S.
The southeast U.S. is naturally fire prone and continues to have extensive fires every year, nearly all prescribed and controlled.
Florida's prescribed fire policy is offsetting and interrupting the natural moisture and climate control on fire, reducing fire risks for the state.
Prescribed fires can be forecast, promising for air quality forecasting.
Projected climate change will likely increase wildfire risk, requiring changes to prescribed fire management.
What Happened: Southeast Temperature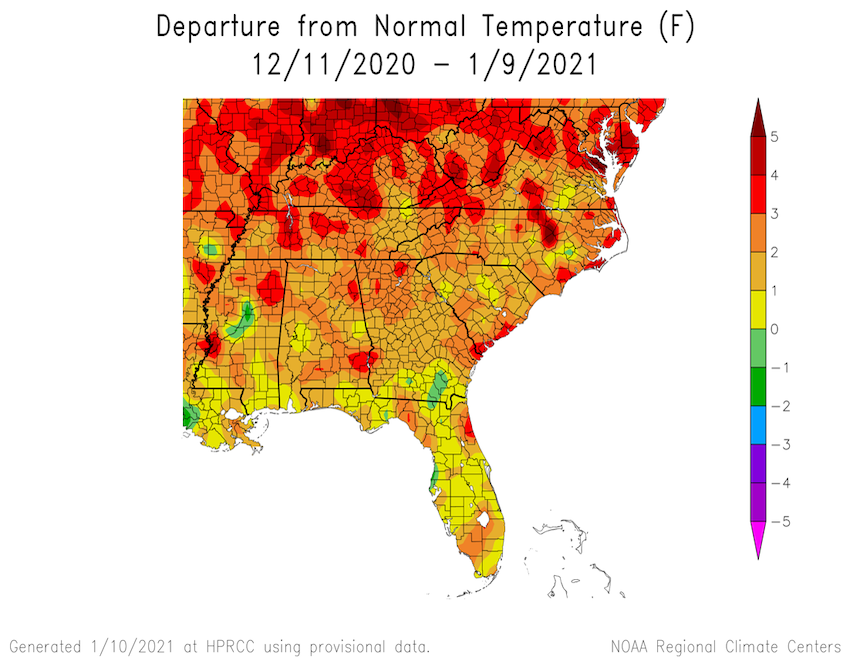 What Happened: Southeast Precipitation
Current Conditions: River Flood Status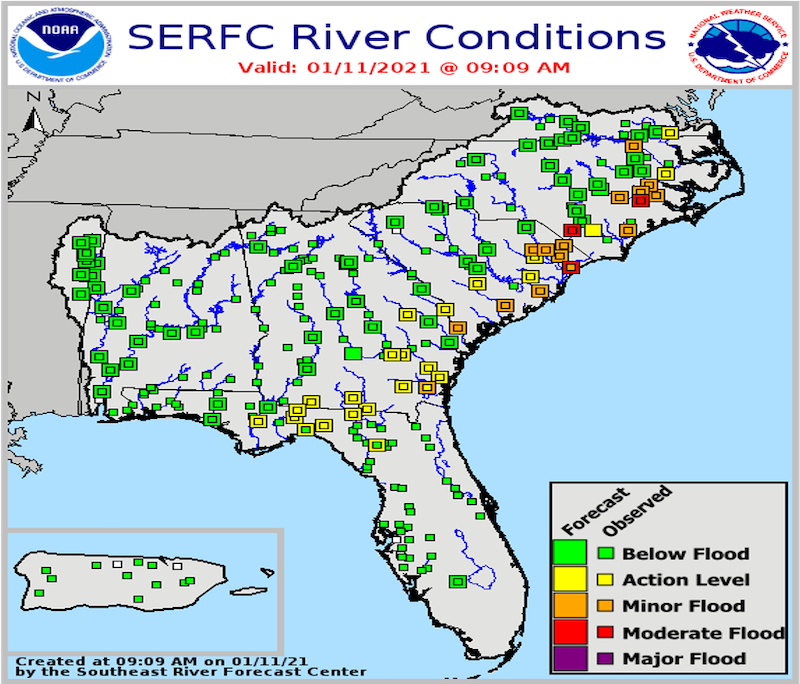 Looking Ahead: Streamflow Forecast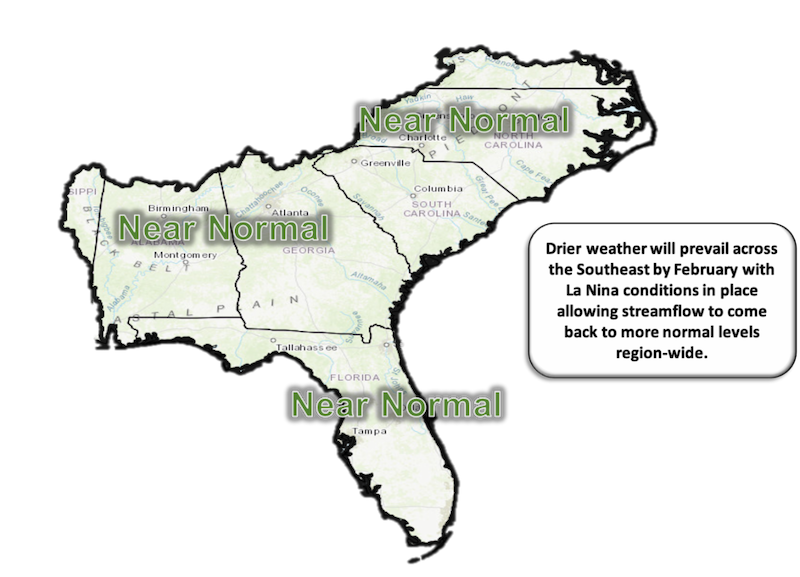 Looking Ahead: Seasonal Outlooks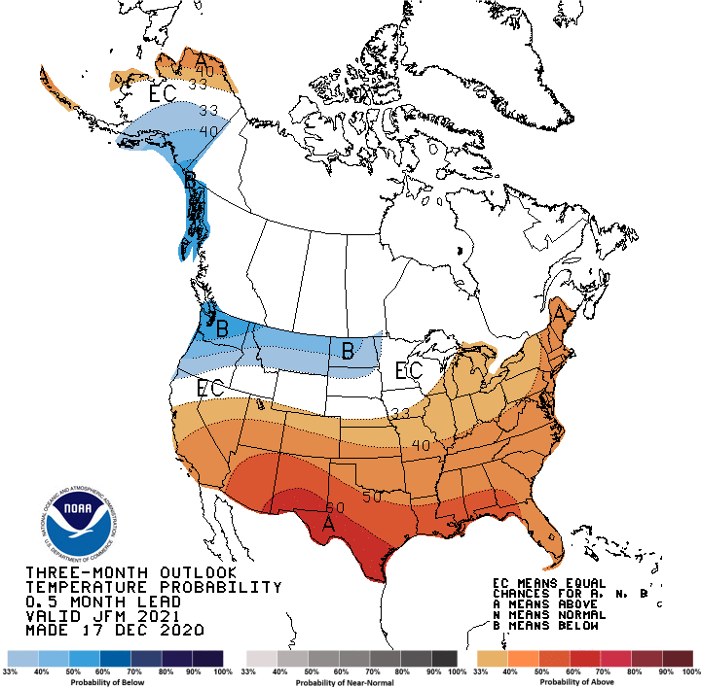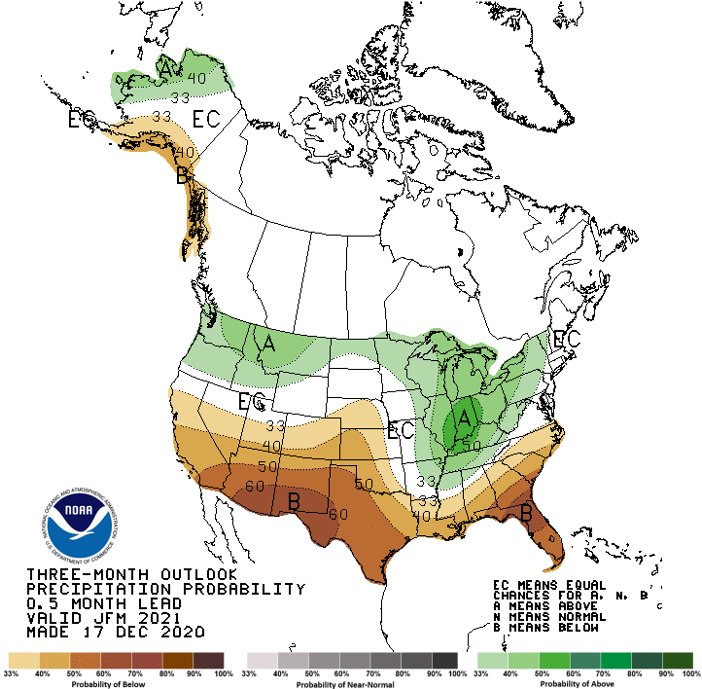 Acknowledgments 
Speakers
David Zierden, Florida Climate Center
Pam Knox, University of Georgia
Jeff Dobur, National Weather Service (NWS) Southeast River Forecast Center
Christopher Holmes and Holly Nowell, Florida State University
Relevant Resources
Special Thanks
The Southeast Climate Monthly Webinar series is held on the 2nd Tuesday of each month at 10:00 am ET. This series is hosted by the Southeast Regional Climate Center, the National Integrated Drought Information System (NIDIS) and the NOAA National Weather Service. These webinars provide the region with timely information on current and developing climate conditions such as drought, floods and tropical storms, as well as climatic events like El Niño and La Niña. Speakers may also discuss the impacts of these conditions on topics such as agriculture production, water resources, wildfires and ecosystems.
Subscribe to receive drought updates in your inbox, including these Southeast Climate Monthly Webinar recaps.
For webinar-related questions or suggestions, please contact Meredith Muth, meredith.f.muth@noaa.gov