Warning: Undefined variable $index in Drupal\responsive_bg_image_formatter\Plugin\Field\FieldFormatter\ResponsiveBgImageFormatter->viewElements() (line 95 of modules/custom/responsive_bg_image_formatter/src/Plugin/Field/FieldFormatter/ResponsiveBgImageFormatter.php).

Drupal\responsive_bg_image_formatter\Plugin\Field\FieldFormatter\ResponsiveBgImageFormatter->viewElements(Object, 'en') (Line: 89)
Drupal\Core\Field\FormatterBase->view(Object, 'en') (Line: 76)
Drupal\Core\Field\Plugin\Field\FieldFormatter\EntityReferenceFormatterBase->view(Object, NULL) (Line: 265)
Drupal\Core\Entity\Entity\EntityViewDisplay->buildMultiple(Array) (Line: 340)
Drupal\Core\Entity\EntityViewBuilder->buildComponents(Array, Array, Array, 'full') (Line: 24)
Drupal\node\NodeViewBuilder->buildComponents(Array, Array, Array, 'full') (Line: 282)
Drupal\Core\Entity\EntityViewBuilder->buildMultiple(Array) (Line: 239)
Drupal\Core\Entity\EntityViewBuilder->build(Array)
call_user_func_array(Array, Array) (Line: 101)
Drupal\Core\Render\Renderer->doTrustedCallback(Array, Array, 'Render #pre_render callbacks must be methods of a class that implements \Drupal\Core\Security\TrustedCallbackInterface or be an anonymous function. The callback was %s. See https://www.drupal.org/node/2966725', 'exception', 'Drupal\Core\Render\Element\RenderCallbackInterface') (Line: 788)
Drupal\Core\Render\Renderer->doCallback('#pre_render', Array, Array) (Line: 374)
Drupal\Core\Render\Renderer->doRender(Array, ) (Line: 204)
Drupal\Core\Render\Renderer->render(Array, ) (Line: 242)
Drupal\Core\Render\MainContent\HtmlRenderer->Drupal\Core\Render\MainContent\{closure}() (Line: 580)
Drupal\Core\Render\Renderer->executeInRenderContext(Object, Object) (Line: 243)
Drupal\Core\Render\MainContent\HtmlRenderer->prepare(Array, Object, Object) (Line: 132)
Drupal\Core\Render\MainContent\HtmlRenderer->renderResponse(Array, Object, Object) (Line: 90)
Drupal\Core\EventSubscriber\MainContentViewSubscriber->onViewRenderArray(Object, 'kernel.view', Object)
call_user_func(Array, Object, 'kernel.view', Object) (Line: 142)
Drupal\Component\EventDispatcher\ContainerAwareEventDispatcher->dispatch(Object, 'kernel.view') (Line: 174)
Symfony\Component\HttpKernel\HttpKernel->handleRaw(Object, 1) (Line: 81)
Symfony\Component\HttpKernel\HttpKernel->handle(Object, 1, 1) (Line: 58)
Drupal\Core\StackMiddleware\Session->handle(Object, 1, 1) (Line: 48)
Drupal\Core\StackMiddleware\KernelPreHandle->handle(Object, 1, 1) (Line: 191)
Drupal\page_cache\StackMiddleware\PageCache->fetch(Object, 1, 1) (Line: 128)
Drupal\page_cache\StackMiddleware\PageCache->lookup(Object, 1, 1) (Line: 82)
Drupal\page_cache\StackMiddleware\PageCache->handle(Object, 1, 1) (Line: 48)
Drupal\Core\StackMiddleware\ReverseProxyMiddleware->handle(Object, 1, 1) (Line: 51)
Drupal\Core\StackMiddleware\NegotiationMiddleware->handle(Object, 1, 1) (Line: 23)
Stack\StackedHttpKernel->handle(Object, 1, 1) (Line: 718)
Drupal\Core\DrupalKernel->handle(Object) (Line: 19)


Warning: Undefined array key "media" in Drupal\responsive_bg_image_formatter\Plugin\Field\FieldFormatter\ResponsiveBgImageFormatter->viewElements() (line 112 of modules/custom/responsive_bg_image_formatter/src/Plugin/Field/FieldFormatter/ResponsiveBgImageFormatter.php).

Drupal\responsive_bg_image_formatter\Plugin\Field\FieldFormatter\ResponsiveBgImageFormatter->viewElements(Object, 'en') (Line: 89)
Drupal\Core\Field\FormatterBase->view(Object, 'en') (Line: 76)
Drupal\Core\Field\Plugin\Field\FieldFormatter\EntityReferenceFormatterBase->view(Object, NULL) (Line: 265)
Drupal\Core\Entity\Entity\EntityViewDisplay->buildMultiple(Array) (Line: 340)
Drupal\Core\Entity\EntityViewBuilder->buildComponents(Array, Array, Array, 'full') (Line: 24)
Drupal\node\NodeViewBuilder->buildComponents(Array, Array, Array, 'full') (Line: 282)
Drupal\Core\Entity\EntityViewBuilder->buildMultiple(Array) (Line: 239)
Drupal\Core\Entity\EntityViewBuilder->build(Array)
call_user_func_array(Array, Array) (Line: 101)
Drupal\Core\Render\Renderer->doTrustedCallback(Array, Array, 'Render #pre_render callbacks must be methods of a class that implements \Drupal\Core\Security\TrustedCallbackInterface or be an anonymous function. The callback was %s. See https://www.drupal.org/node/2966725', 'exception', 'Drupal\Core\Render\Element\RenderCallbackInterface') (Line: 788)
Drupal\Core\Render\Renderer->doCallback('#pre_render', Array, Array) (Line: 374)
Drupal\Core\Render\Renderer->doRender(Array, ) (Line: 204)
Drupal\Core\Render\Renderer->render(Array, ) (Line: 242)
Drupal\Core\Render\MainContent\HtmlRenderer->Drupal\Core\Render\MainContent\{closure}() (Line: 580)
Drupal\Core\Render\Renderer->executeInRenderContext(Object, Object) (Line: 243)
Drupal\Core\Render\MainContent\HtmlRenderer->prepare(Array, Object, Object) (Line: 132)
Drupal\Core\Render\MainContent\HtmlRenderer->renderResponse(Array, Object, Object) (Line: 90)
Drupal\Core\EventSubscriber\MainContentViewSubscriber->onViewRenderArray(Object, 'kernel.view', Object)
call_user_func(Array, Object, 'kernel.view', Object) (Line: 142)
Drupal\Component\EventDispatcher\ContainerAwareEventDispatcher->dispatch(Object, 'kernel.view') (Line: 174)
Symfony\Component\HttpKernel\HttpKernel->handleRaw(Object, 1) (Line: 81)
Symfony\Component\HttpKernel\HttpKernel->handle(Object, 1, 1) (Line: 58)
Drupal\Core\StackMiddleware\Session->handle(Object, 1, 1) (Line: 48)
Drupal\Core\StackMiddleware\KernelPreHandle->handle(Object, 1, 1) (Line: 191)
Drupal\page_cache\StackMiddleware\PageCache->fetch(Object, 1, 1) (Line: 128)
Drupal\page_cache\StackMiddleware\PageCache->lookup(Object, 1, 1) (Line: 82)
Drupal\page_cache\StackMiddleware\PageCache->handle(Object, 1, 1) (Line: 48)
Drupal\Core\StackMiddleware\ReverseProxyMiddleware->handle(Object, 1, 1) (Line: 51)
Drupal\Core\StackMiddleware\NegotiationMiddleware->handle(Object, 1, 1) (Line: 23)
Stack\StackedHttpKernel->handle(Object, 1, 1) (Line: 718)
Drupal\Core\DrupalKernel->handle(Object) (Line: 19)


Deprecated function: str_replace(): Passing null to parameter #3 ($subject) of type array|string is deprecated in Drupal\responsive_bg_image_formatter\Plugin\Field\FieldFormatter\ResponsiveBgImageFormatter->viewElements() (line 126 of modules/custom/responsive_bg_image_formatter/src/Plugin/Field/FieldFormatter/ResponsiveBgImageFormatter.php).

Drupal\responsive_bg_image_formatter\Plugin\Field\FieldFormatter\ResponsiveBgImageFormatter->viewElements(Object, 'en') (Line: 89)
Drupal\Core\Field\FormatterBase->view(Object, 'en') (Line: 76)
Drupal\Core\Field\Plugin\Field\FieldFormatter\EntityReferenceFormatterBase->view(Object, NULL) (Line: 265)
Drupal\Core\Entity\Entity\EntityViewDisplay->buildMultiple(Array) (Line: 340)
Drupal\Core\Entity\EntityViewBuilder->buildComponents(Array, Array, Array, 'full') (Line: 24)
Drupal\node\NodeViewBuilder->buildComponents(Array, Array, Array, 'full') (Line: 282)
Drupal\Core\Entity\EntityViewBuilder->buildMultiple(Array) (Line: 239)
Drupal\Core\Entity\EntityViewBuilder->build(Array)
call_user_func_array(Array, Array) (Line: 101)
Drupal\Core\Render\Renderer->doTrustedCallback(Array, Array, 'Render #pre_render callbacks must be methods of a class that implements \Drupal\Core\Security\TrustedCallbackInterface or be an anonymous function. The callback was %s. See https://www.drupal.org/node/2966725', 'exception', 'Drupal\Core\Render\Element\RenderCallbackInterface') (Line: 788)
Drupal\Core\Render\Renderer->doCallback('#pre_render', Array, Array) (Line: 374)
Drupal\Core\Render\Renderer->doRender(Array, ) (Line: 204)
Drupal\Core\Render\Renderer->render(Array, ) (Line: 242)
Drupal\Core\Render\MainContent\HtmlRenderer->Drupal\Core\Render\MainContent\{closure}() (Line: 580)
Drupal\Core\Render\Renderer->executeInRenderContext(Object, Object) (Line: 243)
Drupal\Core\Render\MainContent\HtmlRenderer->prepare(Array, Object, Object) (Line: 132)
Drupal\Core\Render\MainContent\HtmlRenderer->renderResponse(Array, Object, Object) (Line: 90)
Drupal\Core\EventSubscriber\MainContentViewSubscriber->onViewRenderArray(Object, 'kernel.view', Object)
call_user_func(Array, Object, 'kernel.view', Object) (Line: 142)
Drupal\Component\EventDispatcher\ContainerAwareEventDispatcher->dispatch(Object, 'kernel.view') (Line: 174)
Symfony\Component\HttpKernel\HttpKernel->handleRaw(Object, 1) (Line: 81)
Symfony\Component\HttpKernel\HttpKernel->handle(Object, 1, 1) (Line: 58)
Drupal\Core\StackMiddleware\Session->handle(Object, 1, 1) (Line: 48)
Drupal\Core\StackMiddleware\KernelPreHandle->handle(Object, 1, 1) (Line: 191)
Drupal\page_cache\StackMiddleware\PageCache->fetch(Object, 1, 1) (Line: 128)
Drupal\page_cache\StackMiddleware\PageCache->lookup(Object, 1, 1) (Line: 82)
Drupal\page_cache\StackMiddleware\PageCache->handle(Object, 1, 1) (Line: 48)
Drupal\Core\StackMiddleware\ReverseProxyMiddleware->handle(Object, 1, 1) (Line: 51)
Drupal\Core\StackMiddleware\NegotiationMiddleware->handle(Object, 1, 1) (Line: 23)
Stack\StackedHttpKernel->handle(Object, 1, 1) (Line: 718)
Drupal\Core\DrupalKernel->handle(Object) (Line: 19)


Warning: Undefined array key "media" in Drupal\responsive_bg_image_formatter\Plugin\Field\FieldFormatter\ResponsiveBgImageFormatter->viewElements() (line 112 of modules/custom/responsive_bg_image_formatter/src/Plugin/Field/FieldFormatter/ResponsiveBgImageFormatter.php).

Drupal\responsive_bg_image_formatter\Plugin\Field\FieldFormatter\ResponsiveBgImageFormatter->viewElements(Object, 'en') (Line: 89)
Drupal\Core\Field\FormatterBase->view(Object, 'en') (Line: 76)
Drupal\Core\Field\Plugin\Field\FieldFormatter\EntityReferenceFormatterBase->view(Object, NULL) (Line: 265)
Drupal\Core\Entity\Entity\EntityViewDisplay->buildMultiple(Array) (Line: 340)
Drupal\Core\Entity\EntityViewBuilder->buildComponents(Array, Array, Array, 'full') (Line: 24)
Drupal\node\NodeViewBuilder->buildComponents(Array, Array, Array, 'full') (Line: 282)
Drupal\Core\Entity\EntityViewBuilder->buildMultiple(Array) (Line: 239)
Drupal\Core\Entity\EntityViewBuilder->build(Array)
call_user_func_array(Array, Array) (Line: 101)
Drupal\Core\Render\Renderer->doTrustedCallback(Array, Array, 'Render #pre_render callbacks must be methods of a class that implements \Drupal\Core\Security\TrustedCallbackInterface or be an anonymous function. The callback was %s. See https://www.drupal.org/node/2966725', 'exception', 'Drupal\Core\Render\Element\RenderCallbackInterface') (Line: 788)
Drupal\Core\Render\Renderer->doCallback('#pre_render', Array, Array) (Line: 374)
Drupal\Core\Render\Renderer->doRender(Array, ) (Line: 204)
Drupal\Core\Render\Renderer->render(Array, ) (Line: 242)
Drupal\Core\Render\MainContent\HtmlRenderer->Drupal\Core\Render\MainContent\{closure}() (Line: 580)
Drupal\Core\Render\Renderer->executeInRenderContext(Object, Object) (Line: 243)
Drupal\Core\Render\MainContent\HtmlRenderer->prepare(Array, Object, Object) (Line: 132)
Drupal\Core\Render\MainContent\HtmlRenderer->renderResponse(Array, Object, Object) (Line: 90)
Drupal\Core\EventSubscriber\MainContentViewSubscriber->onViewRenderArray(Object, 'kernel.view', Object)
call_user_func(Array, Object, 'kernel.view', Object) (Line: 142)
Drupal\Component\EventDispatcher\ContainerAwareEventDispatcher->dispatch(Object, 'kernel.view') (Line: 174)
Symfony\Component\HttpKernel\HttpKernel->handleRaw(Object, 1) (Line: 81)
Symfony\Component\HttpKernel\HttpKernel->handle(Object, 1, 1) (Line: 58)
Drupal\Core\StackMiddleware\Session->handle(Object, 1, 1) (Line: 48)
Drupal\Core\StackMiddleware\KernelPreHandle->handle(Object, 1, 1) (Line: 191)
Drupal\page_cache\StackMiddleware\PageCache->fetch(Object, 1, 1) (Line: 128)
Drupal\page_cache\StackMiddleware\PageCache->lookup(Object, 1, 1) (Line: 82)
Drupal\page_cache\StackMiddleware\PageCache->handle(Object, 1, 1) (Line: 48)
Drupal\Core\StackMiddleware\ReverseProxyMiddleware->handle(Object, 1, 1) (Line: 51)
Drupal\Core\StackMiddleware\NegotiationMiddleware->handle(Object, 1, 1) (Line: 23)
Stack\StackedHttpKernel->handle(Object, 1, 1) (Line: 718)
Drupal\Core\DrupalKernel->handle(Object) (Line: 19)


Warning: Undefined array key "media" in Drupal\responsive_bg_image_formatter\Plugin\Field\FieldFormatter\ResponsiveBgImageFormatter->viewElements() (line 112 of modules/custom/responsive_bg_image_formatter/src/Plugin/Field/FieldFormatter/ResponsiveBgImageFormatter.php).

Drupal\responsive_bg_image_formatter\Plugin\Field\FieldFormatter\ResponsiveBgImageFormatter->viewElements(Object, 'en') (Line: 89)
Drupal\Core\Field\FormatterBase->view(Object, 'en') (Line: 76)
Drupal\Core\Field\Plugin\Field\FieldFormatter\EntityReferenceFormatterBase->view(Object, NULL) (Line: 265)
Drupal\Core\Entity\Entity\EntityViewDisplay->buildMultiple(Array) (Line: 340)
Drupal\Core\Entity\EntityViewBuilder->buildComponents(Array, Array, Array, 'full') (Line: 24)
Drupal\node\NodeViewBuilder->buildComponents(Array, Array, Array, 'full') (Line: 282)
Drupal\Core\Entity\EntityViewBuilder->buildMultiple(Array) (Line: 239)
Drupal\Core\Entity\EntityViewBuilder->build(Array)
call_user_func_array(Array, Array) (Line: 101)
Drupal\Core\Render\Renderer->doTrustedCallback(Array, Array, 'Render #pre_render callbacks must be methods of a class that implements \Drupal\Core\Security\TrustedCallbackInterface or be an anonymous function. The callback was %s. See https://www.drupal.org/node/2966725', 'exception', 'Drupal\Core\Render\Element\RenderCallbackInterface') (Line: 788)
Drupal\Core\Render\Renderer->doCallback('#pre_render', Array, Array) (Line: 374)
Drupal\Core\Render\Renderer->doRender(Array, ) (Line: 204)
Drupal\Core\Render\Renderer->render(Array, ) (Line: 242)
Drupal\Core\Render\MainContent\HtmlRenderer->Drupal\Core\Render\MainContent\{closure}() (Line: 580)
Drupal\Core\Render\Renderer->executeInRenderContext(Object, Object) (Line: 243)
Drupal\Core\Render\MainContent\HtmlRenderer->prepare(Array, Object, Object) (Line: 132)
Drupal\Core\Render\MainContent\HtmlRenderer->renderResponse(Array, Object, Object) (Line: 90)
Drupal\Core\EventSubscriber\MainContentViewSubscriber->onViewRenderArray(Object, 'kernel.view', Object)
call_user_func(Array, Object, 'kernel.view', Object) (Line: 142)
Drupal\Component\EventDispatcher\ContainerAwareEventDispatcher->dispatch(Object, 'kernel.view') (Line: 174)
Symfony\Component\HttpKernel\HttpKernel->handleRaw(Object, 1) (Line: 81)
Symfony\Component\HttpKernel\HttpKernel->handle(Object, 1, 1) (Line: 58)
Drupal\Core\StackMiddleware\Session->handle(Object, 1, 1) (Line: 48)
Drupal\Core\StackMiddleware\KernelPreHandle->handle(Object, 1, 1) (Line: 191)
Drupal\page_cache\StackMiddleware\PageCache->fetch(Object, 1, 1) (Line: 128)
Drupal\page_cache\StackMiddleware\PageCache->lookup(Object, 1, 1) (Line: 82)
Drupal\page_cache\StackMiddleware\PageCache->handle(Object, 1, 1) (Line: 48)
Drupal\Core\StackMiddleware\ReverseProxyMiddleware->handle(Object, 1, 1) (Line: 51)
Drupal\Core\StackMiddleware\NegotiationMiddleware->handle(Object, 1, 1) (Line: 23)
Stack\StackedHttpKernel->handle(Object, 1, 1) (Line: 718)
Drupal\Core\DrupalKernel->handle(Object) (Line: 19)


Warning: Undefined variable $index in Drupal\responsive_bg_image_formatter\Plugin\Field\FieldFormatter\ResponsiveBgImageFormatter->viewElements() (line 153 of modules/custom/responsive_bg_image_formatter/src/Plugin/Field/FieldFormatter/ResponsiveBgImageFormatter.php).

Drupal\responsive_bg_image_formatter\Plugin\Field\FieldFormatter\ResponsiveBgImageFormatter->viewElements(Object, 'en') (Line: 89)
Drupal\Core\Field\FormatterBase->view(Object, 'en') (Line: 76)
Drupal\Core\Field\Plugin\Field\FieldFormatter\EntityReferenceFormatterBase->view(Object, NULL) (Line: 265)
Drupal\Core\Entity\Entity\EntityViewDisplay->buildMultiple(Array) (Line: 340)
Drupal\Core\Entity\EntityViewBuilder->buildComponents(Array, Array, Array, 'full') (Line: 24)
Drupal\node\NodeViewBuilder->buildComponents(Array, Array, Array, 'full') (Line: 282)
Drupal\Core\Entity\EntityViewBuilder->buildMultiple(Array) (Line: 239)
Drupal\Core\Entity\EntityViewBuilder->build(Array)
call_user_func_array(Array, Array) (Line: 101)
Drupal\Core\Render\Renderer->doTrustedCallback(Array, Array, 'Render #pre_render callbacks must be methods of a class that implements \Drupal\Core\Security\TrustedCallbackInterface or be an anonymous function. The callback was %s. See https://www.drupal.org/node/2966725', 'exception', 'Drupal\Core\Render\Element\RenderCallbackInterface') (Line: 788)
Drupal\Core\Render\Renderer->doCallback('#pre_render', Array, Array) (Line: 374)
Drupal\Core\Render\Renderer->doRender(Array, ) (Line: 204)
Drupal\Core\Render\Renderer->render(Array, ) (Line: 242)
Drupal\Core\Render\MainContent\HtmlRenderer->Drupal\Core\Render\MainContent\{closure}() (Line: 580)
Drupal\Core\Render\Renderer->executeInRenderContext(Object, Object) (Line: 243)
Drupal\Core\Render\MainContent\HtmlRenderer->prepare(Array, Object, Object) (Line: 132)
Drupal\Core\Render\MainContent\HtmlRenderer->renderResponse(Array, Object, Object) (Line: 90)
Drupal\Core\EventSubscriber\MainContentViewSubscriber->onViewRenderArray(Object, 'kernel.view', Object)
call_user_func(Array, Object, 'kernel.view', Object) (Line: 142)
Drupal\Component\EventDispatcher\ContainerAwareEventDispatcher->dispatch(Object, 'kernel.view') (Line: 174)
Symfony\Component\HttpKernel\HttpKernel->handleRaw(Object, 1) (Line: 81)
Symfony\Component\HttpKernel\HttpKernel->handle(Object, 1, 1) (Line: 58)
Drupal\Core\StackMiddleware\Session->handle(Object, 1, 1) (Line: 48)
Drupal\Core\StackMiddleware\KernelPreHandle->handle(Object, 1, 1) (Line: 191)
Drupal\page_cache\StackMiddleware\PageCache->fetch(Object, 1, 1) (Line: 128)
Drupal\page_cache\StackMiddleware\PageCache->lookup(Object, 1, 1) (Line: 82)
Drupal\page_cache\StackMiddleware\PageCache->handle(Object, 1, 1) (Line: 48)
Drupal\Core\StackMiddleware\ReverseProxyMiddleware->handle(Object, 1, 1) (Line: 51)
Drupal\Core\StackMiddleware\NegotiationMiddleware->handle(Object, 1, 1) (Line: 23)
Stack\StackedHttpKernel->handle(Object, 1, 1) (Line: 718)
Drupal\Core\DrupalKernel->handle(Object) (Line: 19)

Site Section
News & Events
Highlights From Drought and Outdoor Recreation Seminar
Published on
December 4, 2019
The outdoor industry is responsible for 2.2% of national GDP1; however, projected increases in the frequency and severity of drought threatens the viability of water-based recreation businesses. NIDIS, in partnership with the University of Colorado's Master of the Environment Graduate Program, hosted a seminar on November 19 to explore the effects of uncertain snowpack levels, streamflows, and warming temperatures on outdoor recreation businesses with a focus on snow- and water-based activities (skiing, fishing, rafting, etc.).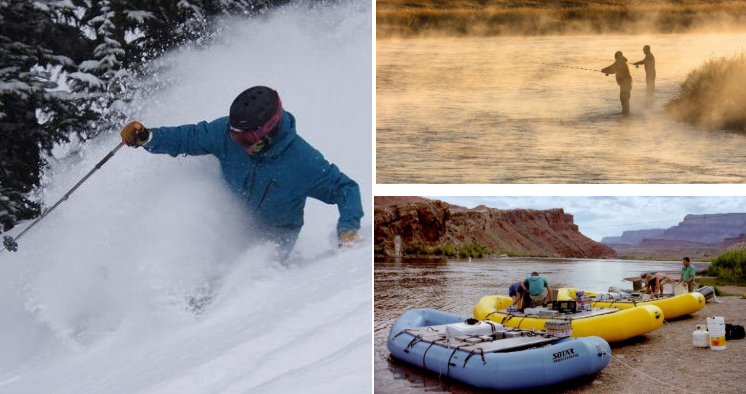 The seminar included presentations and discussion of new and novel research on drought impacts to the industry, drought information needs, and recommendations for future actions to strengthen drought resiliency of this key sector of the economy. While the seminar mostly focused on the Rocky Mountain states, much of the information presented can apply to other regions.
 
Seminar topics included:
Drought impacts on snow- and water-based outdoor recreation businesses
Vulnerability of the outdoor recreation industry to drought
Industry-specific drought adaptation strategies
Drought and weather information needs of the industry
How NIDIS and partners can provide support to this sector
PRESENTATIONS
Drought Risks and Information Needs of the Outdoor Recreation Industry
Jonah Seifer, Noelle Crowley, Josh King, Rebecca Mace, Carly Doolittle, Graduate students at CU Boulder's Masters of the Environment program
 
Graduate students with CU Boulder's Masters of the Environment presented findings and recommendations from a NIDIS sponsored research project on (1) determining the drought information needs of the outdoor recreation industry and (2) reducing negative drought impacts by providing valuable information to stakeholders in the industry. The project incorporated 47 interviews and 65 survey responses with outdoor industry stakeholders to investigate drought issues facing the outdoor recreation industry in the Intermountain West (Arizona, Colorado, New Mexico, Utah, and Wyoming).
 
Drought Impacts: Socioeconomic
Drought generally reduces visitation and retail sales. Businesses reported 20-50% reductions in annual revenue due to drought
Who assumes risks associated with climate change and drought? In outdoor recreation, risk is transferred to the jobs and livelihoods of the employees of the sector.
Widespread mental health impacts were reported by business owners 
Adaptation Strategies
Experiential and trusted knowledge are critical for decision-making in this sector. Peers are the main source of trusted knowledge, particularly for smaller businesses, and particularly for learning about adaptation strategies.
Diversification is key

Offering different activities
Running business in multiple locations
Changing the timing of services (used by fishing outfitters)

Marketing to attract customers and adjust expectations
Purchasing adjustments
Snowmaking 
Barriers to Adaptation
Capacity: diversifying requires additional resources
Fixed customer expectations
Geographic Location
Distrust of forecasts
Drought knowledge
Information Needs of the Outdoor Recreation Industry
Businesses with financial resources can access commercial forecast services. For others, there is universal demand for long-range forecasts on precipitation, streamflows, and temperatures.
Improved monitoring

Reduced complexity
More USGS gauges
More reliable SNOTEL sites
User-friendly point forecasts ​​
Recommendations for NIDIS
Drought.gov portal

Dashboard aggregating forecasts
Educational resources
Popular adaptation strategies

Form working groups with the industry
Expand engagement to brands and manufacturers
Replicate project in other regions
Drought, Tourism, and Recreation: What is the Connection?
Deborah Thomas, PhD, Professor and Chair in the Department of Geography and Earth Sciences at the University of North Carolina at Charlotte
 
This presentation reviewed a series of studies focusing on the interface of drought with tourism/recreation. The first was conducted after the 2002 Colorado Drought throughout mountain resort communities. Then, from October 2011 through April 2012, a pilot project was conducted in the southwestern region of Colorado to evaluate the metrics used for assessing impacts on the tourism/recreation sector in the Colorado State Drought Mitigation and Response Plan. Subsequently, this pilot was expanded to a statewide survey.
 
Survey Highlights:
78% of the respondents in the recreation/tourism sector (out of 119) said they had experience with a previous drought
Only 15 (of 105 total responses) have a drought mitigation and/or response plan 
13 organizations participated in local or regional drought planning
Only 3 reported a drought written plan that is synchronized with either the state's or the region's plan
34% did not plan for drought at all
Some had awareness about and use of current drought monitoring and assessment data/tools
Out of all the drought-related data sources listed in a Drought Mitigation Plan, those predominantly identified were:

stream flow data
weather forecasts
long term outlooks
reservoir levels
NRCS Snow Telemetry Network (SNOTEL) sites
Drought Impacts on Outdoor Recreation/Tourism:
Drought has direct and indirect impacts on the tourism/recreation sector, spanning all seasons and activities such as boating, rafting, canoeing, fishing, skiing, snowmobiling, and skiing
Intangible relationships are harder to quantify (e.g., decreased visitations and cancelations in hotel stays stemming from negative perceptions of dryness, never booked holidays because of wildfires)
Coping Strategies:
PR & marketing campaigns that highlight diverse recreation options 
Importance of conveying current and accurate data and information to tourists
Economic diversification (e.g., when rafting goes down, mountain biking could go up)
The Drought-Tourism Nexus in Montana: Two Case Studies
Jan Stoddard, Industry Services and Outreach Bureau Chief, Montana Office of Tourism and Business Development, Department of Commerce
 
Jan Stoddard presented on two drought-related incident case studies from Montana that demonstrate how drought is impacting the tourism sector's bottom line and ecosystems. The first involved wildfire impacts. Summer 2017 was the worst fire season in Montana in decades. This caused a lot of issues with air quality—it was not healthy to go outside and do physical activities. The second case study involved closure of a large extent of the Yellowstone River in 2016. The closure applied to all water-based recreation uses on the affected rivers and streams.
 
Wildfire Impact on Non-Resident Travel
800,00 visitors lost in the third quarter of 2017
Of those individuals who did not travel to Montana during the summer of 2017, 9% indicated they had planned to visit the state but canceled due to the smoke or fire in their planned visiting area
For every 100 visitors that did come to Montana during this period, 8.6 individuals canceled their trip
$240.5 million lost in visitor spending or 12.4% for the busiest travel quarter of the year.
6.8% lost in expected annual spending
Wildfire Impact on Resident Travel & Recreation
38% of Montanans indicated that smoke impacted their travel
25% canceled their travel
16% changed where they traveled in the state
66% of Montana residents experienced decreased air quality
69% of adults in Montana said the smoke affected their outdoor activities. 
Impact of the Yellowstone River Closure
Based on a study done to measure impacts of the closure, 100% of groups who planned  to come to Montana specifically to float decided to cancel
Floating groups who still came to Montana spent less money on outfitter/guide expenditures and on other activities
Employment was reduced by 5.5 to 7.8 jobs.
Total economic output of Park County, MT was reduced by $359,750
Drought and its Effect on Whitewater Rafting Outfitters in Colorado
David Costlow, Executive Director of the Colorado River Outfitters Association
The occurrence of drought is a major factor in the economic outcomes of whitewater rafting outfitters in Colorado. Beyond reduced water flows, droughts can lead to unexpected perceptions that further impact rafting operations. This talk by David Costlow reviewed the last 20 years of commercial rafting operations in Colorado and how the industry adapted during three major droughts.
Most commercial river rafting operations in Colorado are located by small towns. The economic impacts of rafting on these towns can be quite significant when customer numbers go down.
Like most outdoor recreation industries, rafting season is seasonal and relatively short. Losing 2 weeks of business can be the equivalent to losing 2 months for non-seasonal businesses.
During the drought in 2002, rafting on the Arkansas River went down to 139,178 user days from 252,213 in 2001. In 2012, the number of user days went down to 169,486 user days from 208,329 in 2011 due to drought. While still significant, the drop is user days was less in 2012 compared to 2002.
The perceptions of drought are often worse than the actual drought. The reality is that low water (sometimes due to drought) can be more family-friendly than high water. Low water doesn't mean no water.
It's hard to overcome media reports that are not quite accurate. The rafting sector needs to get the message out earlier. In 2012 (and the 2018 drought) the messaging was better than 2002.
Three reasons 2012/2018 was better than 2002 for rafting companies:

Reservoirs started out higher so the water was higher
The rafting sector worked with the media to get their messaging out
Outfitters bought smaller rafts and trained their staff differently, including finding new routes.
Climate Variability and the Outdoor Recreation Industry
Marca Hagenstad, Founder, Circle Economics
 
This presentation discussed how climate variability affects the winter recreation industry and the livelihoods that depend on it. Marca Hagenstad presented results of a research effort she led with Protect Our Winters and additional funding by REI, Inc. The study examined the recreation and associated economic impacts from variations in snowfall and quantified the differences between low-snow and high-snow years. Results were presented at the national level and a few selected states.
There's a strong correlation between snow and skier visits. In high snow years, there were 7% more visits than average. In low snow years, its 10% less than average. Low snow years see bigger losses compared to average than high snow year gains compared to average.
Low snow years have negative impacts on the economy. Increased skier participation levels in high snow years meant an extra $692.9 million in value added and 11,800 extra jobs compared to the 2001–2016 average. In low snow years, reduced participation decreased value added by over $1 billion and cost 17,400 jobs compared to an average season.
Climate change has led to reductions in snow accumulation, less consistent snowpacks, midwinter thaws, and rain instead of snow.
How are resorts adapting?

Reducing their own impacts on the environment

Increasing investments in sustainability 
Participating in the National Ski Areas Association (NSAA) Sustainable Slopes Program, Climate Challenge Program

Education and advocacy efforts

Implementing educational programs to increase customer awareness and action
Participating in  the Outdoor Business Climate Partnership (OBCP): NSAA/OIA/SIA

Reducing vulnerability and business volatility

Adopting business adaptation strategies
Increased snowmaking (requires $, water, minimum temps)
Geographic diversification
Changing dates of operations

How are recreationists adapting?

Reducing their impacts on the environment

Changes at home: energy efficiency, installing solar, electric vehicles
Lifestyle changes: less meat, increasing transit, less traveling?

Support/Advocacy

Voting, supporting climate action regulations
Support for climate/environmental organizations
Supporting sustainable brands, sustainable resorts (voting with dollars)

Change in skier behavior?

Purchasing multi-resort pass; waiting to book trips
It's uncertain how skiers will change their decision-making over time – will they ski less if fewer resorts are open, are more crowded, and have less natural snow? It's still to be determined. Maybe they still want to go to the mountains as long as resorts are providing recreation activities.
The seminar closed with the participants discussing NIDIS' priorities and next steps with regard to outdoor recreation. Stay tuned for the full report from the NIDIS/CU Boulder's Masters of the Environment program project coming this winter.
 
1 "Outdoor Recreation." U.S. Bureau of Economic Analysis (BEA), 2019, www.bea.gov/data/special-topics/outdoor-recreation.
Published on
January 7, 2020