Site Section
News & Events
NIDIS Hits the Road: Showcasing drought early warning across the country
Published on
April 3, 2018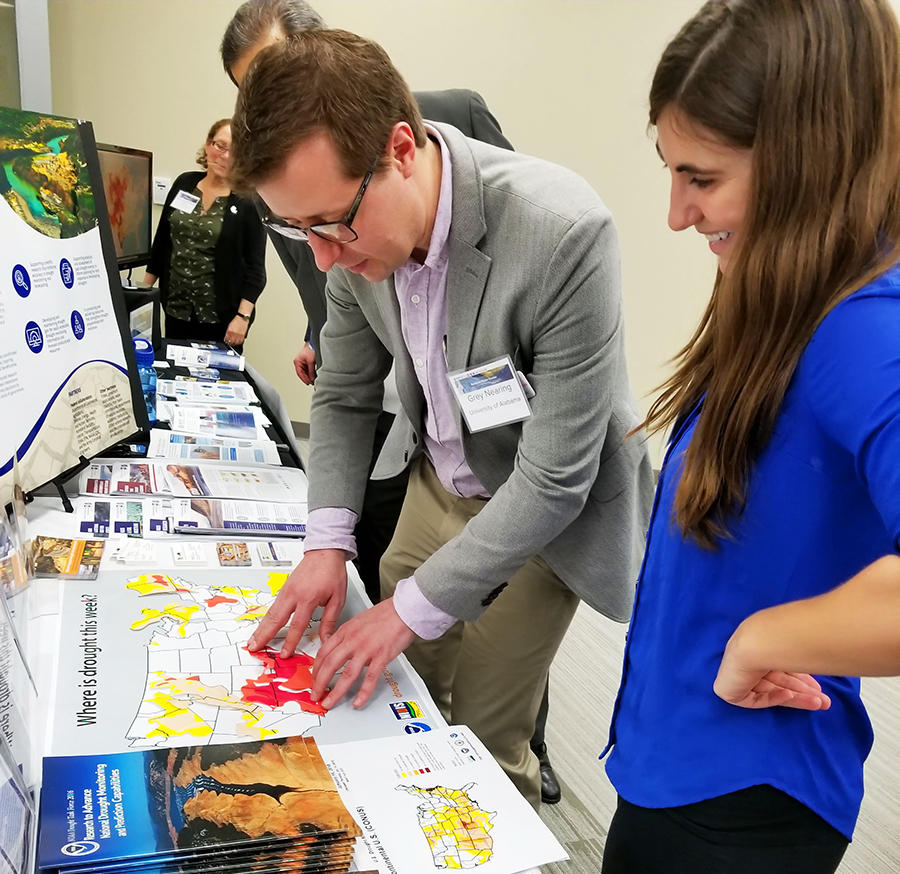 Last week NIDIS was represented coast-to-coast in a series of conferences, symposiums, and stakeholder meetings focused on drought, precipitation, and water. NIDIS staff members were in California, Washington, Oregon, Nebraska, Indiana, Washington, D.C., and Alabama presenting news and updates about NIDIS and drought early warning to a range of stakeholders, including experts in water, resource managers, and the agriculture industry.
The coordinator for the Missouri River Basin Drought Early Warning System (DEWS) and Pacific Northwest DEWS, Britt Parker, co-organized and co-hosted a session at the Missouri River Conference in Nebraska. This conference, held annually by the Missouri River Natural Resource Committee, brings together natural resource managers and creates an environment of knowledge sharing between state and federal agencies. NIDIS, along with the National Centers for Environmental Information (NCEI), National Drought Mitigation Center (NDMC), and South Dakota State Climate Office (housed in South Dakota State University), hosted a special session on drought (including a segment about the 2017 Northern Plains drought) for a group of engaged stakeholders and resource managers. Increasing stakeholder knowledge and understanding of drought will hopefully drive improved drought resilience within the region and improved collaboration between agencies and stakeholders. This week, Britt is in the Pacific Northwest states, meeting with partners and stakeholders in the Pacific Northwest DEWS.
Amanda Sheffield, the coordinator for the California-Nevada DEWS, was invited to speak on a panel at the Southwest Extreme Precipitation Symposium at the Scripps Institution of Oceanography in San Diego. The symposium was created to bring together experts from federal and state agencies, as well as other sectors in climate and drought science, in an effort to improve collective understanding of extreme precipitation events in the Southwest. This knowledge sharing will hopefully drive improvements in early warning, mitigation, and response to extreme precipitation events - including droughts and floods. The topics covered during the symposium included engineering, water management, flood control, and agriculture. Amanda's presentation focused on the development, extent, and impacts of the 2011-2016 California drought. Her presentation also included a discussion about the role of the DEWS network in advancing the accessibility and usability of climate and drought science and improving the capacity of stakeholders to better monitor, forecast, plan for, and cope with the impacts of drought.
Molly Woloszyn, the Midwest DEWS coordinator, was at Purdue University in Indiana, speaking with a number of partners and stakeholders in the agriculture industry as well as experts in water management. Molly met with representatives from the Indiana State Climate Office, the Extension Disaster Education Network (EDEN)'s Drought Task Force, the Indiana Water Resources Research Center, as well as a number of regional partners and stakeholders. The focus of this series of meetings was to become more familiar with the drought-related projects and research taking place at Purdue, to discuss drought information needs in Indiana, and to explore collaboration opportunities between these partners and the Midwest DEWS.
Elizabeth Ossowski represented NIDIS as a technical content partner for the American Water Works Association's 2018 Sustainable Water Management Conference in Seattle. Elizabeth hosted a session entitled "Got Drought? New Tools for Tracking Drought and Managing for Extremes," which featured key NIDIS partnerships and provided strategies for water and wastewater utilities managers. The goal of this session was to improve resource managers' capacities in drought risk reduction and drought preparedness planning, as well as their understanding of extreme precipitation events and climate variability in drought. This was an opportunity for NIDIS to introduce new tools for tracking drought and managing for extremes to professionals working in water resource management and conservation, energy, urban planning, utilities, and infrastructure.
NIDIS Executive Director, Veva Deheza, was in Washington, D.C. for nearly a month meeting with key federal partners, stakeholders, members of Congress, and state officials. Veva provided updates on NIDIS, including changes to the NIDIS staff, and provided and received updates regarding NIDIS and partner research and programs. 
The NIDIS communications team went to Tuscaloosa, AL to represent NIDIS at the National Water Center's Science and Technology Showcase. Representatives from the government, private, and academic sectors made presentations that highlighted the collaborative work being conducted at the National Water Center, and how that work is transforming the nation's water forecasting and prediction services. This showcase was a chance for NIDIS to share news about key partnerships, research, and tools for a range of drought and water-related issues, including soil moisture research, citizen science projects, Climate Engine, and the Evaporative Demand Drought Index (EDDI). NIDIS presented side-by-side with the NOAA Climate Program Office, as well as number of NOAA line offices and laboratories, National Weather Service programs, and the USGS.
Next, the NIDIS team will take this road trip international, heading to South Korea in April and Canada and Mexico in May.
The coordinator for both the Southern Plains and Intermountain West DEWS, Elizabeth Weight, will be attending a series of meetings with the World Meteorology Organization in Incheon, Republic of Korea as part of a Department of State accredited U.S. Delegation. Elizabeth joins the delegation, led by Dr. Harlan Shannon (USDA Office of the Chief Economist) with alternate principal Dr John Prueger (USDA Agricultural Research Service) and fellow delegates Dr. Jeff Andresen (Michigan State Climatologist), Dr. John Qu (George Mason University), and Dr. Bill Bolhofer (NWS International Activities Office). Elizabeth will first attend the Women's AgroMeteorology Leadership Workshop, then the Technical Conference in Agricultural Meteorology, and finally the Commission for Agricultural Meteorology. Following this trip, Elizabeth will then head to Mexico to attend the Advancing Sustainability of US – Mexico Transboundary Drylands bi-national workshop at the Positino Science and Technology Institute in San Luis Potosi, Mexico. 
In May, Britt Parker, the NIDIS Communications team, and the Drought.gov portal manager and GIS specialist will all attend the North American Drought Monitor Forum in Calgary, Alberta. The team will represent NIDIS and share updates from the DEWS and drought.gov, and will also highlight new research and resources for drought early warning, climate and weather modeling and prediction, resource management, and disaster preparedness.
Follow us on Twitter @Droughtgov to stay up-to-date on where NIDIS is today, and where we'll be next! 
Published on
March 13, 2018
Published on
April 5, 2018