2022 Drought Resources for the Pacific Northwest
Most of the Pacific Northwest is experiencing abnormally dry or drought conditions, with conditions worsening in recent weeks. According to the May 31, 2022 U.S. Drought Monitor, 57.79% of the region is in drought. While there was some improvement over the winter, precipitation over the winter was not sufficient for recovery, especially in those areas hardest hit by drought in 2021. We have gathered a list of resources at the state and regional level to help you prepare for continued drought conditions as well as the upcoming fire season.
Please contact Britt.Parker@noaa.gov if you have any questions.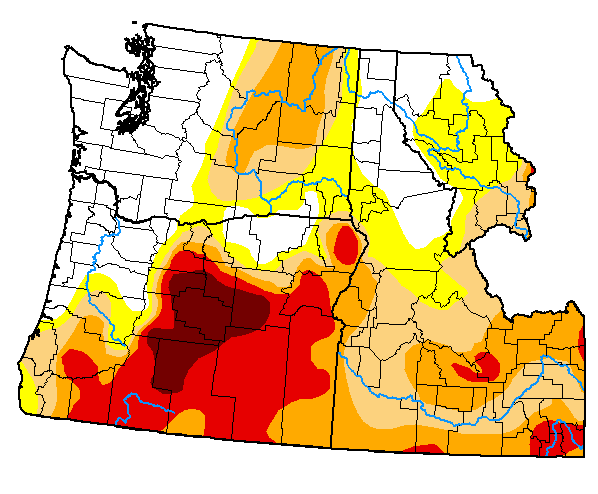 Report Drought Impacts Through the Condition Monitoring Observer Reports (CMOR) System
The National Drought Mitigation Center, National Integrated Drought Information System (NIDIS), and the U.S. Department of Agriculture Climate Hubs are working with states, tribes, and others across the country to collect Condition Monitoring Observer Reports on Drought (CMOR-Drought), including photos. Your impact reports help us understand how drought is affecting local conditions and you! State officials and U.S. Drought Monitor authors review these reports to help verify what indicators are showing and to identify areas that need more attention. You can also check drought impact reports for your area. 
Given the ongoing drought, you may be seeing impacts that are the result of longer-term conditions. If you submit a report on impacts, use the current date and note in the accompanying text that the impacts may be the result of conditions that began earlier in the year, or even in the previous year or growing season.
Now you can access the CMOR-Drought system on your mobile device! 
For information on reporting drought impacts, please visit the following resources:
Regional Resources
Oregon Resources
Idaho Resources
Washington Resources
Key Partners
NIDIS would like to thank the following partners for their contributions to this list of resources for the Pacific Northwest Drought Early Warning System.