Moderate to Extreme Drought Persists Across Puerto Rico and the U.S. Virgin Islands.
Drought conditions have improved over the past month across most of Puerto Rico, with only the northwest and southwest coast seeing drought intensifying. The U.S. Virgin Islands remain mired in severe (D2) to extreme (D3) drought conditions. Historically, August to November are the 4 consecutive months with the highest average rainfall. Therefore, drought conditions are expected to improve in all areas of Puerto Rico and the Virgin Islands as we move into the fall season. Areas currently experiencing drought should see improvement.
View the update in Spanish.
Key Points
Puerto Rico Conditions: During the past month, drought conditions improved across most of the island, while conditions deteriorated in the southwest and northwest coasts.
U.S. Virgin Islands Conditions: Severe and extreme drought conditions continue to be observed throughout the islands. 
Puerto Rico Impacts: Two major reservoirs (La Plata and Toa Vaca) remain at "operational adjustment" levels, which is a level of concern but not low enough for rationing. The southern and northern coasts, as well as southeastern interior, show extreme levels of crop stress and poor root-level saturation conditions. 
U.S. Virgin Islands Impacts: Ponds and soils continue to remain dry, with wells remaining at low levels. Farmers are purchasing water and implementing water conservation measures. On July 25, President Biden approved an Emergency Declaration for the USVI to supplement the territory's response efforts to the emergency conditions resulting from a water shortage and the health impacts from unprecedented sargassum seagrass influx beginning on July 15.    
Looking Ahead: The next three months (September–November) historically are the periods with the most rain for this region. If the anticipated rains appear we will likely see the removal of drought conditions for most of Puerto Rico, except for the southeastern interior region, where dry conditions are expected to persist, and improvements in the U.S. Virgin Islands. 
For weather information specific to your area, please monitor products issued by the National Weather Service in San Juan, Puerto Rico.
Current Conditions
U.S. Drought Monitor Conditions: Caribbean | August 16, 2022
U.S. Drought Monitor map for Puerto Rico, as of August 16, 2022. The U.S. Drought Monitor is updated each Thursday to show the location and intensity of drought across the country.
U.S. Drought Monitor map for the U.S. Virgin Islands, as of August 16, 2022. The U.S. Drought Monitor is updated each Thursday to show the location and intensity of drought across the country.
U.S. Drought Monitor Categories

| Value | Map Hex Color |
| --- | --- |
| D0 - Abnormally Dry | #ffff00 |
| D1 - Moderate Drought | #ffcc99 |
| D2 - Severe Drought | #f5ad3d |
| D3 - Extreme Drought | #ff0000 |
| D4 - Exceptional Drought | #660000 |
Main Stats
30.68%
of Puerto Rico is in moderate drought (D1)
5.89%
of Puerto Rico is in severe drought (D2)
Extreme Drought
observed in St. Croix
Drought Conditions
Puerto Rico: Nearly 31% of Puerto Rico is under moderate drought (D1) and 6% under severe drought (D2) conditions, according to the U.S. Drought Monitor.  D1 conditions continue to be focused across the south-central, the interior, and the northern slopes of the island. D2 conditions are focused across portions of eastern Puerto Rico.

U.S. Virgin Islands: Extreme drought (D3) conditions are observed on St. John, with severe drought (D2) noted across St. Thomas and St. Croix.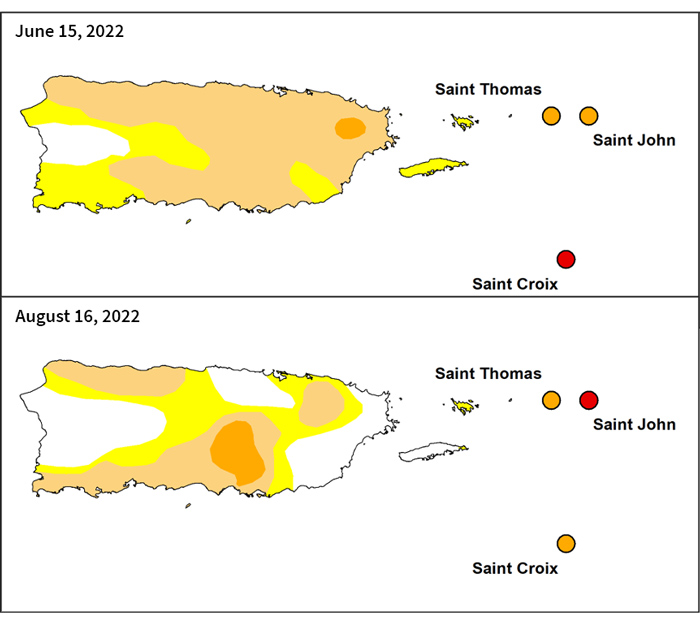 Sector Impacts
General Conditions
Puerto Rico: Drought conditions are affecting soil moisture, vegetation health, crop yield, and grazing pasture in some areas, particularly in southern Puerto Rico. Due to dry conditions, the incidence of fire risk is elevated.
U.S. Virgin Islands: All major islands in the USVI are receiving light intermittent rain, and the year has been drier than normal. All islands are also showing signs of short- and long-term impacts. High winds are further reducing the amount of moisture in the soil. Horse ranchers and livestock farmers are continuing to conserve water, rotate livestock, and purchase hay. Ponds are dry, and collection containers are still not filling up. Farmers and ranchers indicated that water prices have increased this year due to increasing gas prices that have impacted pricing for water delivery services. Due to drought conditions, approximately sixty-five (65) applications have been submitted and more than fifty (50) livestock farmers across the USVI have received funds from the USDA Livestock Forage Program (LFP). The original Drought Declaration from 2021 is still in effect. 
Agricultural Conditions
Puerto Rico: Dry conditions and agricultural drought impacts have been reported in southern Puerto Rico. Some farmers have reported early ripening and a particularly small size of some matured crops. Due to low rainfall, some farmers have opted to increase irrigation time. Other drought impacts on agriculture include desiccated vegetation, brown pasture, and evidence of recent fires.
St. Thomas: Poultry farmers indicated that they are still conserving water and are purchasing water as they use cisterns for watering chickens. Poultry producers reported that increased heat is impacting egg production. In St. Thomas, agriculture and private ponds have not filled completely since 2015 due to a lack of substantial rain. Sporadic rain is not recharging the ponds, and water use from these ponds is extremely limited. Specialty and row crop farmers are reporting that vegetation is slowly bouncing back, but heat and wind are still limiting moisture in the soil and causing distressed vegetation. Orchards, which require more water, are still only watered every other day. Many producers are employing conservation methods, including the use of drip irrigation, increasing the storage capacity of water, and deploying conservation plans to deal with long-term drought conditions.
St. John: Farmers are reporting that they are watering both early and late to retain soil health and are still working on conserving water. Soil cracking has become more apparent as temperatures and winds increase. Farmers are also implementing conservation methods, including alternating watering schedules to make the most of the water resources available. Farmers indicated that there is a need for increased irrigation and Water Smart Technology to help them to combat drought to monitor conditions. Orchards are dry, rainwater is sparse, and high winds are impacting production.
St. Croix: Farms of all sizes are reporting that hot, dry weather is still affecting their ability to retain soil moisture. Long-term drought impacts are highlighting a need for increased drip irrigation systems to be deployed in order to conserve water. Poultry farmers are reporting increased purchases for water in cisterns and reporting decreased egg production due to heat. Farmers have been purchasing water and are concerned with the high economic impacts of costs related to water. One producer on St. Croix has continuously reported purchasing 16,000 gallons of water per week, up from 12,000 gallons. The VI Department of Agriculture (VIDA) also reported that, on St. Croix, water deliveries to the agricultural community in July were 1,145,780 gallons. VIDA is working with local and federal partners to address infrastructure needs to support water access, including water needs for community garden use and requested delivery services to farms across the islands.
Rainfall Deficits
Puerto Rico: Wildly varying rainfall anomalies have been seen over the past 90 days. Deficits of 8 inches or more remain in three isolated regions along the northwest coast and the southeast and northeast interior. Moderate deficits are still observed in the northern and southern coasts, while the western interior region is seeing a surplus of rainfall. In contrast, there is a rainfall surplus of more than 16 inches along the west coast from Mayaguez extending east to the central interior (Figure 2). 
U.S. Virgin Islands: The below images (Figures 3 and 4) show the observed 90-day rainfall (5.41 inches) in green at St. Croix Rohlsen Airport from May 17 to August 16. This is 2.24 inches below the normal of 7.65 inches shown in brown. The blue line and red line show the highest and lowest amounts during the same time period. This is the 17th driest such period in 62 years of data. For Cyril King Airport in St. Thomas, figure 4 shows the same information.  Only 3.71 inches of rainfall occurred during this period, which is the second driest on record in 53 years of data. Only 2014 (red line) was lower, at 3.40 inches. This is less than 50% of the normal during this period of 8.73 inches.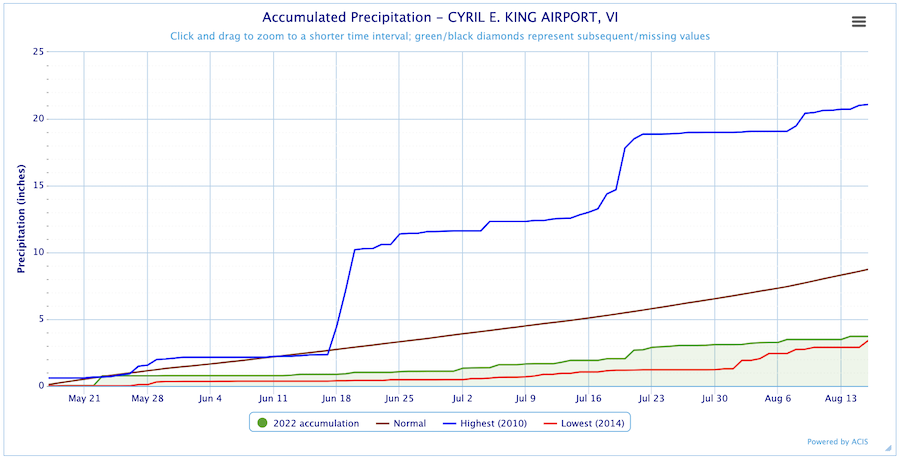 Soil Moisture Conditions in Puerto Rico
The latest soil moisture data from the Puerto Rico Agricultural Water Management (PRAGWATER) indicates dry soil conditions persisting across most of Puerto Rico (Figures 5 and 6).
Streamflow and Reservoir Conditions in Puerto Rico
The 28-day average streamflow from the U.S. Geological Survey (USGS) river gauge network (Figure 7) indicates that nearly all streamflows across the interior of the island are at or above normal. In contrast, along the south-central coast, the Rio Jacaguas at Juana Diaz is at record low values. The Rio Grande de Loiza below the Loiza Damsite is also in the bottom 10% for streamflow values for mid-August. 
Groundwater Conditions
Well levels are below-normal to record low in south-central, southeastern, and north-central Puerto Rico. Across all the U.S. Virgin Islands, groundwater levels are near normal (Figure 8). 
Outlooks and Impacts
Rainfall Outlook
Based on the 3-month extended forecast by the Caribbean Climate Outlook Forum (CariCOF), there are higher chances of observing either above normal or normal rainfall for the August to October time period. With this coinciding with the historically wettest three-month period of the year, this should result in significant drought improvement going into December and the start of the dry season (Figure 9).
For More Information
Prepared By
Héctor J. Jiménez
Office of Climatology, University of Puerto Rico
Odalys Martinez
Senior Service Hydrologist, NWS Weather Forecast Office – San Juan
Meredith Muth
NOAA/National Integrated Drought Information System (NIDIS)
William Gould, Nora Álvarez, Eva Holupchinski, and Luis Alexis Rodriguez Cruz
USDA Caribbean Climate Hub, USFS International Institute of Tropical Forestry
Christina Chanes, Gregory Guannel
University of Virgin Islands
Victor Murphy
National Weather Service Southern Region
Brad Rippey
USDA Office of the Chief Economist
Special Thanks
Puerto Rico Reporting Input: Thanks to the Agricultural Extension Service, College of Agricultural Sciences, University of Puerto Rico-Mayaguez. Special thanks to Eric Harmsen, Professor of Agricultural Engineering UPR-M; Agro. Silmarie Crespo-Vélez; Harry Ramirez, President DCSAS; and Betzaida Ortiz, Agroempresas Atabey, Inc.
USVI Reporting Input: Several individuals contributed to this report, and we are acknowledging the following for their support, including the faculty, staff and collaborators of the UVI Physics Program, UVI Etelman Observatory, UVI Agricultural Experiment Station, VI Department of Agriculture, as well as the USDA Office Chief Economist, National Parks Service in St. Croix, USDA Farm Service Agency, Coral Bay Community Council, and the many field staff, volunteers, drought reporters and farmers from across the territory. 
About This Report
This drought update is issued in partnership between the National Integrated Drought Information System (NIDIS), National Oceanic and Atmospheric Administration (NOAA) National Weather Service, the U.S. Department of Agriculture (USDA), and the University of the Virgin Islands. The purpose of the update is to communicate a potential area of concern for drought expansion and/or development within Puerto Rico and the U.S. Virgin Islands based on recent conditions and the upcoming three-month forecast. 
NIDIS and its partners will issue these updates every two months. Subscribe for these U.S. Caribbean drought updates here.