Regional Drought Update Date
February 25, 2021
Site Section
Drought Status Update
Drought Status Update for California-Nevada
---
Update Status:
NIDIS and its partners will issue future drought updates as conditions evolve.
Drought forecasted to continue as wettest months come to a close
Key Points
Moderate-to-Exceptional drought remains across California and Nevada as the region's wettest months come to a close. Notably, conditions deteriorated in central Nevada over the past few weeks. 
The storms through February have not significantly improved drought conditions throughout much of the region. Precipitation totals and snowpack remain below normal.  
Dry conditions are expected to close out February throughout the region with similar dry seasonal (monthly through spring) forecasts.
Preparation for continued drought impacts (e.g., pasture conditions, water supply, fire risk) should be considered, especially in the driest areas. 
Current Conditions
U.S. Drought Monitor Conditions: California-Nevada | February 23, 2021
The U.S. Drought Monitor (USDM) is updated each Thursday to show the location and intensity of drought across the country. Drought categories show experts' assessments of conditions related to dryness and drought including observations of how much water is available in streams, lakes, and soils compared to usual for the same time of year.
California/Nevada conditions as of February 23, 2021:
85% of California is experiencing Moderate to Exceptional Drought (D1-D4), with 26% in Extreme Drought (D3) and 3.75% in Exceptional Drought (D4)
California population in drought:

26,960,767

100% of Nevada is experiencing Moderate to Exceptional Drought (D1-D4), with 36% in Extreme Drought (D3) and 40% in Exceptional Drought (D4)
Nevada population in drought:

2,700,553
U.S. Drought Monitor Categories

| Value | Map Hex Color |
| --- | --- |
| D0 | #ffff00 |
| D1 | #ffcc99 |
| D2 | #ff6600 |
| D3 | #ff0000 |
| D4 | #660000 |
Main Stats
85%
of California is experiencing Moderate to Exceptional Drought (D1-D4)
26.96 Million
people in California are in Moderate to Exceptional (D1 - D4) Drought
100%
of Nevada is experiencing Moderate to Exceptional Drought (D1-D4)
2.7 Million
people in Nevada are in Moderate to Exceptional (D1 - D4) Drought
Current Conditions
According to the U.S. Drought Monitor, drought conditions have slightly improved over the last few weeks in pockets of northern coastal California and northern Nevada. Conditions have deteriorated in central Nevada with expansion of D4 (Exceptional Drought).
Northern Nevada received substantial precipitation in the last 14 days, as did parts of far northern California. The Northern Sierra 8 station precipitation index stands at only 36% of its normal water year total precipitation. Southern California and Nevada remained dry over the last two weeks, with 2021 water year precipitation for Los Angeles standing at 26% and that for Clark County, Nevada mired at 11% of normal water year totals.
A summary of Atmospheric Rivers through February is available here.
According to the California Department of Water Resources, the statewide average snow water equivalent (SWE) of the Sierra Nevada snowpack is 66% of normal for this date (54% of April 1st average). SWE values in the Upper Colorado River Basin have improved over the last couple of weeks and are ~90% of normal for this date.
Most reservoir levels are below normal in the northern, central, and southern Sierras, and Lake Tahoe is at near-normal levels for this time of year.
The evaporative demand (the thirst of atmosphere) is above normal throughout the West, further drying the landscape. The odds of above-normal evaporative demand for the region over the entire water year are high after only 4 months, between 70%-100% odds.
 Percent of Normal Precipitation: Last 14 Days vs. Water Year to Date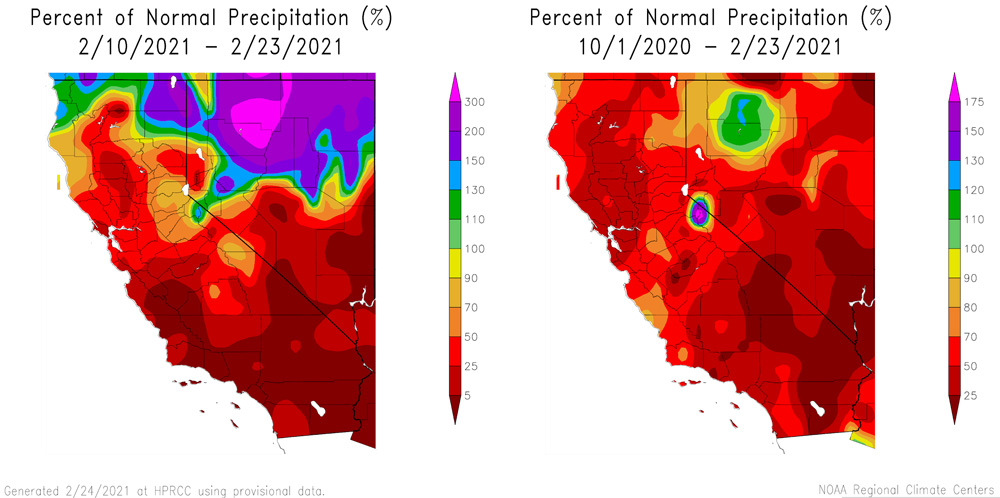 Snow Water Equivalent Percent of Median: February 23, 2021
Evaporative Demand (ETo) for Water Year 2021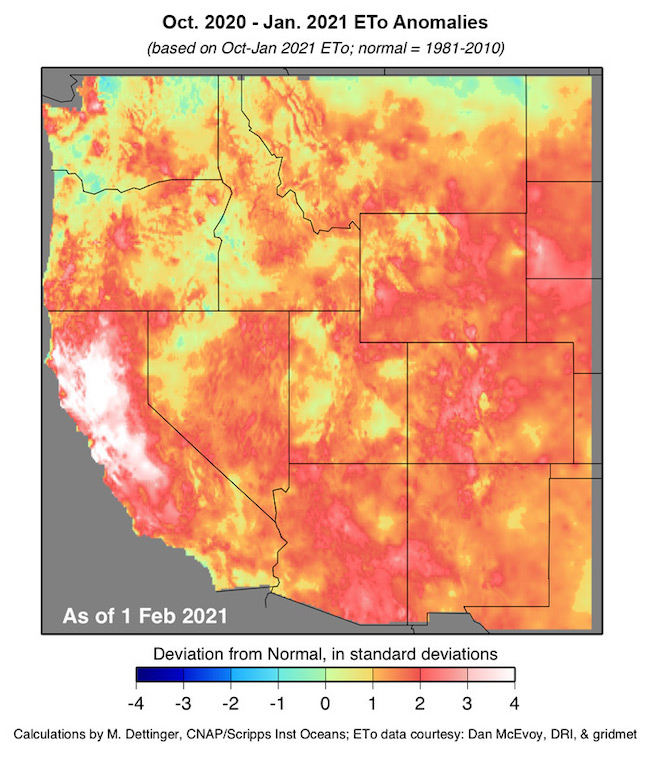 California/Nevada Soil Moisture Drought Intensity: February 22, 2021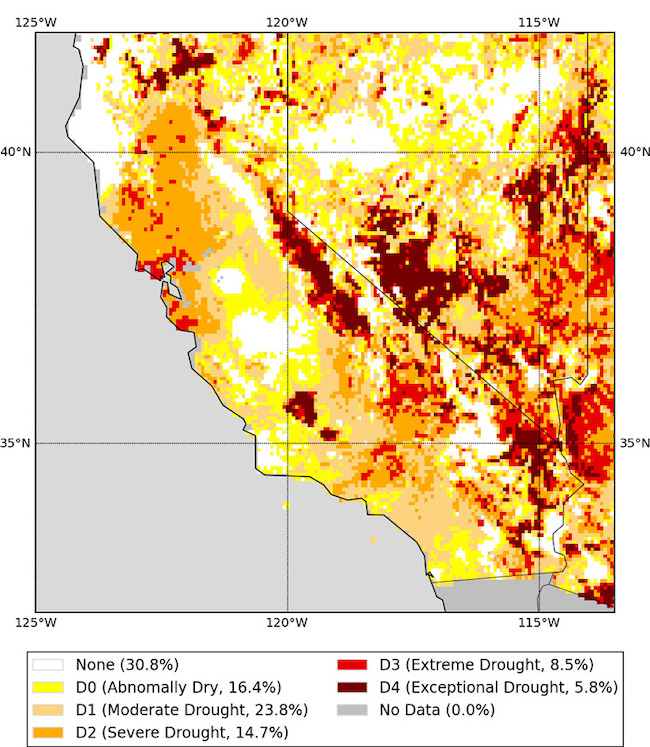 Water Storage in the Western Sierra Nevada and Lake Tahoe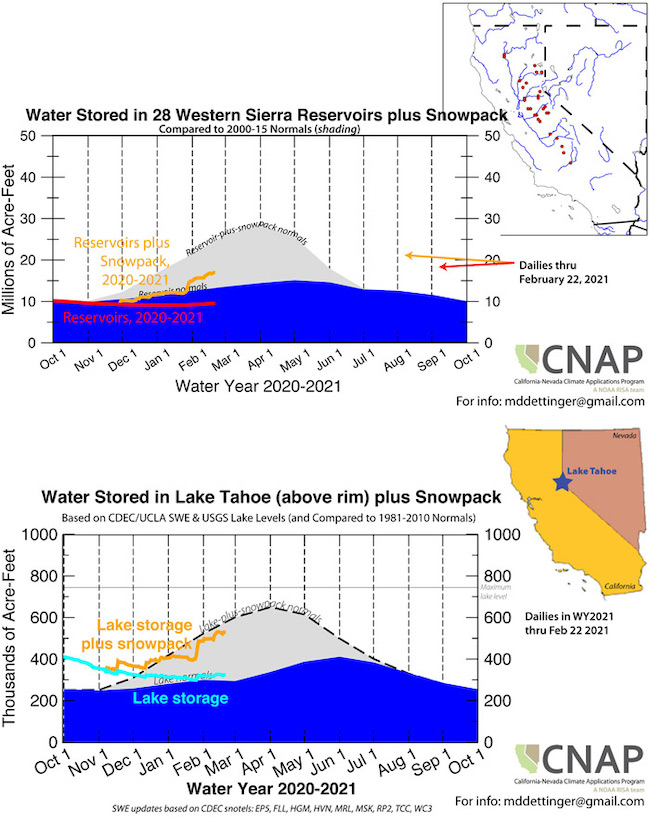 Drought Impacts
The USDA Farm Service Agency in California reports that ranchers are reporting, most recently in Solano and Sonoma counties, significant losses in cattle feed, and many have been supplemental feeding for months. 
Recent CMOR reported severely dry conditions in Esmeralda County, Nevada, providing on the ground observational support to U.S. Drought Monitor degradations in the area this week.
Marin County, California, water suppliers are considering drought restrictions.
The U.S. Bureau of Reclamation announced the initial Central Valley Project (CVP) water supply allocation for contractors. Shasta Reservoir, which represents the majority of CVP storage, is below the historic average for this time of the year, and runoff forecasts predict that overall storage might be limited if typical spring precipitation does not materialize.
Drought and Climate Outlook
ENSO
NOAA's ENSO alert system status is currently a La Niña advisory with moderate La Niña conditions over the equatorial Pacific. There is a ~60% chance of a transition from La Niña to ENSO-neutral during the Northern Hemisphere spring 2021 (April-June). Historically, southern and central California and southern Nevada remain at increased risk for dryness into spring during La Niña conditions. For more information, please check out the NOAA ENSO blog and the Western Regional Climate Center handout about the La Niña impacts for the west.
February - April La Niña Precipitation: Increased Risk of Wet or Dry Extremes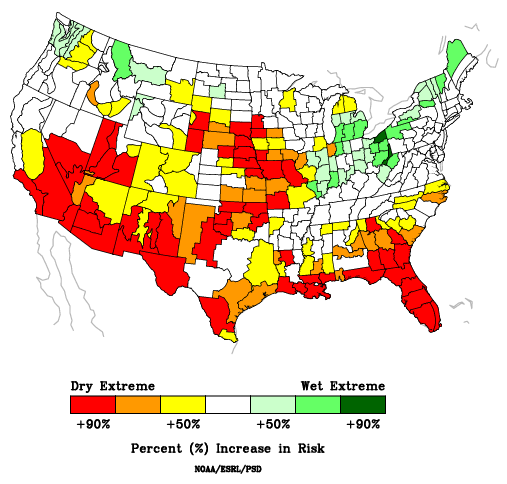 Seasonal Drought Outlook
A slow decline in La Niña intensity is likely to result in ENSO-neutral conditions later this year, but for the forecast period through May 2021 it will continue to influence conditions across the nation. As a result, the U.S. seasonal drought outlook shows drought persistence over California and Nevada.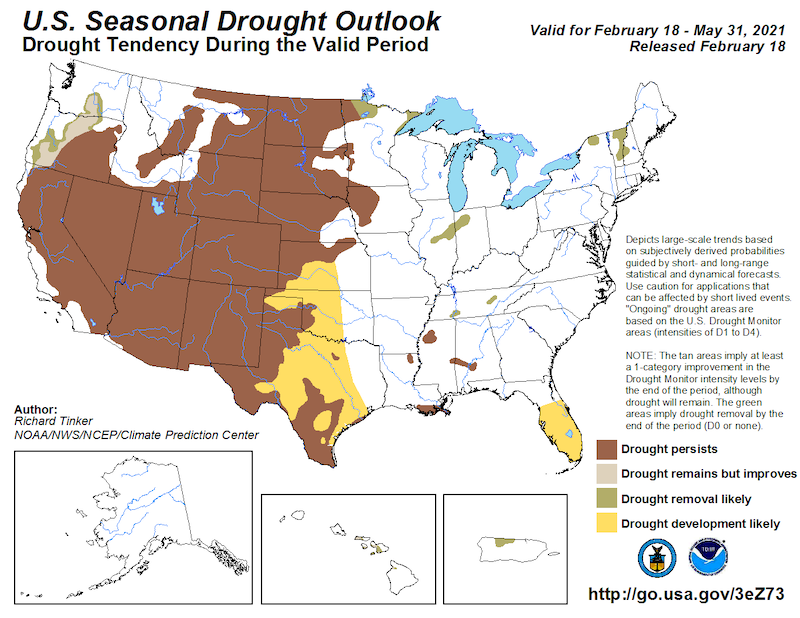 Temperature and Precipitation
According to the NOAA National Weather Service Climate Prediction Center's short-term to seasonal forecasts, odds favor a return of dry conditions with a continuing "typical" La Niña pattern and a dry southwest. A return to dryness continues to build drought impacts as February ends, climatologically one of the wettest months for the region.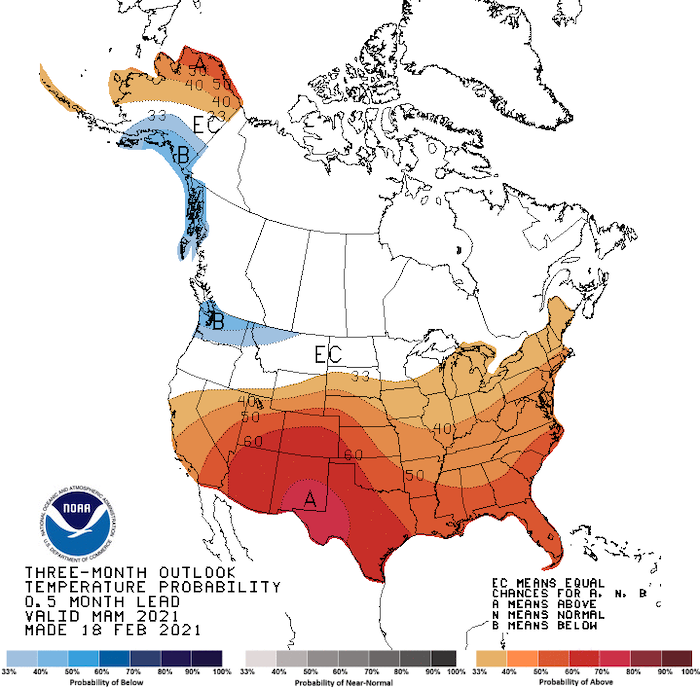 Drought Early Warning Resources
California     Nevada     California-Nevada DEWS
Prepared By
Amanda Sheffield
NOAA/NIDIS California-Nevada DEWS Regional Drought Information Coordinator
Email: amanda.sheffield@noaa.gov
Julie Kalansky
Program Manager, California-Nevada Applications Program (NOAA RISA team)
Email: jkalansky@ucsd.edu
Special Thanks
This Drought Status Update is issued in partnership between the National Oceanic and Atmospheric Administration (NOAA) and the California-Nevada Applications Program, a NOAA RISA team, to communicate the current state of drought conditions in California-Nevada based on recent conditions and the upcoming forecast. NIDIS and its partners will issue future drought updates as conditions evolve. 
Register here for the next California-Nevada Drought & Climate Outlook webinar on March 22, 2021 at 11 am PDT.