Drought Preparedness Key as Continuing Drought Conditions and Impacts Compounded By Back-to-Back Dry Years.
Key Points
California and Nevada remain entrenched in moderate-to-exceptional drought as the fifth into sixth consecutive dry months since October, likely ensuring that the region will suffer back-to-back dry water years.
In California, 91% of the state is in drought, according to the U.S. Drought Monitor. In Nevada, 100% of the state is in drought, and 40% is in exceptional drought (D4), more area than at any point during the 2012-2016 drought. 
Precipitation totals and snowpack remain well below normal. Since the North Pacific storm season is nearing its usual demise, the amount of additional precipitation that can be expected is most likely too small to reverse drought conditions, especially in the most intense drought regions. 
Drought impacts (e.g., pasture conditions, ecosystem health, water supply, fire potential) will likely intensify and expand given back-to-back dry years. Drought preparedness is key.
Current Conditions
U.S. Drought Monitor Conditions: California-Nevada | March 9, 2021
The U.S. Drought Monitor (USDM) is updated each Thursday to show the location and intensity of drought across the country. Drought categories show experts' assessments of conditions related to dryness and drought including observations of how much water is available in streams, lakes, and soils compared to usual for the same time of year.
California/Nevada conditions as of March 9, 2021:
91% of California is experiencing Moderate (D1) to Exceptional (D4) Drought (26% in D3, 3.75% in D4)
California population in drought: 32,944,045
100% of Nevada is experiencing Moderate (D1) to Exceptional (D4) Drought (32% in D3, 40% in D4)
Nevada population in drought: 2,700,553
U.S. Drought Monitor Categories

| Value | Map Hex Color |
| --- | --- |
| D0 | #ffff00 |
| D1 | #ffcc99 |
| D2 | #ff6600 |
| D3 | #ff0000 |
| D4 | #660000 |
Main Stats
91%
of California is experiencing Moderate to Exceptional Drought (D1-D4)
100%
of Nevada is experiencing Moderate to Exceptional Drought (D1-D4)
40%
of Nevada is experiencing Exceptional Drought (D4)
Current Conditions
According to the U.S. Drought Monitor, drought conditions over the past 2 weeks have expanded in coastal California and deteriorated over the Sierra crest. Nevada remains 100% in drought and currently has more area in exceptional drought (D4) than at any point during the 2012-2016 drought (see U.S. Drought Monitor time series here). 
Recent storms brought 0.5-2 inches of precipitation to Northern and Southern California, though this remains below normal for the region. 
Recent storms are not enough to ameliorate most drought conditions and long-term drought. Since the start of Water Year 2020 (October 1, 2019), much of Nevada and Northern California are missing between 1-1.75 years of precipitation.  
On March 2, the California Department of Water Resources conducted the third manual snow survey of the season at Phillips Station. Statewide snow survey measurements continue to reflect the overall dry conditions with statewide snow water equivalent at 15.5 inches, or 58% of the March 11 average, and 55% of the April 1 average. 
Storage in the largest northern California reservoirs is well below average, reflecting cumulative impacts from a dry 2020. Virtually all the state remains in a precipitation deficit. (Water Year 2021: The Suspense Continues)
Reservoir storage in Nevada is lower than it was this time last year. In the Carson, Truckee, and Walker basins, the storage is less than 40% of capacity. 
The historical odds of reaching normal precipitation this water year are 10% or less in many places throughout California and Nevada. The odds of reaching 75% of normal precipitation are 30% or less in much of California and Southern Nevada. Looking back at precipitation records since 1948, not one "miracle March" would be enough to bring the worst-off areas in California and Nevada up to normal this year. Northern Nevada has the highest odds of reaching 75% of normal precipitation this water year. 
Evaporative demand (the atmospheric thirst that drives evapotranspiration) remains high as it has been throughout this water year, and vegetation is showing stress.
How is drought affecting your neighborhood?
Click to see drought indicators, outlooks, and historical conditions by city, county, and state, and to sign up for U.S. Drought Monitor alert emails.
Percent of Normal Precipitation: Last 14 Days vs. Water Year to Date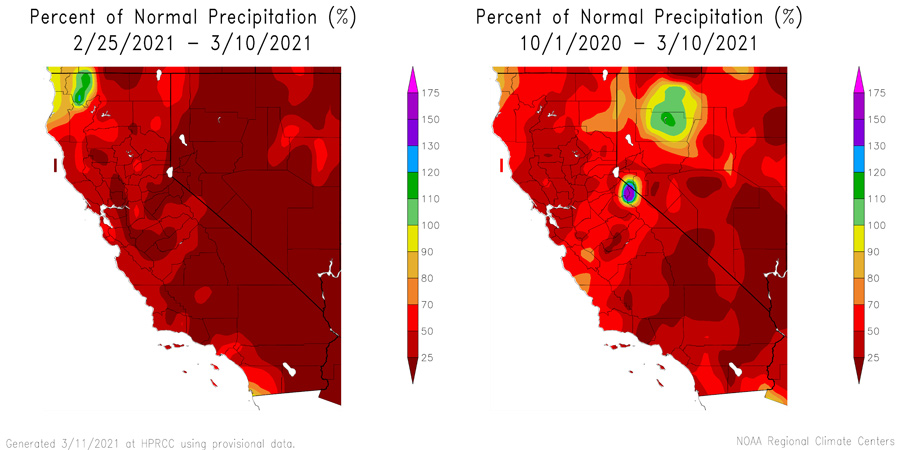 Years of Normal Precipitation to Reach 2-Year Normal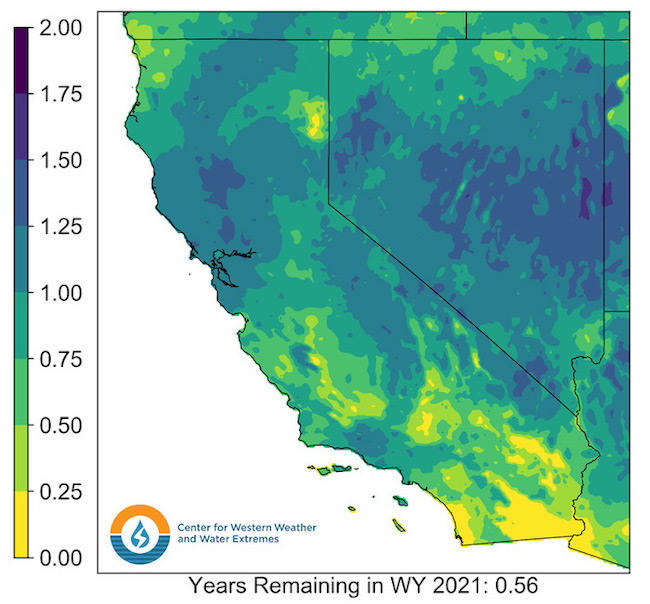 Snow Water Equivalent Percent of Median: March 10, 2021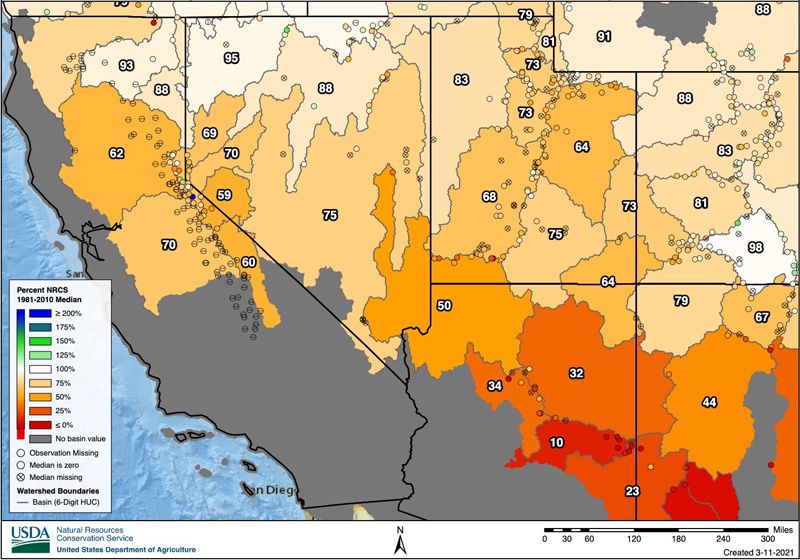 Water Storage in the Western Sierra Nevada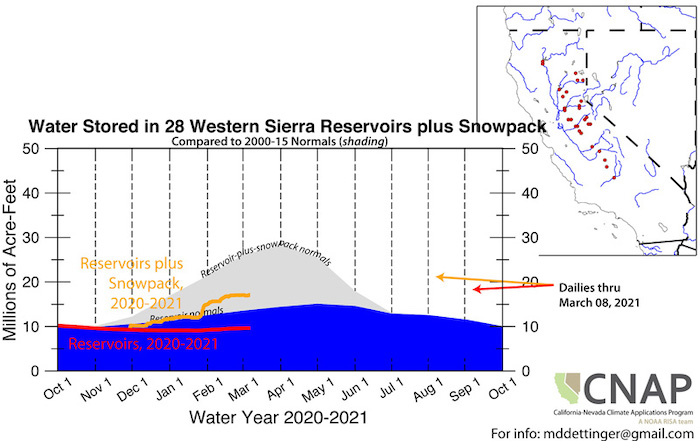 Nevada Reservoir Storage: Percent Capacity in 2020 vs. 2021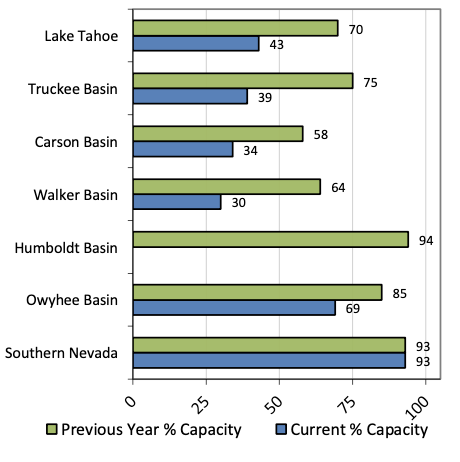 Odds of Reaching Water Year Normal Precipitation for the West
Evaporative Demand (ETo) Anomalies for the West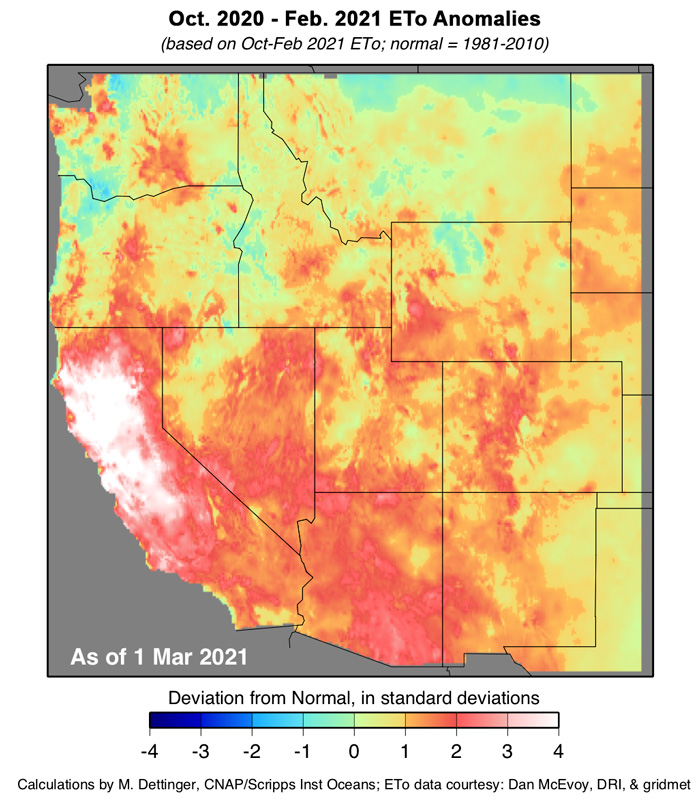 Vegetation Drought Response Index (VegDRI)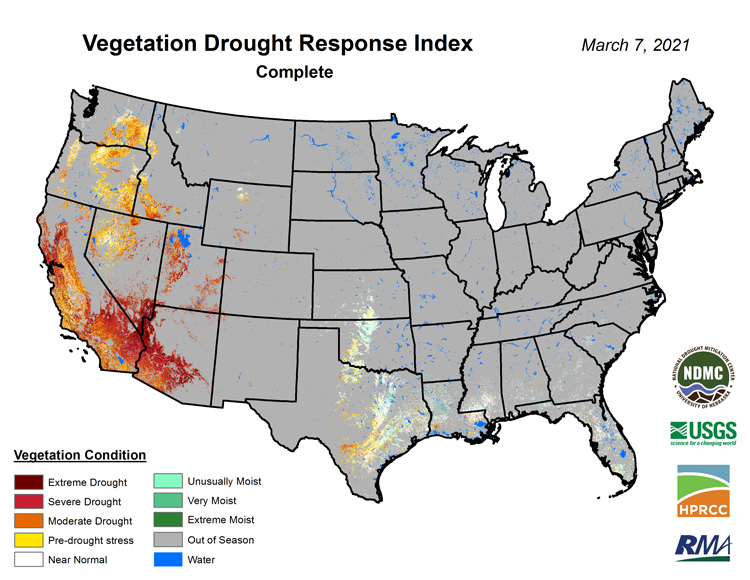 Drought Impacts
Current conditions continue to intensify and expand drought impacts, and as we head into summer, agriculture, water supplies, and ecosystems are likely to be impacted. Example state drought impacts based on past drought conditions provided by the National Drought Mitigation Center are available on the Drought.gov state webpages: California, Nevada.
The current California State Water Project (SWP)­ allocation of 10% amounts to 422,848 acre-feet of water, distributed among the 29 long-term SWP contractors who serve more than 27 million Californians and 750,000 acres of farmland. 
The U.S. Bureau of Reclamation announced low initial Central Valley Project (CVP) water supply allocation for contractors that reflect drier than average winter conditions combined with lower reservoir storage for the year. While the low allocations were not a surprise, multiple water agencies expressed disappointment in the announcement (AgNet). Groundwater is expected to be used to fill gaps.
Multiple media outlets are reporting that local water agencies and irrigation districts are considering drought actions, like conservation, after back-to-back dry years.
As winter rangeland grasses are limited, ranchers are reporting feeding and/or selling stock. Some permanent crops, such as orchards, are being irrigated earlier than normal.
Potential for wildfire entering into the summer season is expected to increase above 3,000 feet due to low snowpack. Low-elevation (below 3,000 feet) grasses are less likely to be an issue this year due to limited fine-fuel growth with back-to-back drought years, but this may change dependent on March-April precipitation. 
Drought & Climate Outlook
ENSO
NOAA's ENSO alert system status is currently a La Niña advisory with moderate La Niña conditions over the equatorial Pacific. There is a ~60% chance of a transition from La Niña to ENSO-Neutral during the Northern Hemisphere spring 2021 (April-June). For more information, please check out the NOAA ENSO blog and the Western Regional Climate Center handout about the La Niña impacts for the west.  
Monthly Drought Outlook
Precipitation forecasts continue to show the influence of La Niña, and much of California-Nevada currently entrenched in moderate-to-exceptional drought is forecasted to continue. The next seasonal drought, temperature, and precipitation outlooks will be released March 18th.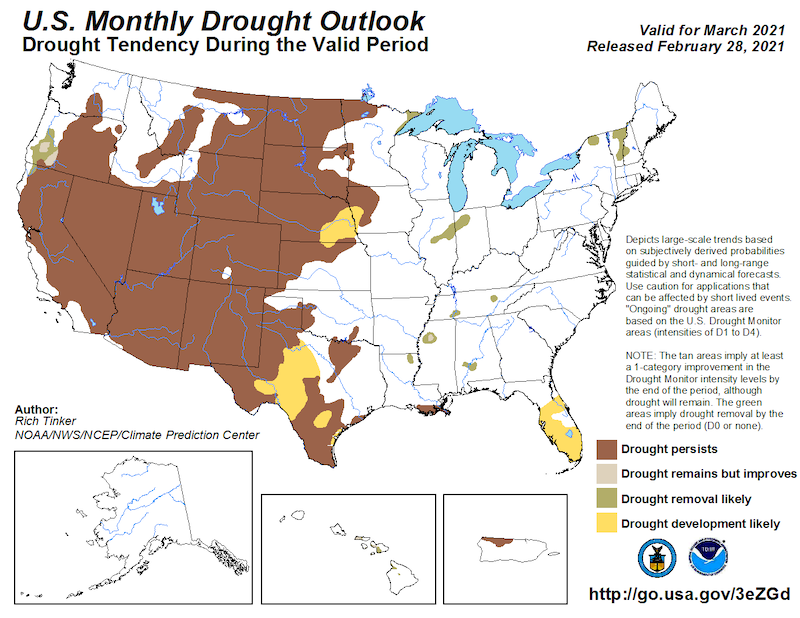 Temperature & Precipitation Outlooks
The moderate La Niña event is expected to slowly relax over the next few months, but in the meantime its influence on the nation's weather remains. The NOAA National Weather Service Climate Prediction Center's short-term to seasonal forecasts favor predominantly continuing warm, dry conditions, especially over the Great Basin and U.S. Southwest.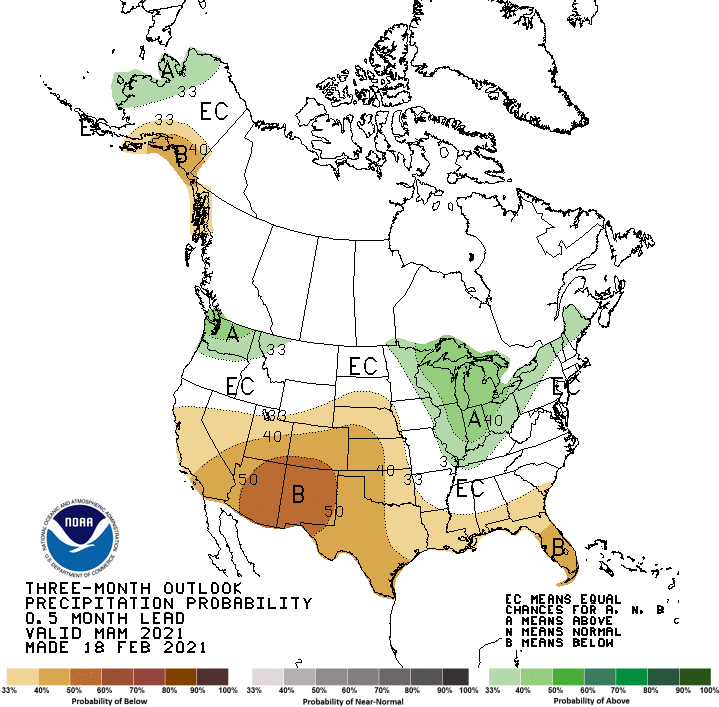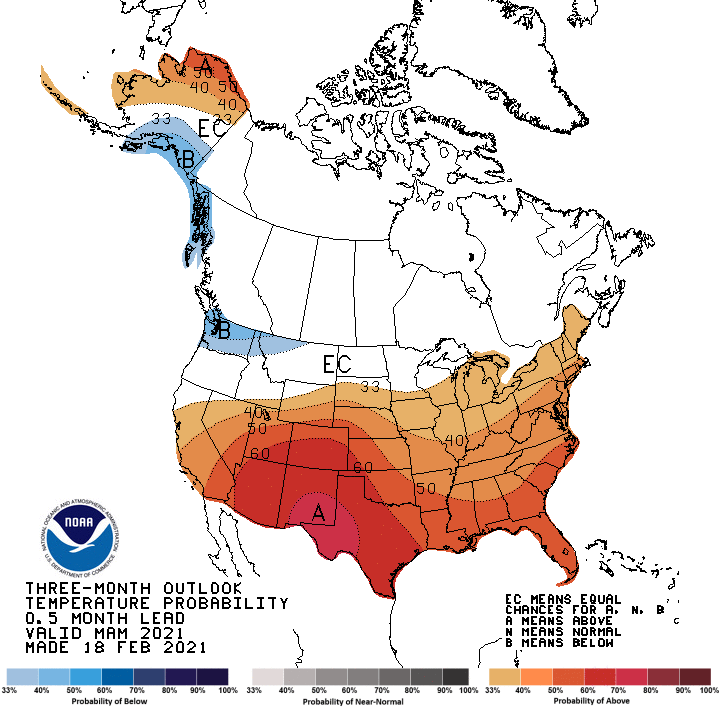 Drought Early Warning Resources
California     Nevada     California-Nevada DEWS
Prepared By
Amanda Sheffield
NOAA/NIDIS California-Nevada DEWS Regional Drought Information Coordinator
Email: amanda.sheffield@noaa.gov
Julie Kalansky
Program Manager, California-Nevada Applications Program (NOAA RISA team)
Email: jkalansky@ucsd.edu
Special Thanks
This drought status update is issued in partnership between the National Oceanic and Atmospheric Administration (NOAA), the California-Nevada Applications Program (a NOAA RISA team), and the Western Regional Climate Center at the Desert Research Institute to communicate the current state of drought conditions in California-Nevada based on recent conditions and the upcoming forecast. NIDIS and its partners will issue future drought updates as conditions evolve. 
Register here for the next California-Nevada Drought & Climate Outlook webinar on Monday, March 22 at 11 am PT.