Regional Drought Update Date
April 22, 2022
Site Section
Drought Status Update
Southern Plains Drought Status Update
---
Update Status:
NIDIS and its partners will issue further drought status updates as conditions evolve.
Exceptional drought persists in Texas, Oklahoma, New Mexico, and Kansas.
Key Points
More than 50% of the region is in extreme (D3) or exceptional (D4) drought.
Soils are very dry, and wildland fire potential is elevated across the Southern Plains.
Drought is expected to continue into summer.
Current Conditions
U.S. Drought Monitor Conditions: Southern Plains | April 19, 2022
The U.S. Drought Monitor is updated each Thursday to show the location and intensity of drought across the country. Drought categories show experts' assessments of conditions related to dryness and drought including observations of how much water is available in streams, lakes, and soils compared to usual for the same time of year.
This map shows drought conditions across the Southern Plains Drought Early Warning System as of April 19, 2022.
U.S. Drought Monitor Categories

| Value | Map Hex Color |
| --- | --- |
| D0 - Abnormally Dry | #ffff00 |
| D1 - Moderate Drought | #ffcc99 |
| D2 - Severe Drought | #f5ad3d |
| D3 - Extreme Drought | #ff0000 |
| D4 - Exceptional Drought | #660000 |
Main Stats
17%
of Kansas is in extreme (D3) drought
63%
of New Mexico is in extreme (D3) drought
36%
of Oklahoma is in extreme (D3) drought
53%
of Texas is in extreme (D3) drought
Current Drought Conditions and Outlook
U.S. Drought Monitor Conditions
92% of the region is in drought (D1 or worse).
51% of the region is experiencing extreme (D3) to exceptional (D4) drought.
Extreme (D3) drought conditions have been in place in this region since August 2019.
The last time more than 50% of the Southern Plains region experienced D3 or greater drought was in January 2013.
Moderate (D1) or worse drought has been in the region since June 2016.
Recent and Forecast Precipitation
April usually provides between 1.5 and 2.5 inches of precipitation for western Kansas, Oklahoma, and Texas and about an inch for eastern New Mexico. 
So far, April 2022 has seen less than 0.1 inches for the drought-affected area of these states.
The week ahead (April 22–29, 2022) will bring welcome precipitation to central Texas and Oklahoma, but the Panhandles will likely stay dry or see only small rainfall totals.  
April Month to Date Precipitation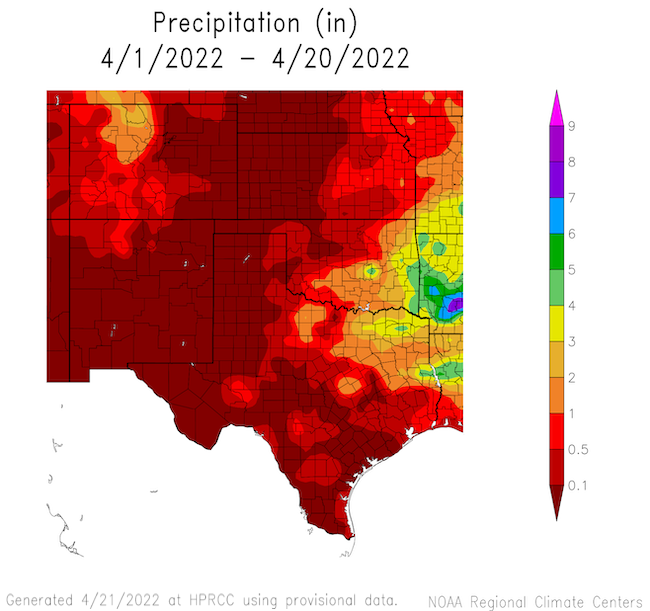 Quantitative Precipitation Forecast: April 22–29, 2022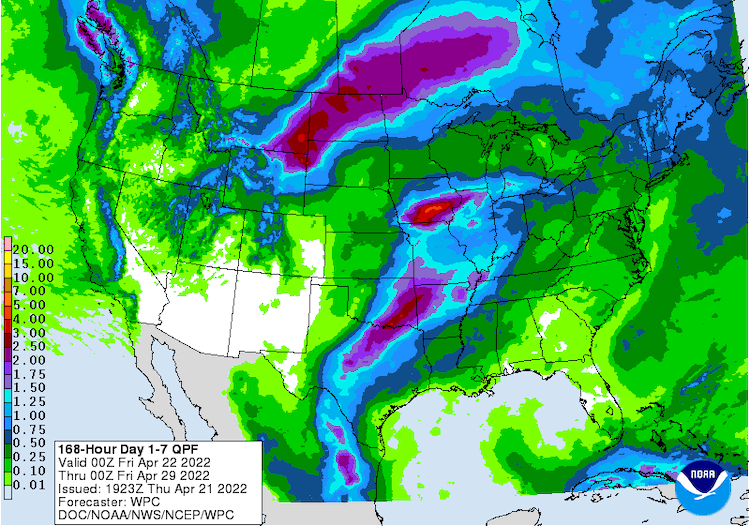 Soil moisture, as measured by the USDA Crop Condition and Soil Moisture Analytics (Crop-CASMA) Product, shows significant shortage of soil moisture across the region.
Soil Moisture Anomaly for Mid-April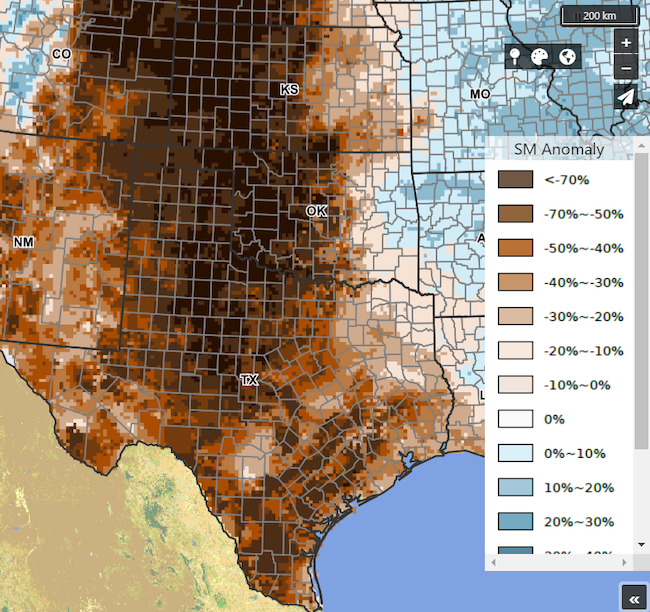 Forecasts and Seasonal Outlooks
May 2022
Fire risk is elevated for drought-stricken areas of the Southern Plains

Elevated fire risk is forecast to persist through spring.
Much of west Texas and the Texas Panhandle have Energy Release Components that are near or at record high values for this time of year.
Significant Wildland Fire Potential Outlook: May 2022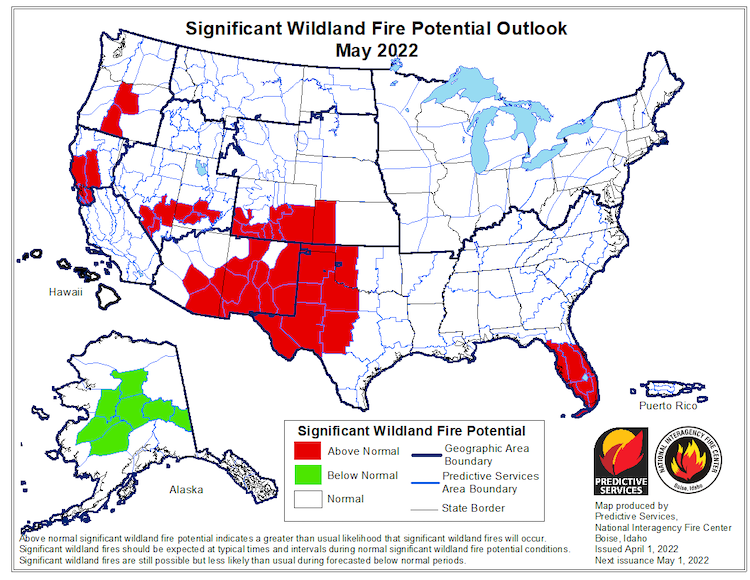 The Climate Prediction Center's monthly outlook for May shows increased temperatures and decreased precipitation.
The 4-week Evaporative Demand Drought Index (EDDI) forecast shows decreased evaporative demand across west central Texas and southern Oklahoma.
May 2022 Temperature Outlook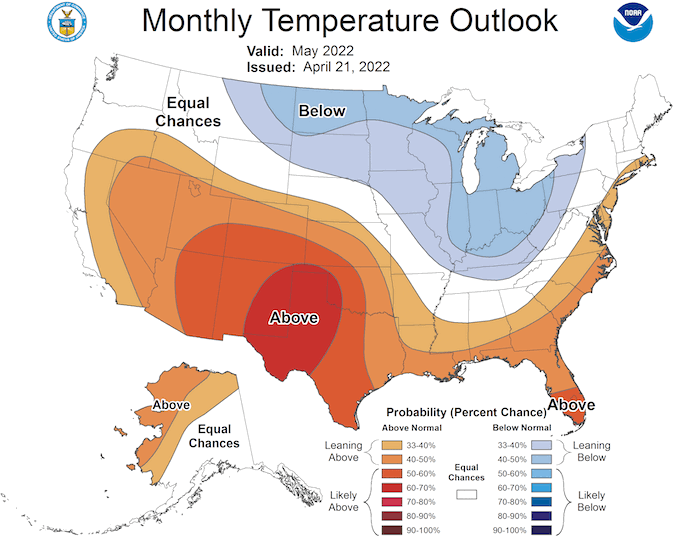 May 2022 Precipitation Outlook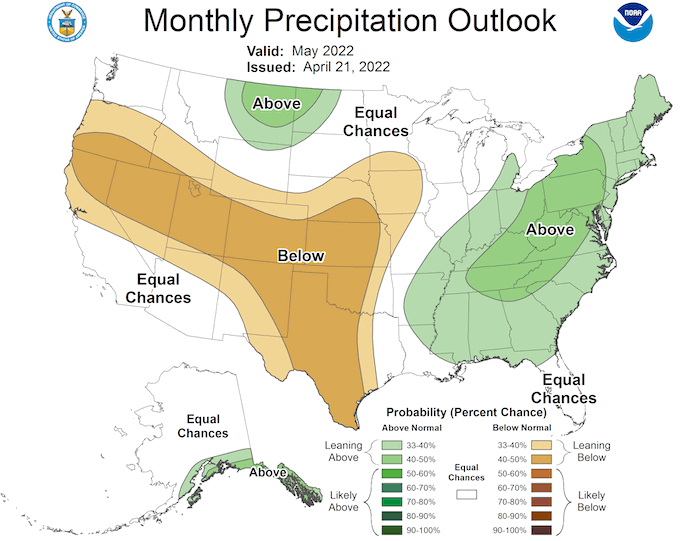 Evaporative Demand Drought Index (EDDI) 4-Week Forecast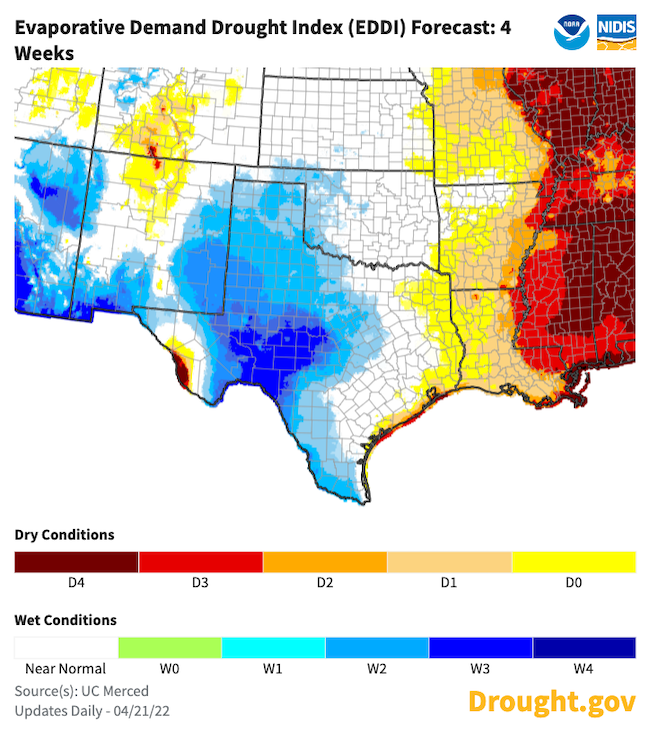 3-Month Outlook for May–July 2022
Seasonal forecasts show a hot and dry season ahead for the Southern Plains:
Lower-than-normal precipitation is more likely than not for western Kansas, Oklahoma, Texas, and eastern New Mexico for May through July.
Odds strongly favor increased temperatures through the remainder of spring and early summer 2022 for the Southern Plains states. 
Seasonal Drought Outlook
Drought is expected to continue for the Southern Plains through spring.
The Climate Prediction Center's 3-month drought outlook shows drought remaining for all but northeastern Texas and far-eastern Oklahoma.
La Niña to Continue Through Spring and Possibly into Summer
One of the primary drivers of drought across the Southwest, including western Texas, through winter and spring was a La Niña pattern in the Pacific.
The April 10 weekly NINO3.4 value was −0.70 °C, indicating a La Niña pattern persists in the central Pacific.
La Niña patterns do not usually persist into northern-hemisphere summer months, but the few historical events that have persisted experienced increased precipitation across the Southern Plains. No two La Niña patterns are the same. 
For more information, please check out the NOAA El Niño–Southern Oscillation (ENSO) blog. 
State-Based Conditions and Impacts
Kansas
Continued very active wildfire season with a fuels advisory due to aggressive behavior and risk to life/property. 
Driest April to date (April 20th) for most of western and central Kansas.
Cooler and drier than normal temperatures have delayed greenup and limited moisture demands.
A lot of early irrigation to keep soil moisture profiles intact and to help wheat.
30-Day Departure from Normal Precipitation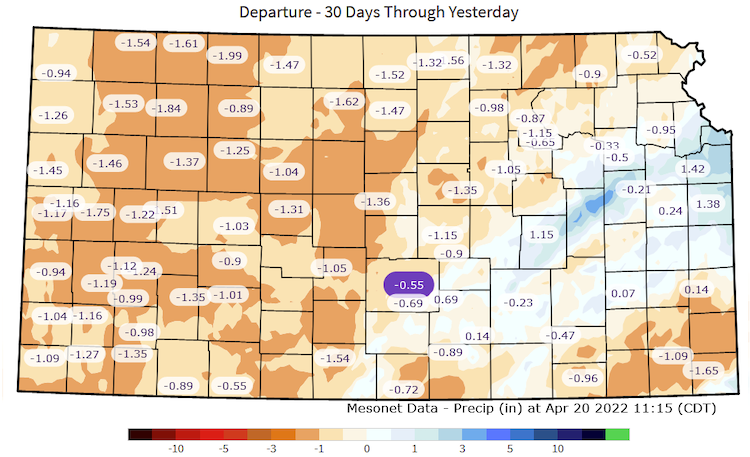 Oklahoma
Prolonged periods of high winds, near-record high temperatures, and lack of rainfall continue to accelerate drought intensification across the western half of Oklahoma. 
Areas in the Oklahoma Panhandle have gone since late August since seeing at least a quarter-inch of rainfall in a single day. 
The USDA reports that 61% of Oklahoma's topsoil and 66% of its subsoil are considered "short" or "very short" of moisture.
Wildfires continue to be a concern, with 19 of Oklahoma's 77 counties under a burn ban.
Consecutive Days with Less Than 0.25 Inches of Rainfall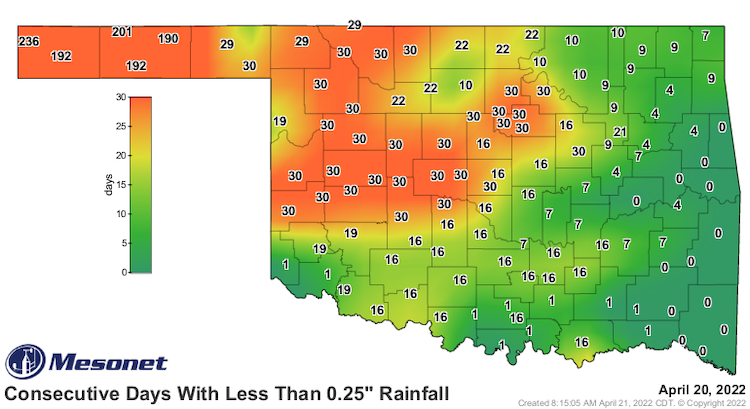 Texas
Cool and dry conditions during the first few months of the year have delayed greenup across the state, enhancing wildfire risk.
Over 80% of the winter wheat crop and over 75% of range and pasture conditions are presently rated as in very poor condition by the USDA.  Statewide, 83% of topsoil and 85% of subsoil are rated short to very short. 
Despite some additional rain forecasted by the end of April, the September-April period will probably be among the ten driest such periods on record statewide and, except for 2010-2011, the driest since 1956.
Considerable moisture is needed during the next two months to avoid a high probability of a hot summer.
County Precipitation Rankings: September–March
New Mexico
According to the U.S. Department of Agriculture, 80% of topsoil moisture is in the very short to short condition, and 70% of winter wheat in the very poor to poor condition as of April 17, 2022.
Due to the low topsoil moisture, many farms and ranches were reporting negative impacts from wind erosion causing deteriorating air quality. Numerous dust storms have impacted areas in southern and eastern parts of the state.
Several wildfires are burning across the state. The three largest—the Cooks Peak Fire, Hermits Peak Fire, and McBride Fire—burned a combined 34,732 acres as of April 21. These fires are burning over drought-stressed forests and grasslands.
High-elevation New Mexico snowpack is holding on but is below average in the Rio Grande Basin, ranging from 73% to 54% of medial SWE as of April 21. Pecos SWE is at 23% of median and will likely melt out close to a month earlier than the median. Lower basins in the Gila and Rio Hondo have already melted out. As a result, below-normal streamflow is expected on all major rivers this spring along with shortened irrigation seasons.
Less than an inch of precipitation has fallen in many areas of eastern New Mexico since New Year's Day. Only 0.18 inch has been recorded at the Carlsbad airport in 2022.
For More Information
NIDIS and its partners will issue future drought updates as conditions evolve.
More local information is available from the following resources:
Prepared By
Joel Lisonbee
NOAA/National Integrated Drought Information System (NIDIS), Southern Plains Drought Early Warning System and CIRES/CU Boulder
Gary McManus
Oklahoma State Climatologist, Oklahoma Mesonet, Oklahoma Climatological Survey
Chip Redmond
Kansas State University
John Nielsen-Gammon
Texas State Climatologist, Texas A&M University
Victor Murphy
National Weather Service
Dave DuBois
New Mexico State Climatologist
Special Thanks
This drought early warning update is issued in partnership between the National Oceanic and Atmospheric Administration (NOAA) and the offices of the state climatologist for Texas, Oklahoma, New Mexico, and Kansas. The purpose of the update is to communicate a potential area of concern for drought expansion and/or development within the Southern Plains based on recent conditions and the upcoming forecast. NIDIS and its partners will issue future drought updates as conditions evolve.