Site Section
News & Events
The Links Between Drought and Increased Psychosocial Stress Among U.S. Farmers
Published on
October 12, 2021
Author
Great Plains Center for Agricultural Health
Drought represents a globally relevant natural disaster linked to adverse health. But while evidence has shown agricultural communities to be particularly susceptible to drought, there is a limited understanding of how drought may impact occupational stress in farmers.
To address this problem, NIDIS co-funded a study to examine the relationship between drought conditions and measures of job-related stress (e.g., job strain ratio) in farmers. The study, led by Jesse Berman with the University of Minnesota School of Public Health and published in Science of The Total Environment, looked at the association between drought conditions and increasing occupational stress among nearly 500 Midwest farm owners and operators over 2012–2015.
The study found that while many aspects of farming were associated with increased stress, drought was a major contributor, with impacts greater than those attributed to other factors. For example, increased job stress from drought was 4x greater than increased job stress from having pain in multiple body parts. 
Each farmer was also evaluated with the Positive and Negative Affect Schedule (PANAS) scale, which measures a person's positive or negative affect. Positive affect refers to someone who experiences positive emotions or interacts positively (even if experiencing hardship), while negative affect is someone who experiences negative emotions or handles things in a negative fashion (e.g., a pessimistic person). The study found that farmers who showed high negative affect were generally associated with greater job stress, but even this this relationship was 2x smaller than the increased stress observed during drought.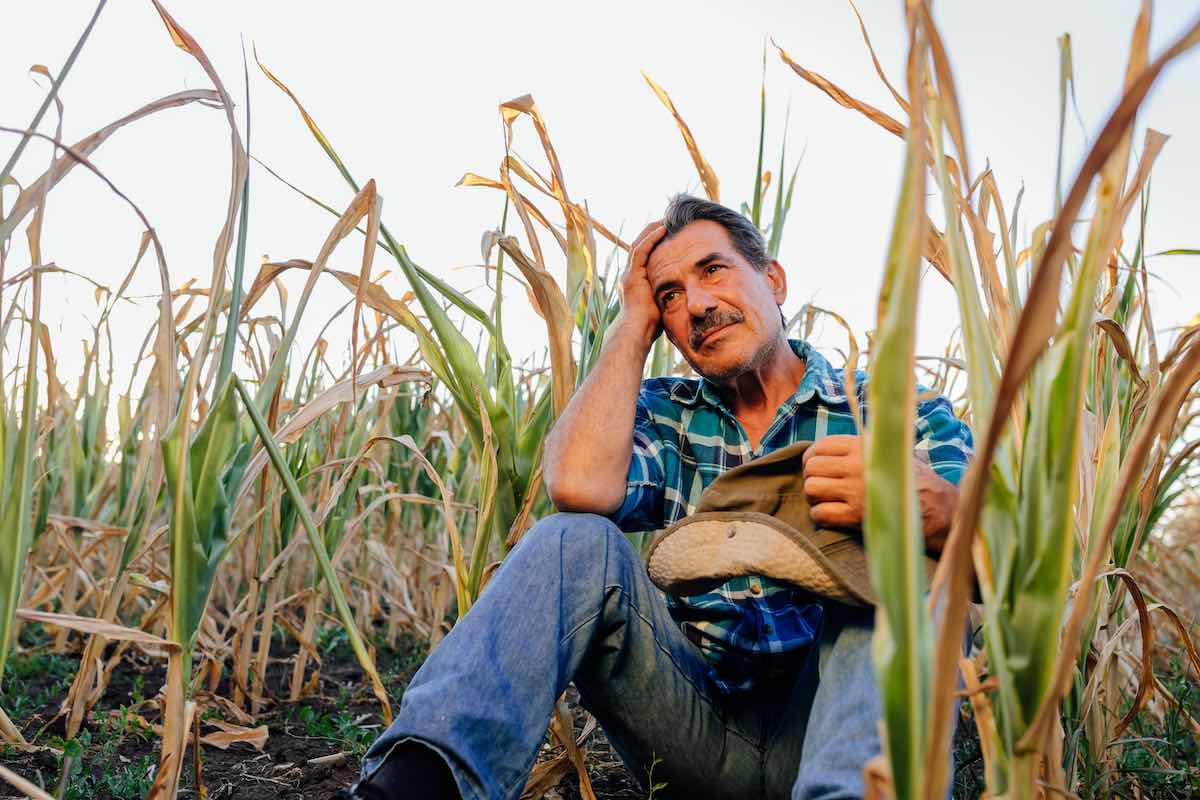 The study also showed that drought conditions occurring during the growing season were the primary driver of an increased job strain ratio. They did not find that drought during the non-growing season increased job-related stress in farmers, indicating that time of year is important for drought-related stress.
While we know that lack of rain causes stress, this study quantifies the trend and lends evidence to the need for mental health interventions. The authors suggest including information on health risks and mitigation strategies during early phases of drought conditions, with increased mental health resources for vulnerable populations.
This understudied threat to public health is particularly important due to increasingly hotter and drier growing seasons in North America, and could provide important data for federal early warning systems and preparedness policy.
"Incorporating health into drought early warning plans is a growing priority of the National Integrated Drought Information System," Berman said. "Studies that evaluate health risks from extreme weather are incredibly important for protecting both current and future farming populations that suffer disproportionately from natural disaster events."
The research paper was co-authored by Marizen R. Ramirez, University of Minnesota School of Public Health; Jesse E. Bell, College of Public Health at the University of Nebraska Medical Center; Rocky Bilotta, NOAA's National Centers for Environmental Information; and Fredric Gerr and Nathan B. Fethke, University of Iowa College of Public Health. In addition to NIDIS funding, the research was supported by a pilot grant from the Great Plains Center for Agricultural Health at the University of Iowa, which is funded by the U.S. Centers for Disease Control and Prevention.
Published on
September 28, 2021
Published on
October 19, 2021