Drought conditions in California and Nevada are at a crossroads as the window is closing for precipitation.
Moderate-to-extreme drought remains across California and Nevada, which typically receive about half of their precipitation in December through February.  
Recent storms have brought some relief to Southern California with widespread precipitation on the horizon. This may alleviate some drought conditions but is likely not enough to remove long-term drought conditions and impacts. 
Low snowpack (i.e., snow drought) and decreasing reservoir levels in the Sierra are leading to below-normal total water storage (natural and human-built). Soil moisture remains low. 
Preparation for continued drought impacts (e.g., pasture conditions, water supply, fire risk) should be considered, especially in the driest areas. A precipitation regime change may improve conditions, but based on climatology, a water deficit in the region will continue. This update includes data as of January 20, 2021. 
Current Conditions
U.S. Drought Monitor Conditions: California-Nevada | January 19, 2021
The U.S. Drought Monitor (USDM) is updated each Thursday to show the location and intensity of drought across the country. Drought categories show experts' assessments of conditions related to dryness and drought including observations of how much water is available in streams, lakes, and soils compared to usual for the same time of year.
California/Nevada conditions as of January 19, 2021:
95% of California is experiencing Moderate to Exceptional Drought (D1-D4), with 38% in Extreme Drought (D3) and 1% in Exceptional Drought (D4)
California population in drought: 30,419,000
99.7% of Nevada is experiencing Moderate to Exceptional Drought (D1-D4), with 24% in Exceptional Drought (D4)
Nevada population in drought: 2,700,000
U.S. Drought Monitor Categories

| Value | Map Hex Color |
| --- | --- |
| D0 | #ffff00 |
| D1 | #ffcc99 |
| D2 | #ff6600 |
| D3 | #ff0000 |
| D4 | #660000 |
Main Stats
95%
of California is experiencing Moderate to Exceptional Drought (D1-D4)
30.4 Million
people in California are in Moderate to Exceptional (D1 - D4) Drought
99.7%
of Nevada is experiencing Moderate to Exceptional Drought (D1-D4)
2.7 Million
people in Nevada are in Moderate to Exceptional (D1 - D4) Drought
Current Conditions
Drought conditions, according to the U.S. Drought Monitor, over the past few weeks stayed the same or worsened, primarily in central California. Long-term precipitation deficits from 2020 remain.
The La Niña pattern that developed in the tropical Pacific in Autumn 2020 remains firmly in place. Over the historical record, La Niña tilts odds toward wetter water years in the Pacific Northwest and drier water years in the Southwest U.S. There is large uncertainty in the northern parts of California and Nevada.
Atmospheric rivers earlier this month tracked towards the Pacific Northwest and a small area of northwestern California and, in recent days, Southern California. California's 8 station index and the Reno/Carson City region are near 17%–18% of normal cumulative water year totals.
Snow water equivalent (SWE) values remain below normal across the Sierras and the Colorado River Basin. According to the U.S. Department of Agriculture's Natural Resources Conservation Service, some stations are as low as 25%–50% of 1981–2010 median values. Statewide this averages to just 21% of the April 1 average, indicating widespread snow drought.
Reservoir levels are below normal in the northern, central, and southern Sierras, and Lake Tahoe is approaching its normal levels. Evaporative demand over the 3 months has been high, and soil moisture and shallow groundwater are low throughout the region.
The odds of reaching normal precipitation for the water year remain between 10%–30% throughout much of California and Nevada.
Percent of Normal Precipitation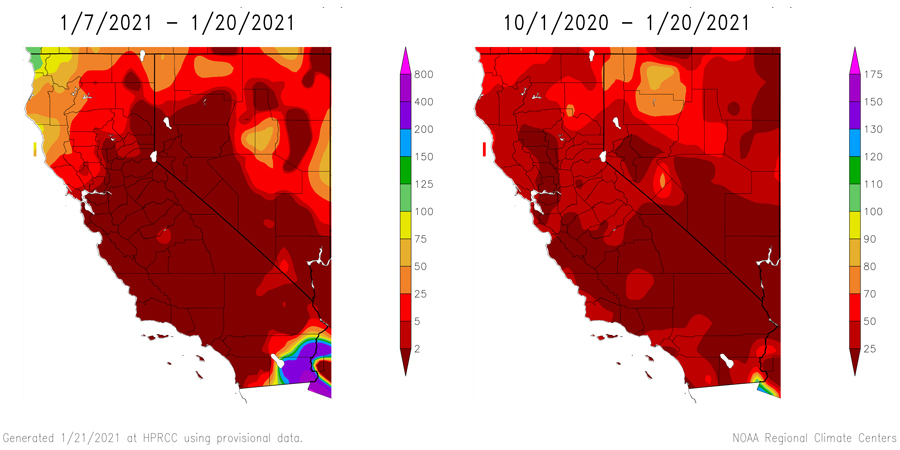 Snow Water Equivalent Percent of Median
Evaporative Demand Drought Index (EDDI): 1 Month, 3 Month, 6 Month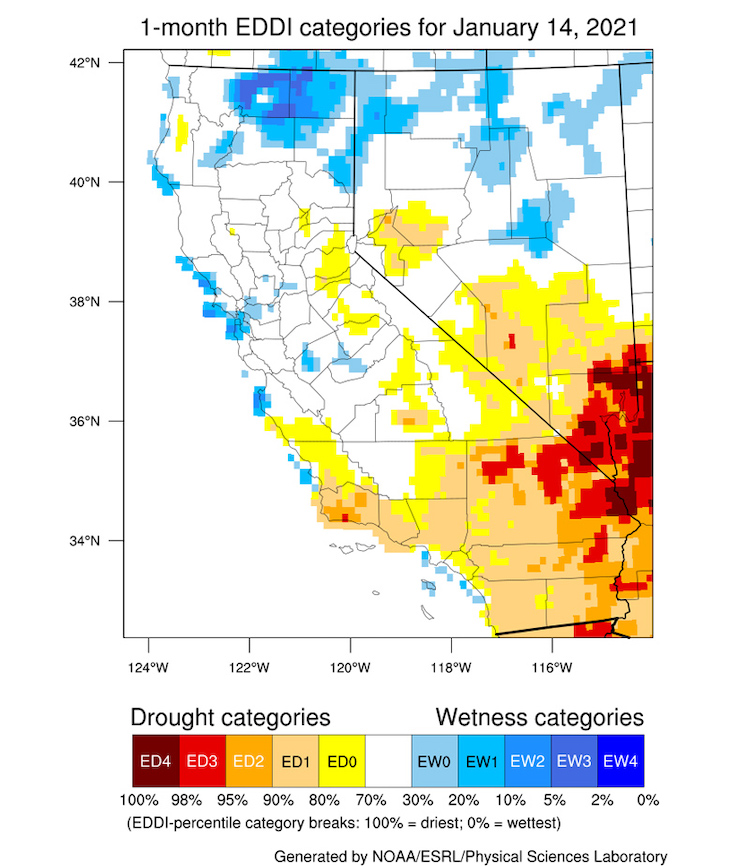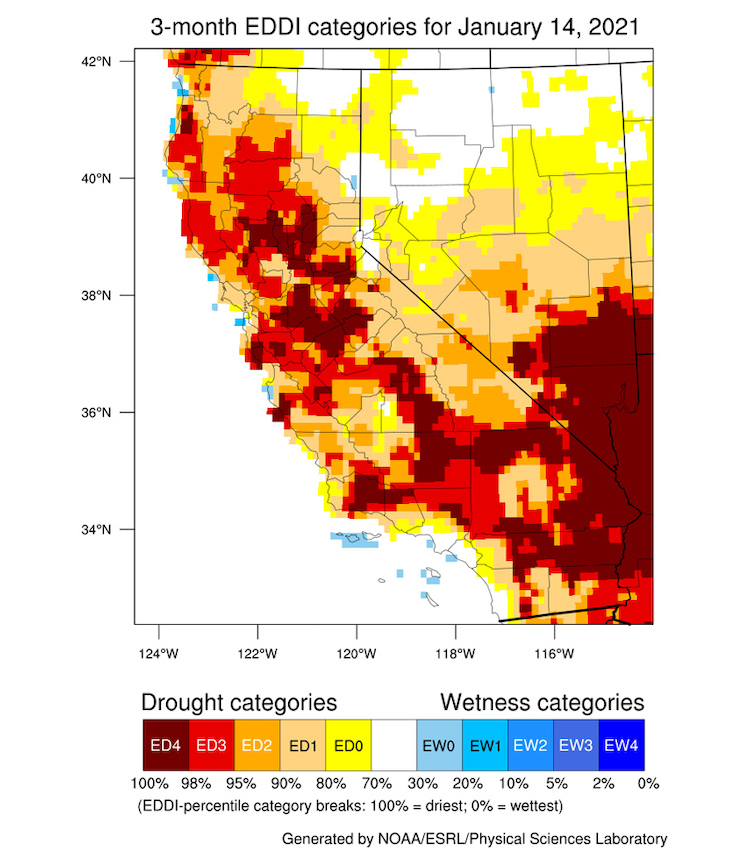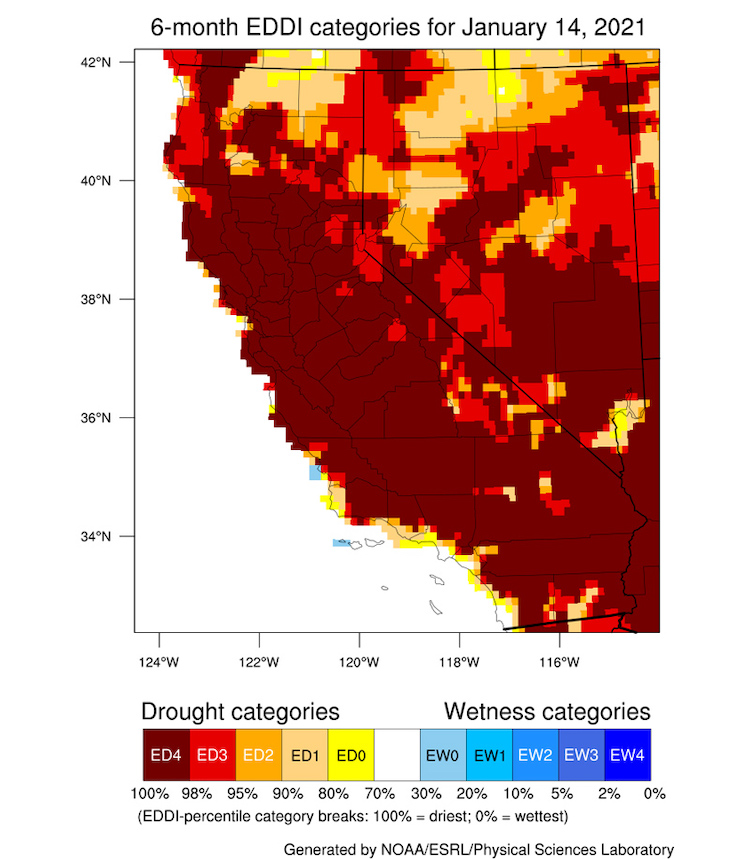 California/Nevada Soil Moisture Drought Intensity: January 19, 2021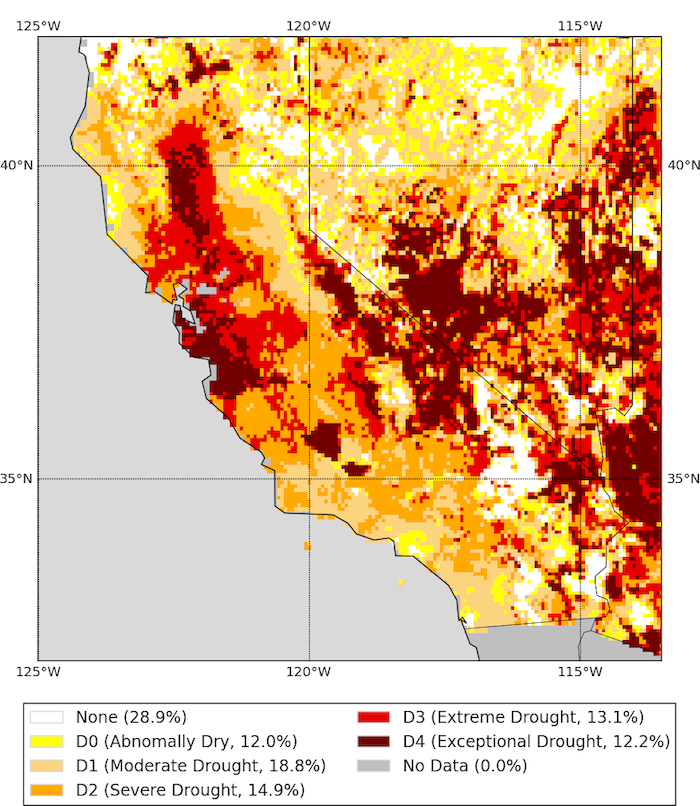 Water Storage in the Northern, Central, Southern Sierra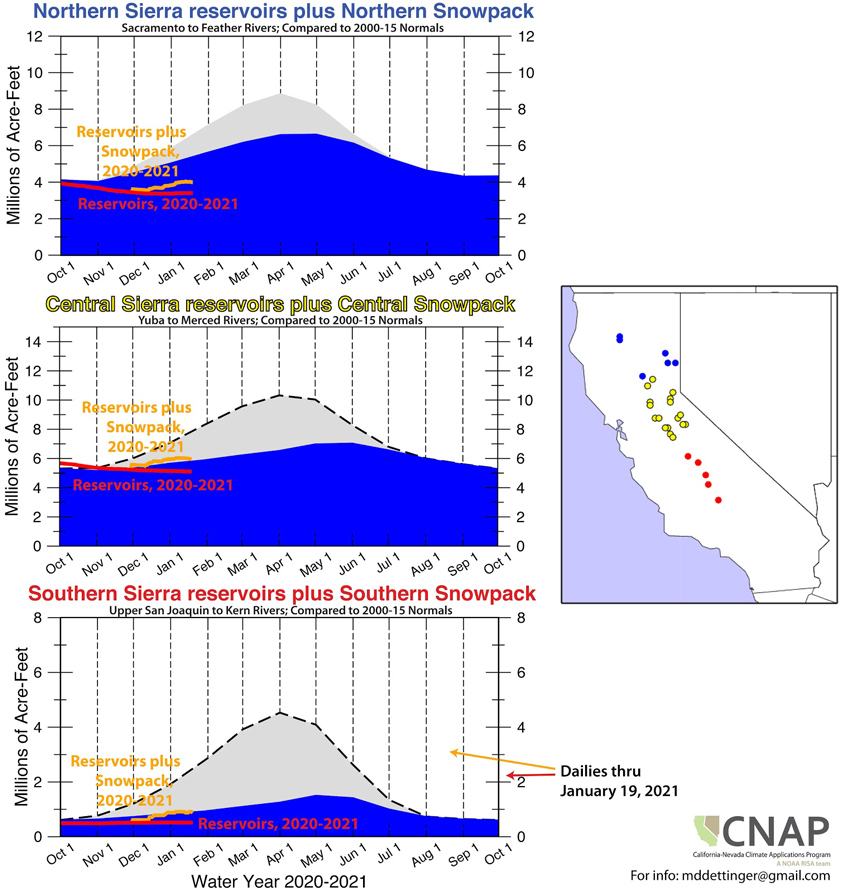 Odds of Water Year 2021 Reaching 50%, 75%, and 100% of Water Year Normal Precipitation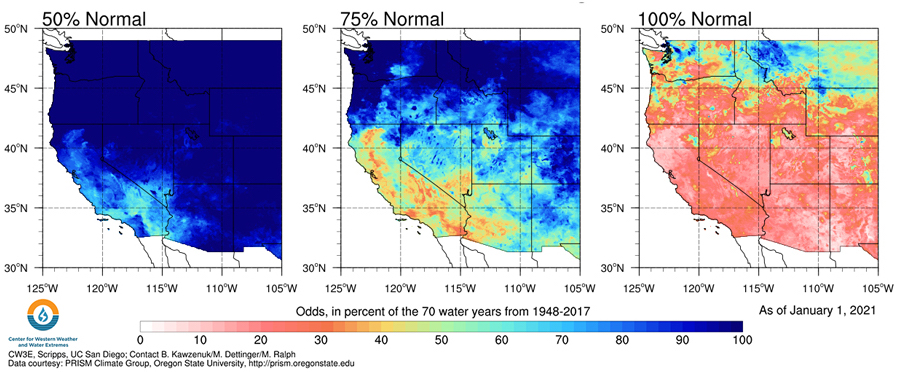 Drought Impacts
CMOR drought reports continue to show reports of those with 10-20 years experience in their regions comparing current conditions to 2014-2015. Example: 

Placer County, CA, 1/11/21, Moderately Dry: We typically don't feed hay in November/December, but we did this year. May have to feed hay again late winter/early spring. Since 1994, I've only seen it this dry in January in 2014 and 2015.
Humboldt County, NV, 1/14/21, Moderately Dry: Increased hauling of water to BLM pasture areas over the last 4 out of 5 years. But prior to this period only three times out of 20 plus years was the ranch needing to haul water to BLM pastures.
White Pine County, NV, 1/13/21, Severely Dry: Precipitation received 1-2 years ago filled reservoir supporting the ranch. Therefore there are no impacts on production this year but could occur in the future possibly next year if drought continues.

Many recreational sites, including ski resorts, are experiencing the impacts of low snow and moderate to extreme drought conditions. Other drought impacts include farmers considering selling cattle and potential for a worse than average wildfire season.
The 2020 USDA secretarial drought designation map shows much of California-Nevada as primary/contiguous designations. Learn more about crop and livestock areas in drought here and here. 
U.S. Ski Resorts in Drought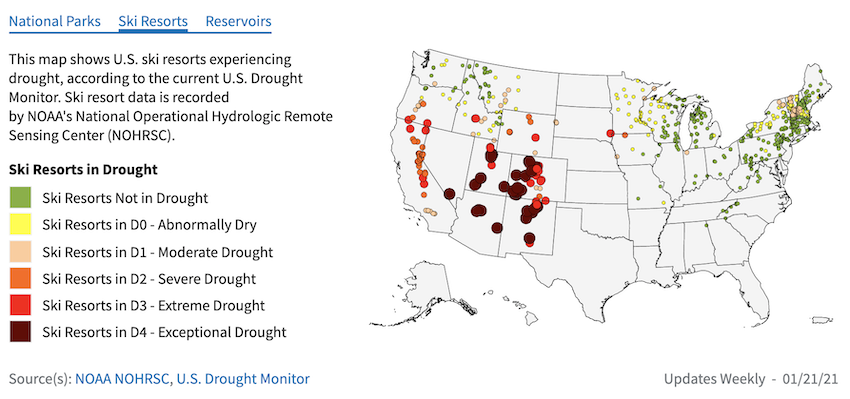 Drought & Climate Outlook
ENSO
NOAA's ENSO alert system status is currently a La Niña advisory and is likely to continue through the Northern Hemisphere winter 2020–21 (~95% chance during January–March), with a potential transition to ENSO-neutral during the spring of 2021 (55% chance during April–June). For more information, please check out the NOAA ENSO blog.
The Western Regional Climate Center recently developed a handout about the La Niña impacts for the West. Check it out to see how La Niña historically has affected your region.
Seasonal Drought Outlook
The seasonal drought outlook shows drought persistence over much of California-Nevada with development likely in coastal southern California. Upcoming precipitation is not likely to alleviate long term drought conditions with the exception of potential drought improvement to far northwestern California due to recent and upcoming precipitation.
Climate Prediction Center Seasonal Drought Outlook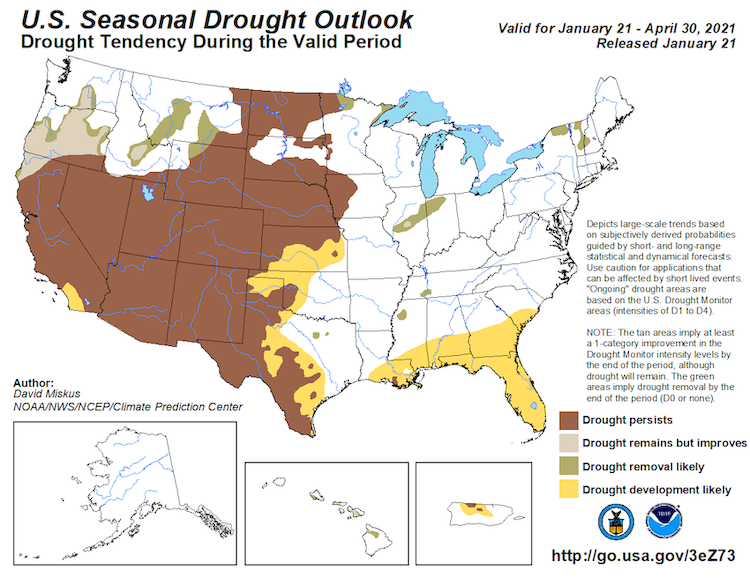 Temperature & Precipitation
Forecasts for the coming week show widespread precipitation across the region with potential for more towards the end of the month. The NOAA National Weather Service Climate Prediction Center's January 26-February 1 forecast shows an increased chance (greatest chances the farther north) of wet, cool conditions with potential atmospheric river(s). Forecasts are yet developing. Seasonal forecasts show a return of increased odds of a "typical" La Niña pattern and a dry southwest. 
California/Nevada 6-Day Precipitation Forecast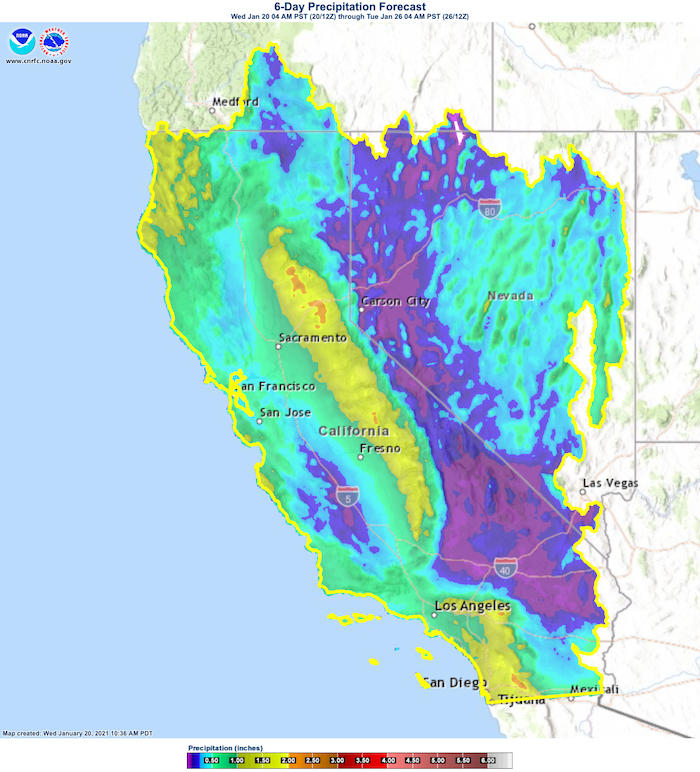 Climate Prediction Center 8-14 Day Outlooks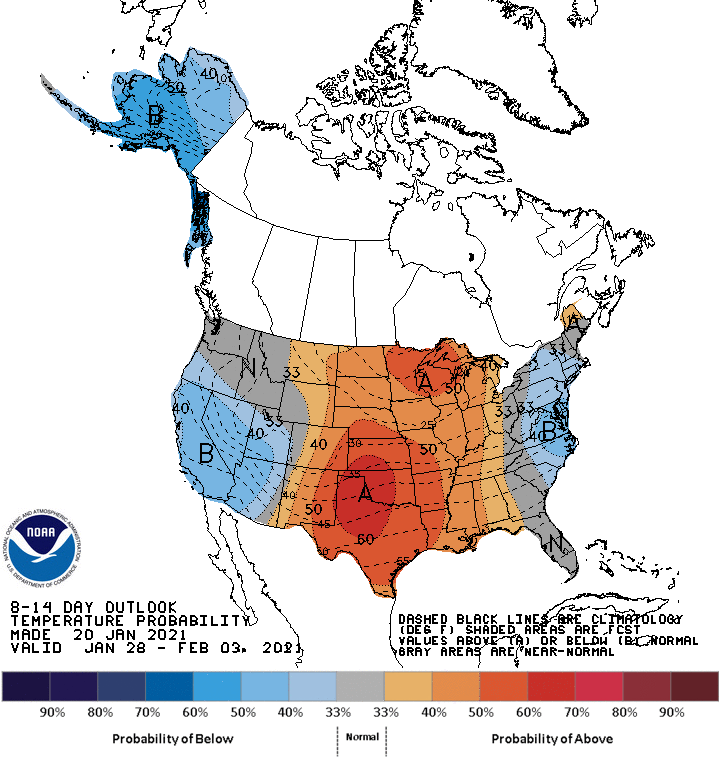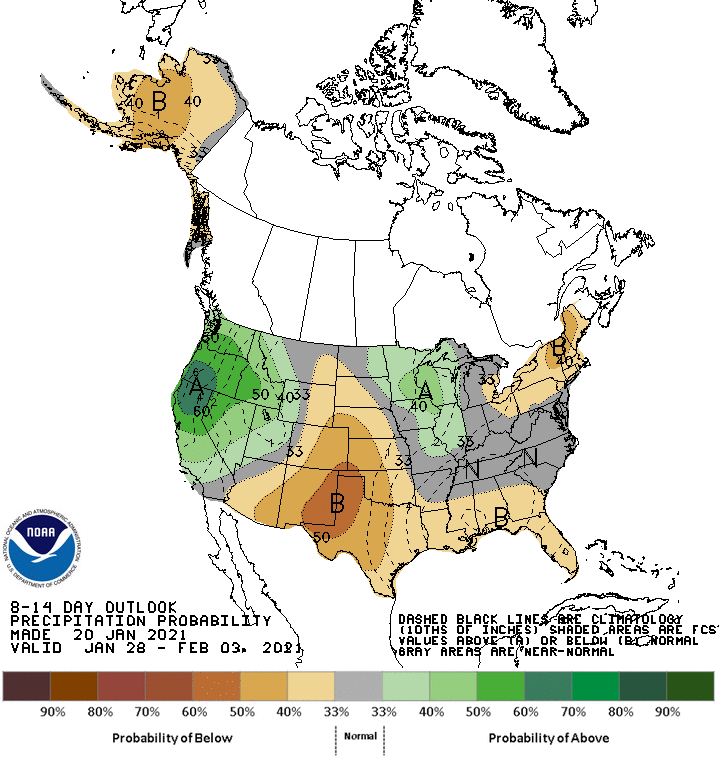 Atmospheric River Conditions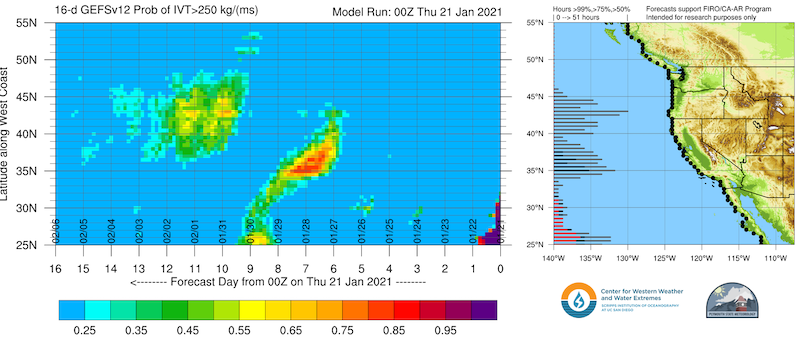 Drought Early Warning Resources
California     Nevada     California-Nevada DEWS
Prepared By
Amanda Sheffield
NOAA/NIDIS California-Nevada DEWS Regional Drought Information Coordinator
Email: amanda.sheffield@noaa.gov
Julie Kalansky
Program Manager, California-Nevada Applications Program (NOAA RISA team)
Email: jkalansky@ucsd.edu
Special Thanks
This drought status update is issued in partnership between the National Oceanic and Atmospheric Administration (NOAA) and the California-Nevada Applications Program (CNAP), a NOAA RISA team, to communicate the current state of drought conditions in California-Nevada based on recent conditions and the upcoming forecast. NIDIS and its partners will issue future drought updates as conditions evolve. 
Register here for the next California-Nevada Drought & Climate Outlook webinar on Monday, January 25 at 11 am PST.