Drought and Heat Converge in Texas While Oklahoma Sees Big Improvements
Key Points
There is potential for drought intensification and expansion in Texas this summer.
Drought conditions improve, but persist in western Oklahoma.
While some drought relief occurred in Kansas, increased humidity coupled with very warm temperatures resulted in feedlot cattle losses.
Current Conditions
U.S. Drought Monitor Conditions: Southern Plains | June 21, 2022
The U.S. Drought Monitor is updated each Thursday to show the location and intensity of drought across the country. Drought categories show experts' assessments of conditions related to dryness and drought including observations of how much water is available in streams, lakes, and soils compared to usual for the same time of year.
This map shows drought conditions across the Southern Plains Drought Early Warning System as of June 21, 2022.
U.S. Drought Monitor Categories

| Value | Map Hex Color |
| --- | --- |
| D0 - Abnormally Dry | #ffff00 |
| D1 - Moderate Drought | #ffcc99 |
| D2 - Severe Drought | #f5ad3d |
| D3 - Extreme Drought | #ff0000 |
| D4 - Exceptional Drought | #660000 |
Main Stats
16%
of Kansas is in extreme to exceptional (D3–D4) drought
90%
of New Mexico is in extreme to exceptional (D3–D4) drought
5%
of Oklahoma is in extreme to exceptional (D3–D4) drought
44%
of Texas is in extreme to exceptional (D3–D4) drought
Current Drought Conditions and Outlook
U.S. Drought Monitor Conditions
74% of the region is in drought (D1 or worse).
43% of the region is experiencing extreme (D3) to exceptional (D4) drought.
Extreme (D3) drought conditions have been in place in this region since August 2019.
Moderate (D1) or worse drought has been in the region since June 2016.
Drought Change Over the Past Month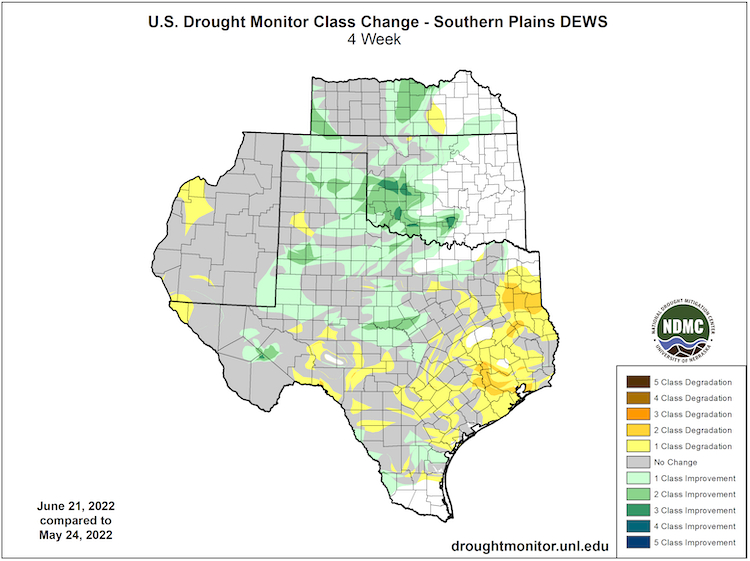 Recent and Forecast Precipitation
May and June are usually the wettest months of the year for the Southern Plains.
Drought-affected areas of western Kansas, Oklahoma, and northwest Texas had received less than half the normal precipitation from January to May, this year. Rainfall in late May and through June has increased the annual total, so far, removing drought from western Oklahoma and improving drought in northern Texas.
Rainfall in coastal Texas and Louisiana has been low over the past two months, and a recent heatwave has been quickly drying the landscape.
Eastern New Mexico remains very dry. Recent monsoonal showers have mostly occurred in the western part of the state.
60-Day Percent of Normal Precipitation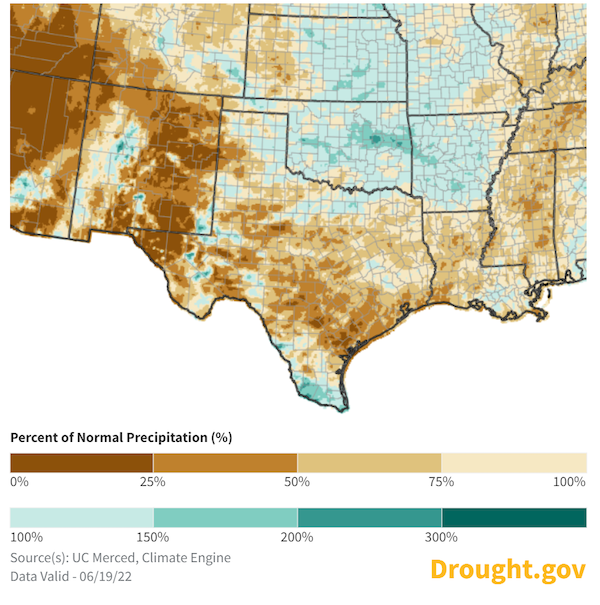 June-to-date precipitation across the Southern Plains has been above normal for most of Oklahoma, near normal for northern Texas and eastern New Mexico, but less than 25% of the usual precipitation in southern Texas and along the Gulf Coast of Texas and Louisiana.  
Forecast precipitation across the Southern Plains for the next week shows:

An active monsoon pattern across the Southwest, which could extend into the Oklahoma and Texas Panhandles.
A potential for over half an inch of rain along the eastern Gulf Coast region.
Only light rain for the South Texas Plains and through the center of the state.
Month-to-Date Precipitation: June 2022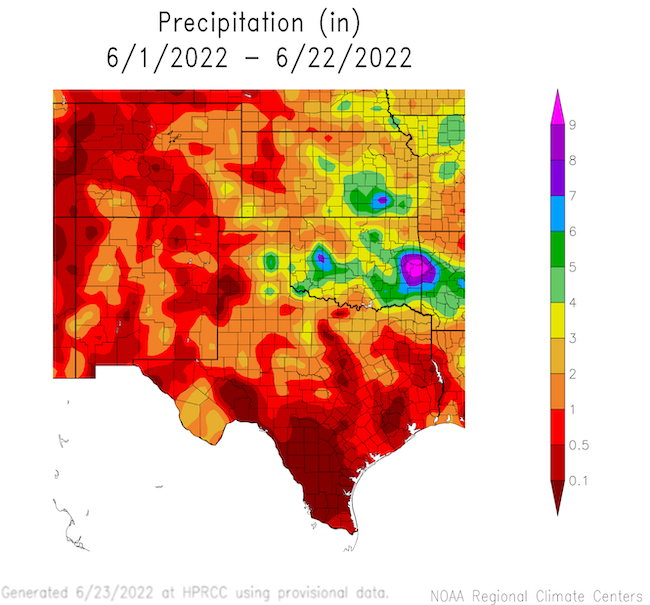 7-Day Quantitative Precipitation Forecast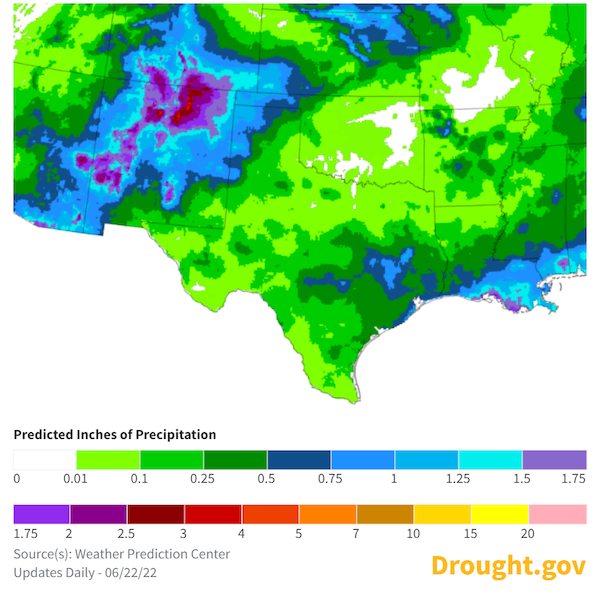 Forecasts and Seasonal Outlooks
July 2022
Fire risk is elevated for drought-stricken areas of the Southern Plains.
Significant wildland fire potential remains elevated over western Kansas, Oklahoma, and Texas.
Significant Wildland Fire Potential Outlook: July 2022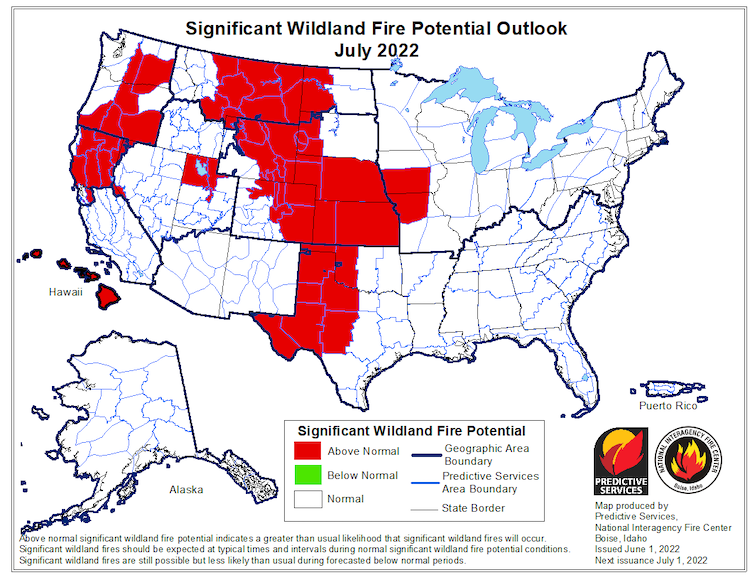 According to the Climate Prediction Center's monthly outlook for July:
Increased temperatures are likely across the whole Southern Plains region, with the highest odds over northeast New Mexico.
Odds favor below-normal monthly precipitation for Kansas, Oklahoma, northern Texas, and the plains of eastern New Mexico.
July 2022 Temperature Outlook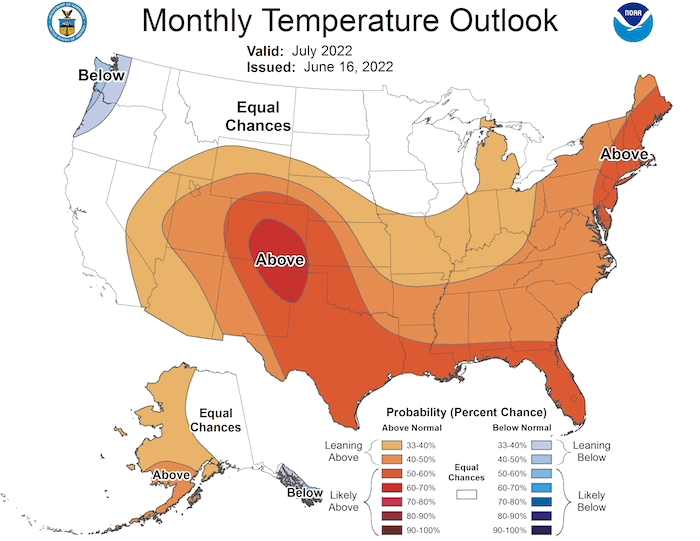 July 2022 Precipitation Outlook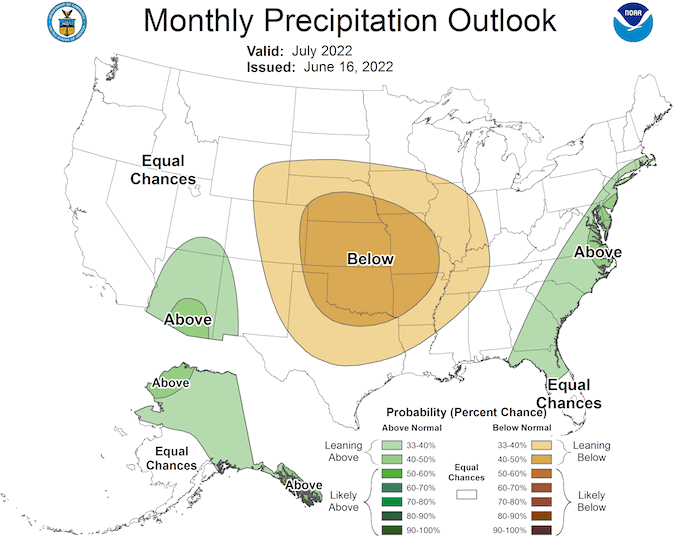 3-Month Outlook for July–September 2022
Seasonal forecasts show a hot and dry season ahead for the Southern Plains:
Lower-than-normal precipitation is more likely than not for western Kansas, Oklahoma, northern Texas, and eastern New Mexico for July through September.Three-Month Temperature Outlook: July–September 2022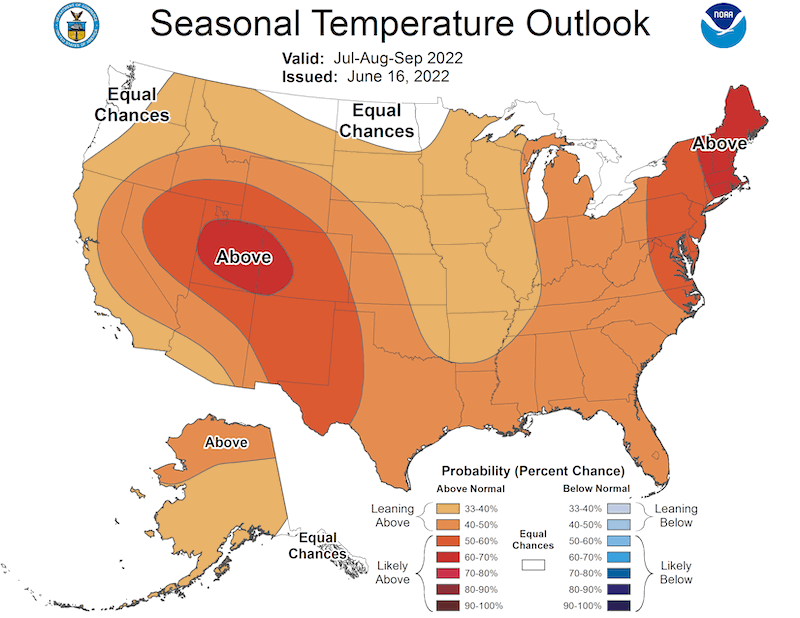 Three-Month Precipitation Outlook: July–September 2022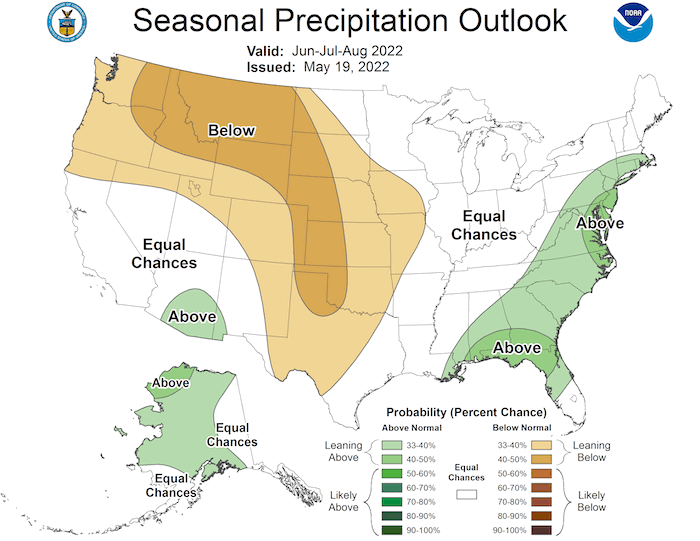 Seasonal Drought Outlook
With the precipitation outlook leaning toward below-normal precipitation, areas that are already in drought are expected to remain in drought, while drought development is likely over eastern Texas and northern Louisiana.
June 16–September 30, 2022 Drought Outlook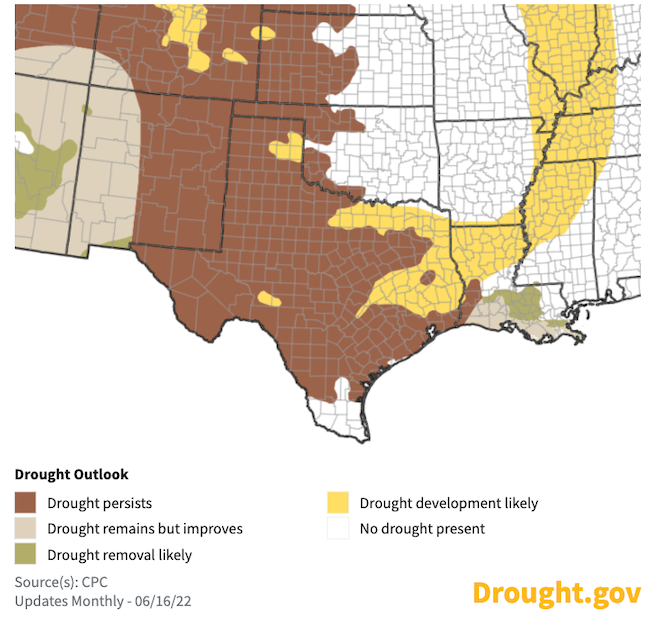 La Niña Persists and May Impact Winter Weather
One of the primary drivers of drought across the Southwest, including western Texas, through winter and spring was a La Niña pattern in the Pacific.
The June 5 weekly NINO3.4 value was −0.5 °C, indicating an expected seasonal decline in a persistent La Niña pattern in the central Pacific. 
La Niña patterns do not usually persist into northern-hemisphere summer months, but the few historical events that have persisted experienced decreased precipitation in northern Texas in the summer with no strong pattern in the rest of the region (learn more). No two La Niña patterns are the same. 
The latest forecasts for winter 2022–23 indicate that another La Niña is slightly more likely to occur than a neutral pattern this winter, and an El Niño is unlikely. This means another dry winter is possible for the Southern Plains.
For more information, please check out the NOAA El Niño–Southern Oscillation (ENSO) blog. 
Sea Surface Temperature Anomalies (°C) for May 30–June 5, 2022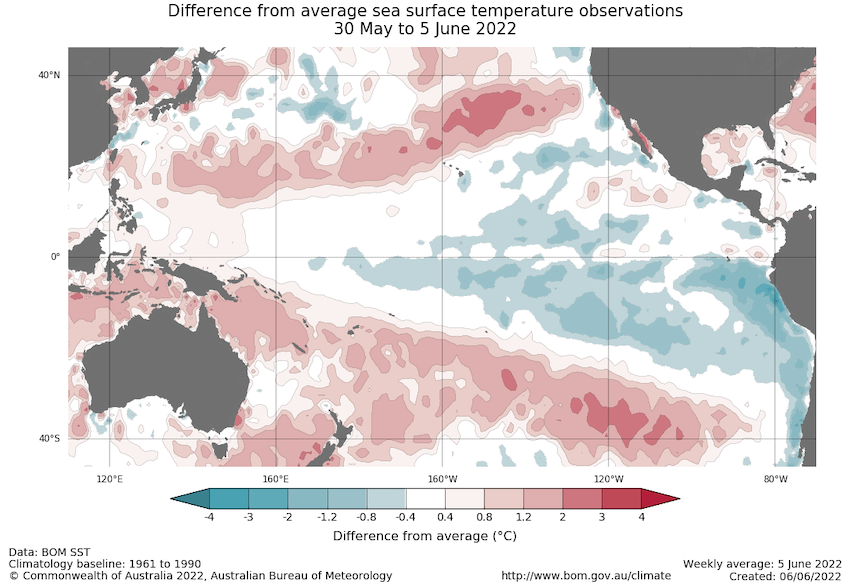 Probability of El Niño, La Niña, or Neutral Conditions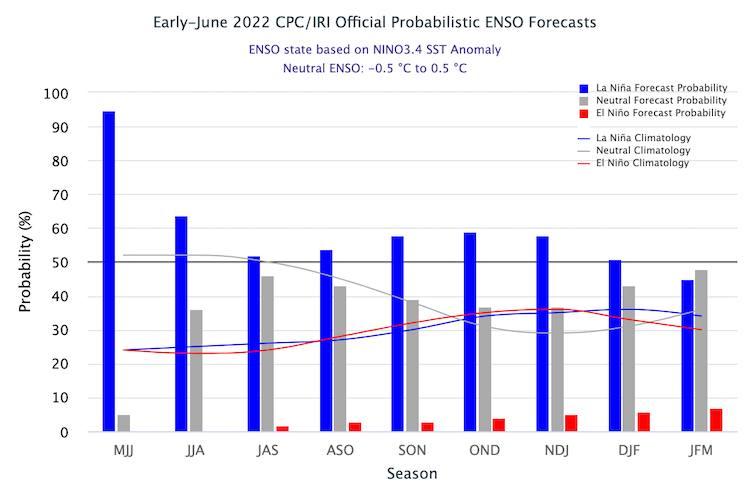 State-Based Conditions and Impacts
Kansas
Western Kansas continues to see persistent cured/brown grasses with poor forage conditions.
Wheat harvest is beginning with 41% of the crop estimated at poor to very poor conditions.
While some drought relief occurred, increased humidity coupled with very warm temperatures resulted in feedlot cattle losses.
Much-above-normal temperatures, wind, and dry conditions have increased concern about flash drought.
Kansas continues to see wildfires with the largest 700 acres in Finney County that burned through green corn.
30-Day Departure from Normal Precipitation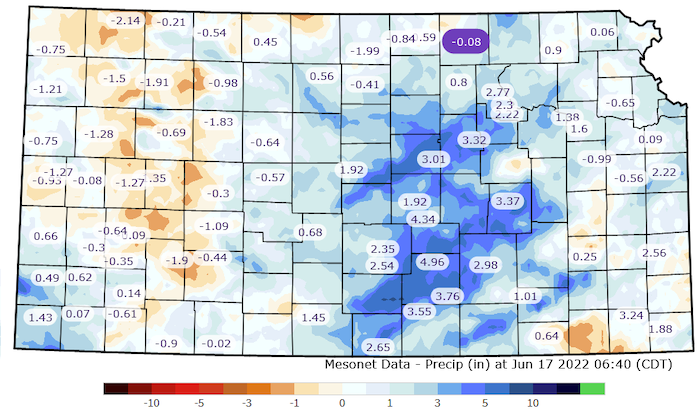 Oklahoma
Abundant rainfall over the previous 60 days has greatly reduced drought stress and its impacts across Oklahoma. The statewide average rainfall total from mid-April through mid-June was over 2 inches above normal but 3–7 inches above normal over parts of the state.
The western one-half of the Oklahoma Panhandle continues to struggle with a lack of moisture and persistent drought, nearly an inch below normal over that 60-day period. 
Oklahoma's drought-impacted winter wheat harvest estimates are down to 64.8 million bushels, according to the U.S. Department of Agriculture, which would be the state's lowest production total since 2014's 47.6 million bushels.
Oklahoma Wheat Production and Yield

Texas
The statewide mean daily maximum temperature for May was 91.2ºF. This was 6.5 ºF above average and tied May 2018 as the hottest May on record for daily maximum temperatures.
Year-to-date statewide average rainfall is less than 6.55 inches as of May 31. This is the eighth driest January–May on record and the driest since 2011.
The crop moisture index as of June 18, 2022 shows nearly all of Texas as severely dry, with a crop moisture index of -3 or less.
Crop Moisture Index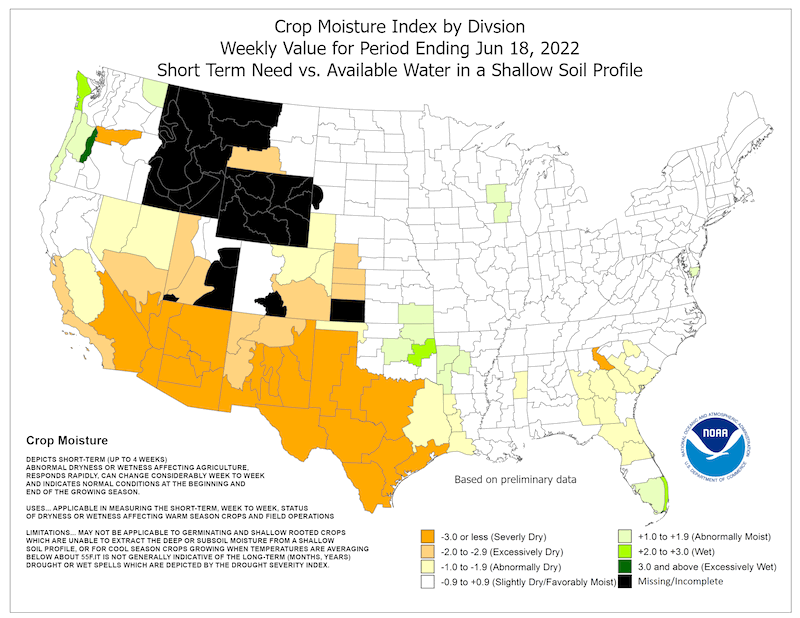 New Mexico
Statewide, spring (March-April-May) 2022 was the 6th driest spring on record for New Mexico with 0.76 inches of precipitation.
The Hermits Peak/Calf Canyon Fire Complex and the Black Fire are the first and second largest fires in modern records for the state of New Mexico.
As of June 15, reservoir storage along the Rio Grande and Pecos River Basins is very low. Along the Rio Grande, Elephant Butte is at 10% full, and Caballo is at 11% full. On the Pecos River, Sumner is at 23%, Brantley is at 28%, and Avalon is at 21%.
A new state-wide Drought Severity and Coverage Index (DSCI) record for New Mexico occurred on June 14, 2022 with a score of 440.03. This is the most intense drought in New Mexico since June 25, 2013. 
Reservoir Storage: Rio Grande and Pecos Rivers
For More Information
NIDIS and its partners will issue future drought updates as conditions evolve.
More local information is available from the following resources:
In Case You Missed It
Upcoming Events
Prepared By
Joel Lisonbee
NOAA/National Integrated Drought Information System (NIDIS), Southern Plains Drought Early Warning System and CIRES/CU Boulder
Gary McManus
Oklahoma State Climatologist, Oklahoma Mesonet, Oklahoma Climatological Survey
Chip Redmond
Kansas State University
Alison Tarter
Texas State Climate Office, Texas A&M University
Victor Murphy
National Weather Service
Special Thanks
This drought status update is issued in partnership between the National Oceanic and Atmospheric Administration (NOAA) and the offices of the state climatologist for Texas, Oklahoma, New Mexico, and Kansas. The purpose of the update is to communicate a potential area of concern for drought expansion and/or development within the Southern Plains based on recent conditions and the upcoming forecast. NIDIS and its partners will issue future drought updates as conditions evolve.