On-Again, Off-Again Drought in the Southern Plains Is Back On Again and Worsening 
Key Points
Exceptional (D4) drought spreads across southern Kansas and Oklahoma.
September temperatures ranged from 2–5 ºF above the long-term average for Kansas, Oklahoma, and northern Texas.
With climate outlooks favoring warm and dry conditions, drought in the Southern Plains is expected to remain and expand through the fall.
Current Conditions
U.S. Drought Monitor Conditions: Southern Plains | September 27, 2022
The U.S. Drought Monitor is updated each Thursday to show the location and intensity of drought across the country. Drought categories show experts' assessments of conditions related to dryness and drought including observations of how much water is available in streams, lakes, and soils compared to usual for the same time of year.
This map shows drought conditions across the Southern Plains Drought Early Warning System as of September 27, 2022.
U.S. Drought Monitor Categories

| Value | Map Hex Color |
| --- | --- |
| D0 - Abnormally Dry | #ffff00 |
| D1 - Moderate Drought | #ffcc99 |
| D2 - Severe Drought | #ff6600 |
| D3 - Extreme Drought | #ff0000 |
| D4 - Exceptional Drought | #660000 |
Main Stats
53%
of Kansas is in extreme to exceptional (D3–D4) drought
7%
of New Mexico is in extreme to exceptional (D3–D4) drought
64%
of Oklahoma is in extreme to exceptional (D3–D4) drought
9%
of Texas is in extreme to exceptional (D3–D4) drought
Current Drought Conditions and Outlook
Overview of the Changing Drought Through Summer
The summer began with exceptional (D4) drought in central Texas.
May–July combined precipitation was the 5th driest on record for Texas.
Oklahoma began seeing drought conditions in August 2021, which eased in winter with the indication of large-scale drought improvements in Oklahoma in June. However, in July, extreme heat and no rain created a flash drought situation in the Southern Plains with Oklahoma as the epicenter.
August flood: In the 12 months from August 17, 2021–August 16, 2022 the Dallas region experienced a roughly 15-inch rainfall deficit and was in extreme (D3) to exceptional (D4) drought, according to the August 16 U.S. Drought Monitor. On August 21–22, over nine inches of rain fell within about 24 hours in the Dallas–Fort Worth area, and much of northeast Texas experienced a two-class drought improvement according to the August 23 U.S. Drought Monitor.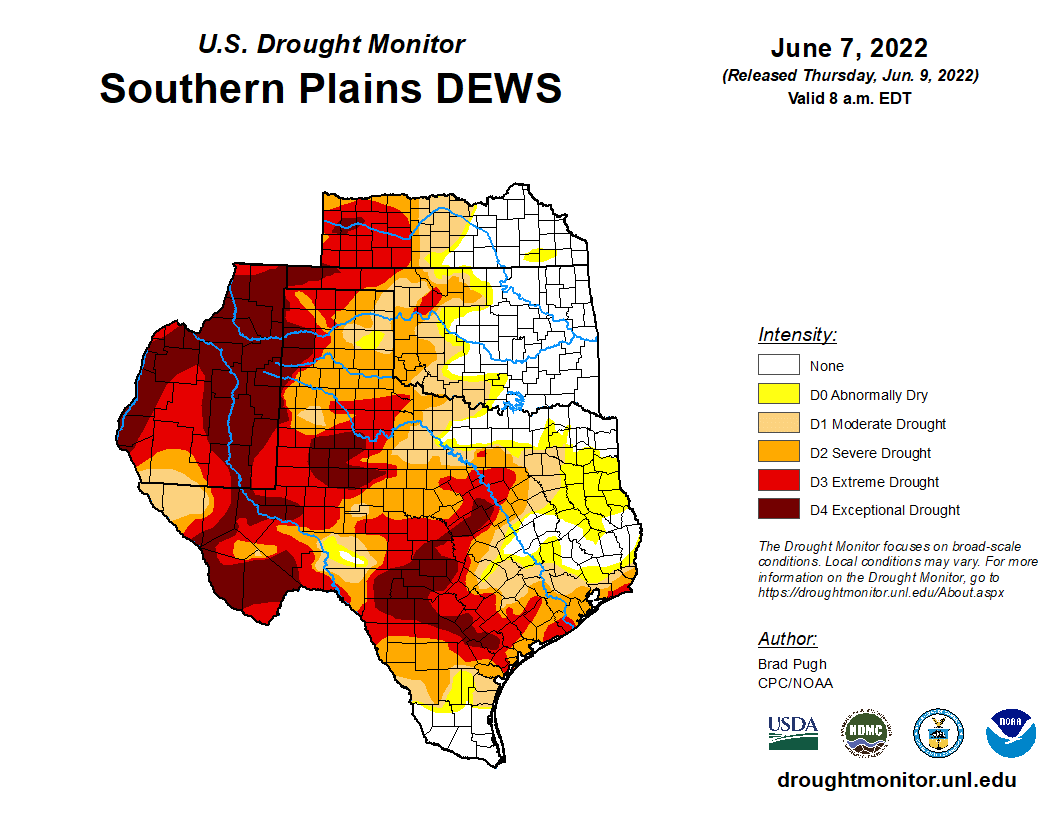 Throughout the summer, drought conditions worsened through Oklahoma and southern Kansas.
Drought in New Mexico and western Texas improved due to an above-average summer monsoon.
Late August rainfall, including some flooding, ameliorated some drought conditions in Texas. 
U.S. Drought Monitor 13-Week Change Map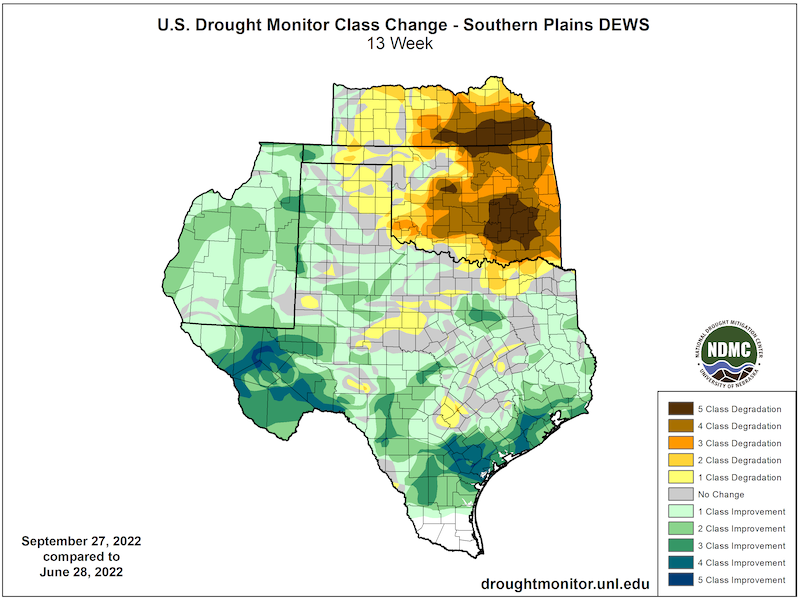 U.S. Drought Monitor Conditions
75.7% of the region is in drought (D1 or worse).
24.6% of the region is experiencing Extreme (D3) drought or worse.
Extreme (D3) drought conditions have been in place in this region since August 2019.
Moderate (D1) or worse drought has been in the region since June 2016 
Low Precipitation and Heat Through September
So far, September temperatures have been above average for Kansas and Oklahoma.
Areas that have seen the strongest degradation in drought (Oklahoma, Kansas, and northern Texas) have seen mean daily maximum temperatures four to six degrees above average.
September precipitation has been very much below average for Oklahoma and southeastern Kansas. Areas that have seen the most drought intensification over the past month have had less than 25% of normal precipitation for the month.
30-Day Departure from Normal Maximum Temperature (°F)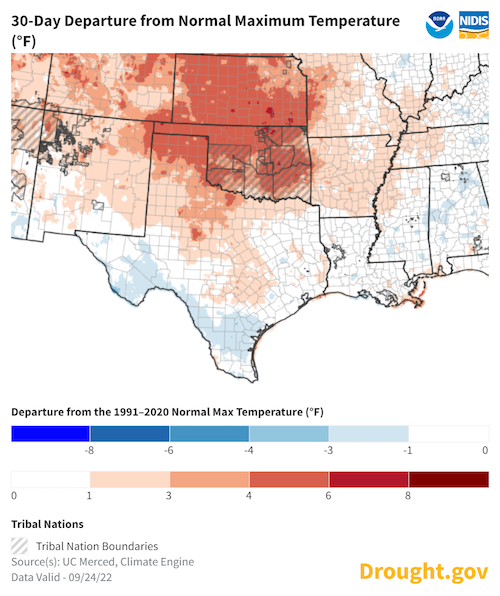 30-Day Percent of Normal Precipitation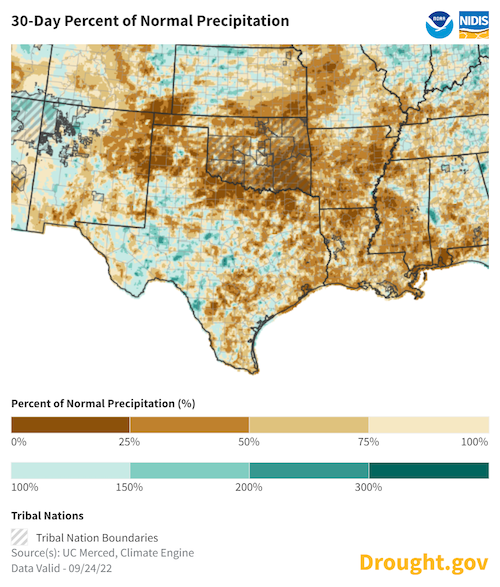 Forecasts and Seasonal Outlooks
October 2022
The Climate Prediction Center's monthly outlook for October shows: 
Increased temperatures are highly likely across most of the U.S., including the Southern Plains region, with the highest odds over Kansas and northern Oklahoma.
The monthly precipitation outlook shows below-average precipitation is the most likely outcome for the whole region in October.
October 2022 Temperature Outlook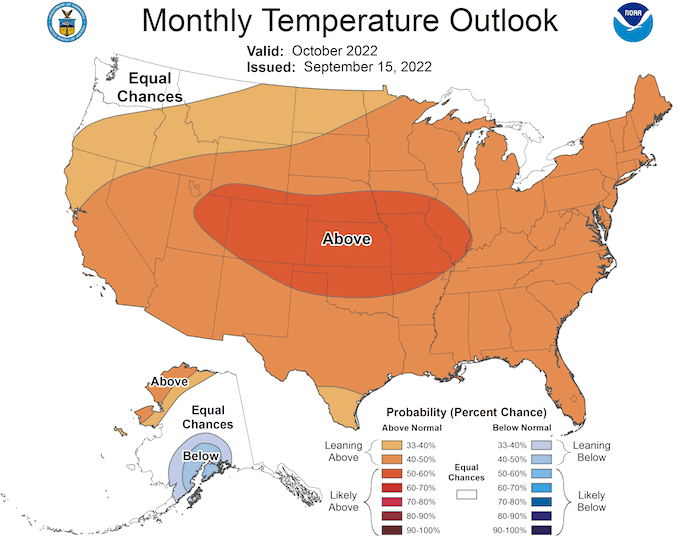 October 2022 Precipitation Outlook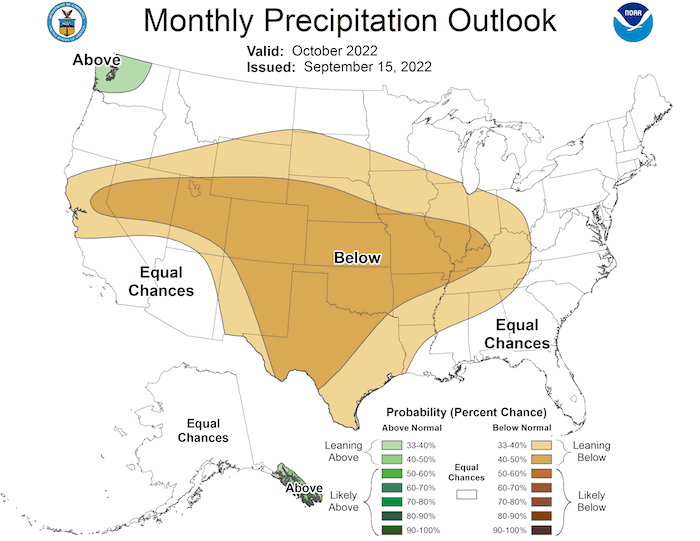 3-Month Outlook for October–December 2022
Seasonal forecasts for October–December show a warmer-than-normal season ahead for the Southern Plains
Lower-than-normal precipitation is more likely for the Southern Plains.
Three-Month Temperature Outlook: October–December 2022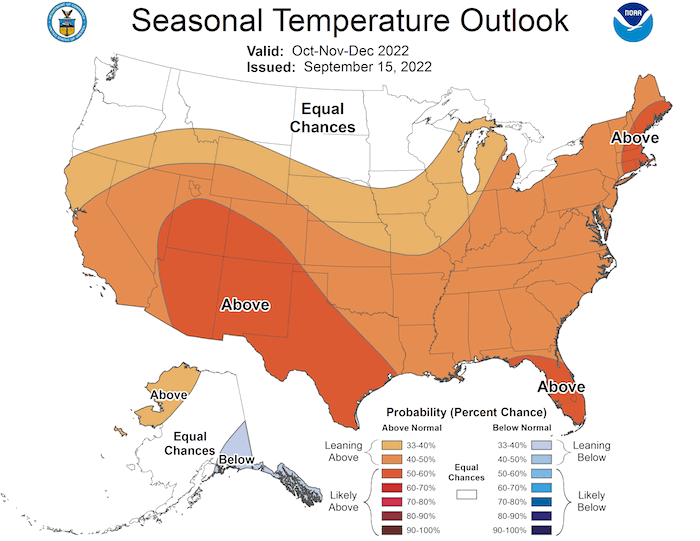 Three-Month Precipitation Outlook: October–December 2022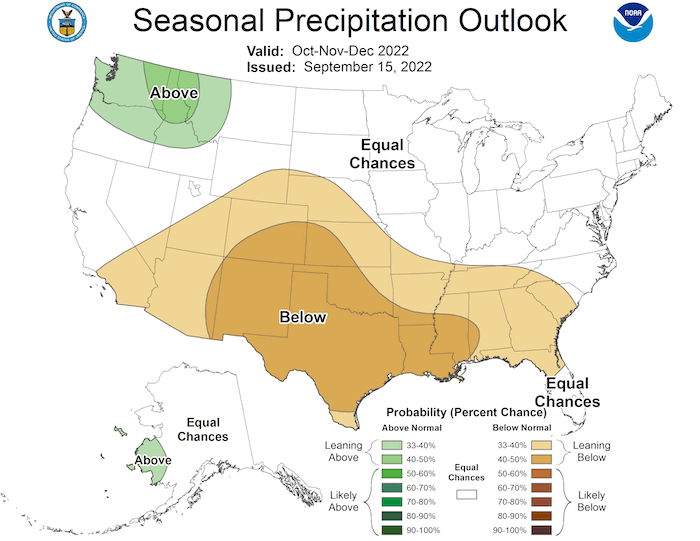 Seasonal Drought Outlook
Any drought improvements in Texas from the summer precipitation are likely to be removed as dry conditions return to the region through fall. 
The Climate Prediction Center's seasonal drought outlook shows a relatively warm and dry autumn ahead.
September 15–December 31 Drought Outlook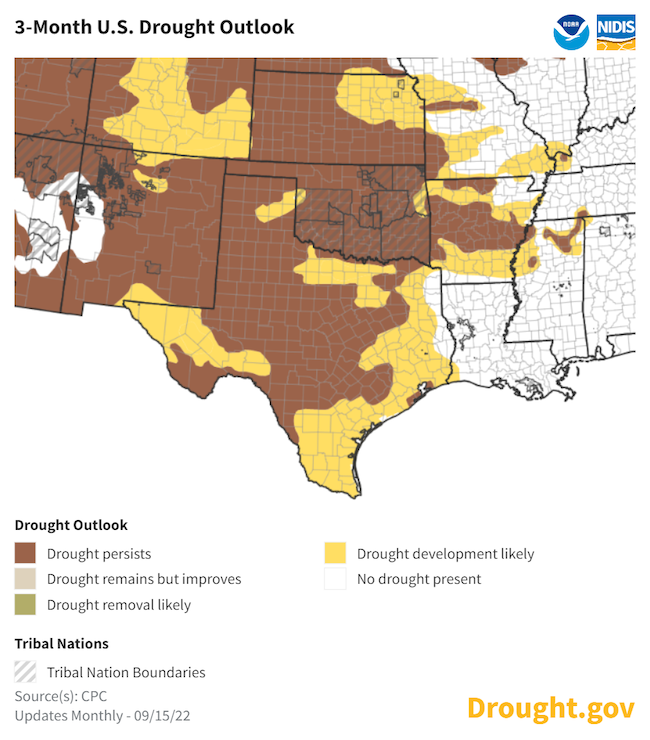 La Niña Persists and May Impact Winter Weather
Sea Surface Temperature Anomalies (°C) for September 19–25, 2022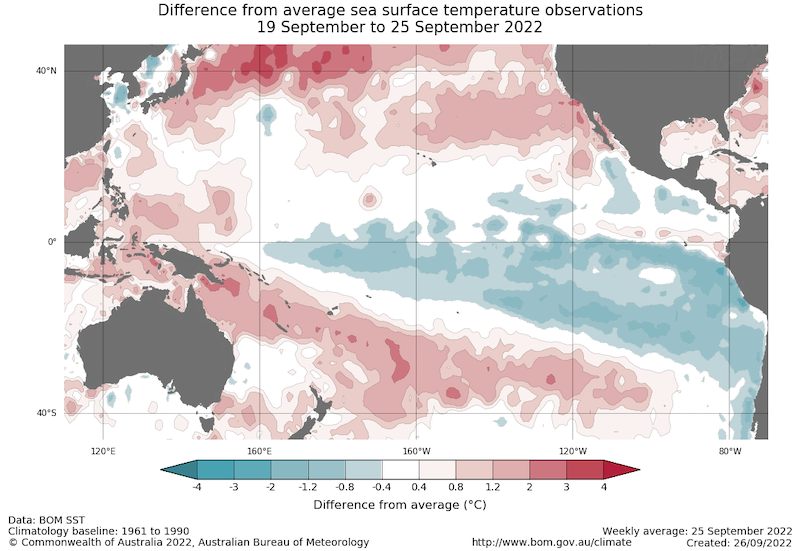 Probability of El Niño, La Niña, or Neutral Conditions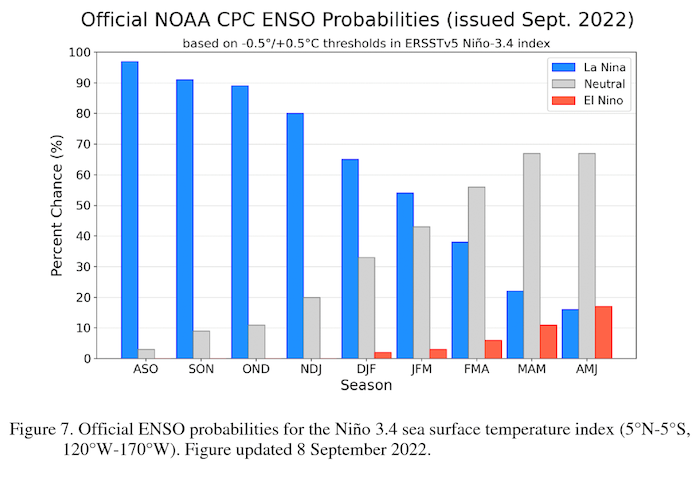 State-Based Conditions and Impacts
Kansas
Public water supply are concerns increasing across south-central and southeastern Kansas. Caney recently enacted restrictions, and wells are drying up in Wichita.
Central Kansas benefited from recent rainfall that should help wheat become established; elsewhere the crop is being dusted in with hopes of future moisture.
Corn and soybeans are being cut for silage and feed with expected lower-than-normal yields for crops that are being harvested.
Sorghum is varying greatly with planting date, soil type, and region in the state. Some has burned up, while some is doing better than thought.
There is increasing concern for winter blowing dust and wind erosion with poor ground cover across western Kansas.  
2022 Statewide Accumulated Daily Precipitation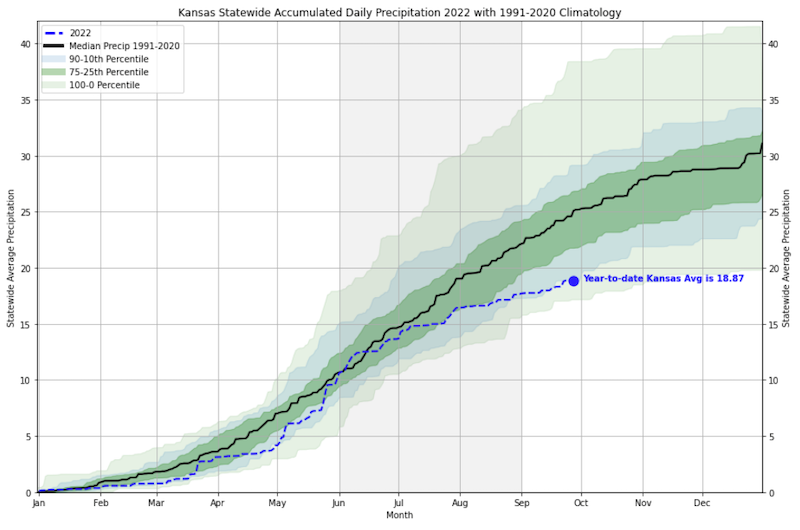 Oklahoma
Oklahoma is currently undergoing another significant dry spell—many areas have gone more than a month without at least a quarter-inch of rain in a single day. 
Above-normal temperatures have continued throughout September, adding to evaporative water stress.  
Twenty-three Oklahoma counties had implemented burn bans as of September 27, all but one in eastern Oklahoma.
Oklahoma's topsoil was considered 91% short or very short according to the USDA's National Agricultural Statistics Service, the highest levels seen in the state since 2012.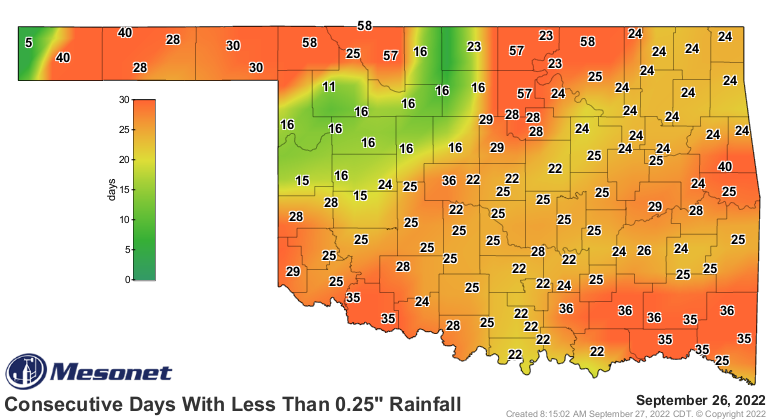 Texas
From January 1 through August 8, 2022, Texas averaged slightly more than 9 inches of precipitation, ranking it among the driest such periods ever. During the following 31 days alone, Texas averaged an additional 5 inches or so of precipitation.   
By the end of August, the Palmer Drought Severity Index had improved to -5.15, the ninth-worst for August. However, the end of September number is likely to be the third lowest for September since the 1950s drought.
Reservoir levels stabilized in August and early September, but have since resumed their decline. Current storage is more than 10% below the historic median and just 10% above the modern record low for this date. 
Texas Total Conservation Water Storage
New Mexico
Catron and Rio Arriba Counties, New Mexico, had their wettest summer (June, July, August) on record with 11.28 inches and 10.29 inches of precipitation, respectively, over the three-month period.
Precipitation through summer was split, with the western half of the state experiencing much-above-average precipitation while the eastern half of the state had below-average precipitation.
90-Day Standardized Precipitation Index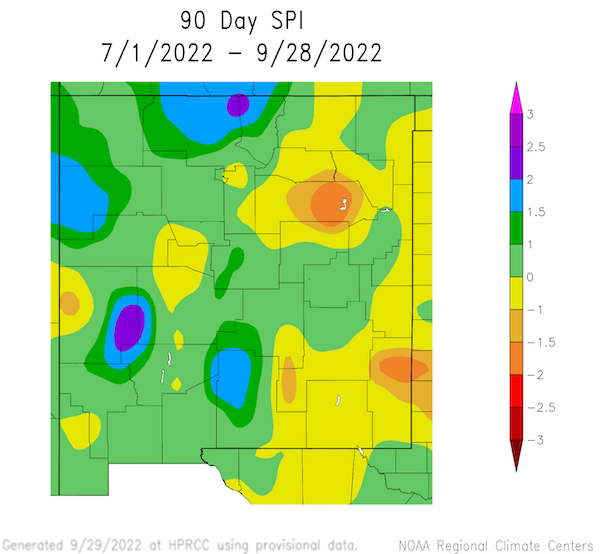 For More Information
NIDIS and its partners will issue future drought updates as conditions evolve.
More local information is available from the following resources:
Prepared By
Joel Lisonbee
NOAA/National Integrated Drought Information System (NIDIS), Southern Plains Drought Early Warning System and CIRES/CU Boulder
Gary McManus
Oklahoma State Climatologist, Oklahoma Mesonet, Oklahoma Climatological Survey
Chip Redmond
Kansas State University
Matthew Sittel
Kansas Assistant State Climatologist, Kansas State University
John Nielsen-Gammon
Texas State Climatologist, Texas A&M University
Southern Regional Climate Center
Victor Murphy
National Weather Service
Special Thanks
This drought status update is issued in partnership between the National Oceanic and Atmospheric Administration (NOAA) and the offices of the state climatologist for Texas, Oklahoma, New Mexico, and Kansas. The purpose of the update is to communicate a potential area of concern for drought expansion and/or development within the Southern Plains based on recent conditions and the upcoming forecast. NIDIS and its partners will issue future drought updates as conditions evolve.