Warning: Undefined variable $index in Drupal\responsive_bg_image_formatter\Plugin\Field\FieldFormatter\ResponsiveBgImageFormatter->viewElements() (line 95 of modules/custom/responsive_bg_image_formatter/src/Plugin/Field/FieldFormatter/ResponsiveBgImageFormatter.php).

Drupal\responsive_bg_image_formatter\Plugin\Field\FieldFormatter\ResponsiveBgImageFormatter->viewElements(Object, 'en') (Line: 89)
Drupal\Core\Field\FormatterBase->view(Object, 'en') (Line: 76)
Drupal\Core\Field\Plugin\Field\FieldFormatter\EntityReferenceFormatterBase->view(Object, NULL) (Line: 265)
Drupal\Core\Entity\Entity\EntityViewDisplay->buildMultiple(Array) (Line: 340)
Drupal\Core\Entity\EntityViewBuilder->buildComponents(Array, Array, Array, 'full') (Line: 24)
Drupal\node\NodeViewBuilder->buildComponents(Array, Array, Array, 'full') (Line: 282)
Drupal\Core\Entity\EntityViewBuilder->buildMultiple(Array) (Line: 239)
Drupal\Core\Entity\EntityViewBuilder->build(Array)
call_user_func_array(Array, Array) (Line: 101)
Drupal\Core\Render\Renderer->doTrustedCallback(Array, Array, 'Render #pre_render callbacks must be methods of a class that implements \Drupal\Core\Security\TrustedCallbackInterface or be an anonymous function. The callback was %s. See https://www.drupal.org/node/2966725', 'exception', 'Drupal\Core\Render\Element\RenderCallbackInterface') (Line: 788)
Drupal\Core\Render\Renderer->doCallback('#pre_render', Array, Array) (Line: 374)
Drupal\Core\Render\Renderer->doRender(Array, ) (Line: 204)
Drupal\Core\Render\Renderer->render(Array, ) (Line: 242)
Drupal\Core\Render\MainContent\HtmlRenderer->Drupal\Core\Render\MainContent\{closure}() (Line: 580)
Drupal\Core\Render\Renderer->executeInRenderContext(Object, Object) (Line: 243)
Drupal\Core\Render\MainContent\HtmlRenderer->prepare(Array, Object, Object) (Line: 132)
Drupal\Core\Render\MainContent\HtmlRenderer->renderResponse(Array, Object, Object) (Line: 90)
Drupal\Core\EventSubscriber\MainContentViewSubscriber->onViewRenderArray(Object, 'kernel.view', Object)
call_user_func(Array, Object, 'kernel.view', Object) (Line: 142)
Drupal\Component\EventDispatcher\ContainerAwareEventDispatcher->dispatch(Object, 'kernel.view') (Line: 174)
Symfony\Component\HttpKernel\HttpKernel->handleRaw(Object, 1) (Line: 81)
Symfony\Component\HttpKernel\HttpKernel->handle(Object, 1, 1) (Line: 58)
Drupal\Core\StackMiddleware\Session->handle(Object, 1, 1) (Line: 48)
Drupal\Core\StackMiddleware\KernelPreHandle->handle(Object, 1, 1) (Line: 191)
Drupal\page_cache\StackMiddleware\PageCache->fetch(Object, 1, 1) (Line: 128)
Drupal\page_cache\StackMiddleware\PageCache->lookup(Object, 1, 1) (Line: 82)
Drupal\page_cache\StackMiddleware\PageCache->handle(Object, 1, 1) (Line: 48)
Drupal\Core\StackMiddleware\ReverseProxyMiddleware->handle(Object, 1, 1) (Line: 51)
Drupal\Core\StackMiddleware\NegotiationMiddleware->handle(Object, 1, 1) (Line: 23)
Stack\StackedHttpKernel->handle(Object, 1, 1) (Line: 718)
Drupal\Core\DrupalKernel->handle(Object) (Line: 19)


Warning: Undefined array key "media" in Drupal\responsive_bg_image_formatter\Plugin\Field\FieldFormatter\ResponsiveBgImageFormatter->viewElements() (line 112 of modules/custom/responsive_bg_image_formatter/src/Plugin/Field/FieldFormatter/ResponsiveBgImageFormatter.php).

Drupal\responsive_bg_image_formatter\Plugin\Field\FieldFormatter\ResponsiveBgImageFormatter->viewElements(Object, 'en') (Line: 89)
Drupal\Core\Field\FormatterBase->view(Object, 'en') (Line: 76)
Drupal\Core\Field\Plugin\Field\FieldFormatter\EntityReferenceFormatterBase->view(Object, NULL) (Line: 265)
Drupal\Core\Entity\Entity\EntityViewDisplay->buildMultiple(Array) (Line: 340)
Drupal\Core\Entity\EntityViewBuilder->buildComponents(Array, Array, Array, 'full') (Line: 24)
Drupal\node\NodeViewBuilder->buildComponents(Array, Array, Array, 'full') (Line: 282)
Drupal\Core\Entity\EntityViewBuilder->buildMultiple(Array) (Line: 239)
Drupal\Core\Entity\EntityViewBuilder->build(Array)
call_user_func_array(Array, Array) (Line: 101)
Drupal\Core\Render\Renderer->doTrustedCallback(Array, Array, 'Render #pre_render callbacks must be methods of a class that implements \Drupal\Core\Security\TrustedCallbackInterface or be an anonymous function. The callback was %s. See https://www.drupal.org/node/2966725', 'exception', 'Drupal\Core\Render\Element\RenderCallbackInterface') (Line: 788)
Drupal\Core\Render\Renderer->doCallback('#pre_render', Array, Array) (Line: 374)
Drupal\Core\Render\Renderer->doRender(Array, ) (Line: 204)
Drupal\Core\Render\Renderer->render(Array, ) (Line: 242)
Drupal\Core\Render\MainContent\HtmlRenderer->Drupal\Core\Render\MainContent\{closure}() (Line: 580)
Drupal\Core\Render\Renderer->executeInRenderContext(Object, Object) (Line: 243)
Drupal\Core\Render\MainContent\HtmlRenderer->prepare(Array, Object, Object) (Line: 132)
Drupal\Core\Render\MainContent\HtmlRenderer->renderResponse(Array, Object, Object) (Line: 90)
Drupal\Core\EventSubscriber\MainContentViewSubscriber->onViewRenderArray(Object, 'kernel.view', Object)
call_user_func(Array, Object, 'kernel.view', Object) (Line: 142)
Drupal\Component\EventDispatcher\ContainerAwareEventDispatcher->dispatch(Object, 'kernel.view') (Line: 174)
Symfony\Component\HttpKernel\HttpKernel->handleRaw(Object, 1) (Line: 81)
Symfony\Component\HttpKernel\HttpKernel->handle(Object, 1, 1) (Line: 58)
Drupal\Core\StackMiddleware\Session->handle(Object, 1, 1) (Line: 48)
Drupal\Core\StackMiddleware\KernelPreHandle->handle(Object, 1, 1) (Line: 191)
Drupal\page_cache\StackMiddleware\PageCache->fetch(Object, 1, 1) (Line: 128)
Drupal\page_cache\StackMiddleware\PageCache->lookup(Object, 1, 1) (Line: 82)
Drupal\page_cache\StackMiddleware\PageCache->handle(Object, 1, 1) (Line: 48)
Drupal\Core\StackMiddleware\ReverseProxyMiddleware->handle(Object, 1, 1) (Line: 51)
Drupal\Core\StackMiddleware\NegotiationMiddleware->handle(Object, 1, 1) (Line: 23)
Stack\StackedHttpKernel->handle(Object, 1, 1) (Line: 718)
Drupal\Core\DrupalKernel->handle(Object) (Line: 19)


Deprecated function: str_replace(): Passing null to parameter #3 ($subject) of type array|string is deprecated in Drupal\responsive_bg_image_formatter\Plugin\Field\FieldFormatter\ResponsiveBgImageFormatter->viewElements() (line 126 of modules/custom/responsive_bg_image_formatter/src/Plugin/Field/FieldFormatter/ResponsiveBgImageFormatter.php).

Drupal\responsive_bg_image_formatter\Plugin\Field\FieldFormatter\ResponsiveBgImageFormatter->viewElements(Object, 'en') (Line: 89)
Drupal\Core\Field\FormatterBase->view(Object, 'en') (Line: 76)
Drupal\Core\Field\Plugin\Field\FieldFormatter\EntityReferenceFormatterBase->view(Object, NULL) (Line: 265)
Drupal\Core\Entity\Entity\EntityViewDisplay->buildMultiple(Array) (Line: 340)
Drupal\Core\Entity\EntityViewBuilder->buildComponents(Array, Array, Array, 'full') (Line: 24)
Drupal\node\NodeViewBuilder->buildComponents(Array, Array, Array, 'full') (Line: 282)
Drupal\Core\Entity\EntityViewBuilder->buildMultiple(Array) (Line: 239)
Drupal\Core\Entity\EntityViewBuilder->build(Array)
call_user_func_array(Array, Array) (Line: 101)
Drupal\Core\Render\Renderer->doTrustedCallback(Array, Array, 'Render #pre_render callbacks must be methods of a class that implements \Drupal\Core\Security\TrustedCallbackInterface or be an anonymous function. The callback was %s. See https://www.drupal.org/node/2966725', 'exception', 'Drupal\Core\Render\Element\RenderCallbackInterface') (Line: 788)
Drupal\Core\Render\Renderer->doCallback('#pre_render', Array, Array) (Line: 374)
Drupal\Core\Render\Renderer->doRender(Array, ) (Line: 204)
Drupal\Core\Render\Renderer->render(Array, ) (Line: 242)
Drupal\Core\Render\MainContent\HtmlRenderer->Drupal\Core\Render\MainContent\{closure}() (Line: 580)
Drupal\Core\Render\Renderer->executeInRenderContext(Object, Object) (Line: 243)
Drupal\Core\Render\MainContent\HtmlRenderer->prepare(Array, Object, Object) (Line: 132)
Drupal\Core\Render\MainContent\HtmlRenderer->renderResponse(Array, Object, Object) (Line: 90)
Drupal\Core\EventSubscriber\MainContentViewSubscriber->onViewRenderArray(Object, 'kernel.view', Object)
call_user_func(Array, Object, 'kernel.view', Object) (Line: 142)
Drupal\Component\EventDispatcher\ContainerAwareEventDispatcher->dispatch(Object, 'kernel.view') (Line: 174)
Symfony\Component\HttpKernel\HttpKernel->handleRaw(Object, 1) (Line: 81)
Symfony\Component\HttpKernel\HttpKernel->handle(Object, 1, 1) (Line: 58)
Drupal\Core\StackMiddleware\Session->handle(Object, 1, 1) (Line: 48)
Drupal\Core\StackMiddleware\KernelPreHandle->handle(Object, 1, 1) (Line: 191)
Drupal\page_cache\StackMiddleware\PageCache->fetch(Object, 1, 1) (Line: 128)
Drupal\page_cache\StackMiddleware\PageCache->lookup(Object, 1, 1) (Line: 82)
Drupal\page_cache\StackMiddleware\PageCache->handle(Object, 1, 1) (Line: 48)
Drupal\Core\StackMiddleware\ReverseProxyMiddleware->handle(Object, 1, 1) (Line: 51)
Drupal\Core\StackMiddleware\NegotiationMiddleware->handle(Object, 1, 1) (Line: 23)
Stack\StackedHttpKernel->handle(Object, 1, 1) (Line: 718)
Drupal\Core\DrupalKernel->handle(Object) (Line: 19)


Warning: Undefined array key "media" in Drupal\responsive_bg_image_formatter\Plugin\Field\FieldFormatter\ResponsiveBgImageFormatter->viewElements() (line 112 of modules/custom/responsive_bg_image_formatter/src/Plugin/Field/FieldFormatter/ResponsiveBgImageFormatter.php).

Drupal\responsive_bg_image_formatter\Plugin\Field\FieldFormatter\ResponsiveBgImageFormatter->viewElements(Object, 'en') (Line: 89)
Drupal\Core\Field\FormatterBase->view(Object, 'en') (Line: 76)
Drupal\Core\Field\Plugin\Field\FieldFormatter\EntityReferenceFormatterBase->view(Object, NULL) (Line: 265)
Drupal\Core\Entity\Entity\EntityViewDisplay->buildMultiple(Array) (Line: 340)
Drupal\Core\Entity\EntityViewBuilder->buildComponents(Array, Array, Array, 'full') (Line: 24)
Drupal\node\NodeViewBuilder->buildComponents(Array, Array, Array, 'full') (Line: 282)
Drupal\Core\Entity\EntityViewBuilder->buildMultiple(Array) (Line: 239)
Drupal\Core\Entity\EntityViewBuilder->build(Array)
call_user_func_array(Array, Array) (Line: 101)
Drupal\Core\Render\Renderer->doTrustedCallback(Array, Array, 'Render #pre_render callbacks must be methods of a class that implements \Drupal\Core\Security\TrustedCallbackInterface or be an anonymous function. The callback was %s. See https://www.drupal.org/node/2966725', 'exception', 'Drupal\Core\Render\Element\RenderCallbackInterface') (Line: 788)
Drupal\Core\Render\Renderer->doCallback('#pre_render', Array, Array) (Line: 374)
Drupal\Core\Render\Renderer->doRender(Array, ) (Line: 204)
Drupal\Core\Render\Renderer->render(Array, ) (Line: 242)
Drupal\Core\Render\MainContent\HtmlRenderer->Drupal\Core\Render\MainContent\{closure}() (Line: 580)
Drupal\Core\Render\Renderer->executeInRenderContext(Object, Object) (Line: 243)
Drupal\Core\Render\MainContent\HtmlRenderer->prepare(Array, Object, Object) (Line: 132)
Drupal\Core\Render\MainContent\HtmlRenderer->renderResponse(Array, Object, Object) (Line: 90)
Drupal\Core\EventSubscriber\MainContentViewSubscriber->onViewRenderArray(Object, 'kernel.view', Object)
call_user_func(Array, Object, 'kernel.view', Object) (Line: 142)
Drupal\Component\EventDispatcher\ContainerAwareEventDispatcher->dispatch(Object, 'kernel.view') (Line: 174)
Symfony\Component\HttpKernel\HttpKernel->handleRaw(Object, 1) (Line: 81)
Symfony\Component\HttpKernel\HttpKernel->handle(Object, 1, 1) (Line: 58)
Drupal\Core\StackMiddleware\Session->handle(Object, 1, 1) (Line: 48)
Drupal\Core\StackMiddleware\KernelPreHandle->handle(Object, 1, 1) (Line: 191)
Drupal\page_cache\StackMiddleware\PageCache->fetch(Object, 1, 1) (Line: 128)
Drupal\page_cache\StackMiddleware\PageCache->lookup(Object, 1, 1) (Line: 82)
Drupal\page_cache\StackMiddleware\PageCache->handle(Object, 1, 1) (Line: 48)
Drupal\Core\StackMiddleware\ReverseProxyMiddleware->handle(Object, 1, 1) (Line: 51)
Drupal\Core\StackMiddleware\NegotiationMiddleware->handle(Object, 1, 1) (Line: 23)
Stack\StackedHttpKernel->handle(Object, 1, 1) (Line: 718)
Drupal\Core\DrupalKernel->handle(Object) (Line: 19)


Warning: Undefined array key "media" in Drupal\responsive_bg_image_formatter\Plugin\Field\FieldFormatter\ResponsiveBgImageFormatter->viewElements() (line 112 of modules/custom/responsive_bg_image_formatter/src/Plugin/Field/FieldFormatter/ResponsiveBgImageFormatter.php).

Drupal\responsive_bg_image_formatter\Plugin\Field\FieldFormatter\ResponsiveBgImageFormatter->viewElements(Object, 'en') (Line: 89)
Drupal\Core\Field\FormatterBase->view(Object, 'en') (Line: 76)
Drupal\Core\Field\Plugin\Field\FieldFormatter\EntityReferenceFormatterBase->view(Object, NULL) (Line: 265)
Drupal\Core\Entity\Entity\EntityViewDisplay->buildMultiple(Array) (Line: 340)
Drupal\Core\Entity\EntityViewBuilder->buildComponents(Array, Array, Array, 'full') (Line: 24)
Drupal\node\NodeViewBuilder->buildComponents(Array, Array, Array, 'full') (Line: 282)
Drupal\Core\Entity\EntityViewBuilder->buildMultiple(Array) (Line: 239)
Drupal\Core\Entity\EntityViewBuilder->build(Array)
call_user_func_array(Array, Array) (Line: 101)
Drupal\Core\Render\Renderer->doTrustedCallback(Array, Array, 'Render #pre_render callbacks must be methods of a class that implements \Drupal\Core\Security\TrustedCallbackInterface or be an anonymous function. The callback was %s. See https://www.drupal.org/node/2966725', 'exception', 'Drupal\Core\Render\Element\RenderCallbackInterface') (Line: 788)
Drupal\Core\Render\Renderer->doCallback('#pre_render', Array, Array) (Line: 374)
Drupal\Core\Render\Renderer->doRender(Array, ) (Line: 204)
Drupal\Core\Render\Renderer->render(Array, ) (Line: 242)
Drupal\Core\Render\MainContent\HtmlRenderer->Drupal\Core\Render\MainContent\{closure}() (Line: 580)
Drupal\Core\Render\Renderer->executeInRenderContext(Object, Object) (Line: 243)
Drupal\Core\Render\MainContent\HtmlRenderer->prepare(Array, Object, Object) (Line: 132)
Drupal\Core\Render\MainContent\HtmlRenderer->renderResponse(Array, Object, Object) (Line: 90)
Drupal\Core\EventSubscriber\MainContentViewSubscriber->onViewRenderArray(Object, 'kernel.view', Object)
call_user_func(Array, Object, 'kernel.view', Object) (Line: 142)
Drupal\Component\EventDispatcher\ContainerAwareEventDispatcher->dispatch(Object, 'kernel.view') (Line: 174)
Symfony\Component\HttpKernel\HttpKernel->handleRaw(Object, 1) (Line: 81)
Symfony\Component\HttpKernel\HttpKernel->handle(Object, 1, 1) (Line: 58)
Drupal\Core\StackMiddleware\Session->handle(Object, 1, 1) (Line: 48)
Drupal\Core\StackMiddleware\KernelPreHandle->handle(Object, 1, 1) (Line: 191)
Drupal\page_cache\StackMiddleware\PageCache->fetch(Object, 1, 1) (Line: 128)
Drupal\page_cache\StackMiddleware\PageCache->lookup(Object, 1, 1) (Line: 82)
Drupal\page_cache\StackMiddleware\PageCache->handle(Object, 1, 1) (Line: 48)
Drupal\Core\StackMiddleware\ReverseProxyMiddleware->handle(Object, 1, 1) (Line: 51)
Drupal\Core\StackMiddleware\NegotiationMiddleware->handle(Object, 1, 1) (Line: 23)
Stack\StackedHttpKernel->handle(Object, 1, 1) (Line: 718)
Drupal\Core\DrupalKernel->handle(Object) (Line: 19)


Warning: Undefined variable $index in Drupal\responsive_bg_image_formatter\Plugin\Field\FieldFormatter\ResponsiveBgImageFormatter->viewElements() (line 153 of modules/custom/responsive_bg_image_formatter/src/Plugin/Field/FieldFormatter/ResponsiveBgImageFormatter.php).

Drupal\responsive_bg_image_formatter\Plugin\Field\FieldFormatter\ResponsiveBgImageFormatter->viewElements(Object, 'en') (Line: 89)
Drupal\Core\Field\FormatterBase->view(Object, 'en') (Line: 76)
Drupal\Core\Field\Plugin\Field\FieldFormatter\EntityReferenceFormatterBase->view(Object, NULL) (Line: 265)
Drupal\Core\Entity\Entity\EntityViewDisplay->buildMultiple(Array) (Line: 340)
Drupal\Core\Entity\EntityViewBuilder->buildComponents(Array, Array, Array, 'full') (Line: 24)
Drupal\node\NodeViewBuilder->buildComponents(Array, Array, Array, 'full') (Line: 282)
Drupal\Core\Entity\EntityViewBuilder->buildMultiple(Array) (Line: 239)
Drupal\Core\Entity\EntityViewBuilder->build(Array)
call_user_func_array(Array, Array) (Line: 101)
Drupal\Core\Render\Renderer->doTrustedCallback(Array, Array, 'Render #pre_render callbacks must be methods of a class that implements \Drupal\Core\Security\TrustedCallbackInterface or be an anonymous function. The callback was %s. See https://www.drupal.org/node/2966725', 'exception', 'Drupal\Core\Render\Element\RenderCallbackInterface') (Line: 788)
Drupal\Core\Render\Renderer->doCallback('#pre_render', Array, Array) (Line: 374)
Drupal\Core\Render\Renderer->doRender(Array, ) (Line: 204)
Drupal\Core\Render\Renderer->render(Array, ) (Line: 242)
Drupal\Core\Render\MainContent\HtmlRenderer->Drupal\Core\Render\MainContent\{closure}() (Line: 580)
Drupal\Core\Render\Renderer->executeInRenderContext(Object, Object) (Line: 243)
Drupal\Core\Render\MainContent\HtmlRenderer->prepare(Array, Object, Object) (Line: 132)
Drupal\Core\Render\MainContent\HtmlRenderer->renderResponse(Array, Object, Object) (Line: 90)
Drupal\Core\EventSubscriber\MainContentViewSubscriber->onViewRenderArray(Object, 'kernel.view', Object)
call_user_func(Array, Object, 'kernel.view', Object) (Line: 142)
Drupal\Component\EventDispatcher\ContainerAwareEventDispatcher->dispatch(Object, 'kernel.view') (Line: 174)
Symfony\Component\HttpKernel\HttpKernel->handleRaw(Object, 1) (Line: 81)
Symfony\Component\HttpKernel\HttpKernel->handle(Object, 1, 1) (Line: 58)
Drupal\Core\StackMiddleware\Session->handle(Object, 1, 1) (Line: 48)
Drupal\Core\StackMiddleware\KernelPreHandle->handle(Object, 1, 1) (Line: 191)
Drupal\page_cache\StackMiddleware\PageCache->fetch(Object, 1, 1) (Line: 128)
Drupal\page_cache\StackMiddleware\PageCache->lookup(Object, 1, 1) (Line: 82)
Drupal\page_cache\StackMiddleware\PageCache->handle(Object, 1, 1) (Line: 48)
Drupal\Core\StackMiddleware\ReverseProxyMiddleware->handle(Object, 1, 1) (Line: 51)
Drupal\Core\StackMiddleware\NegotiationMiddleware->handle(Object, 1, 1) (Line: 23)
Stack\StackedHttpKernel->handle(Object, 1, 1) (Line: 718)
Drupal\Core\DrupalKernel->handle(Object) (Line: 19)

Site Section
News & Events
Sub-Seasonal Climate Forecast Rodeo Winners Announced
Published on
March 21, 2019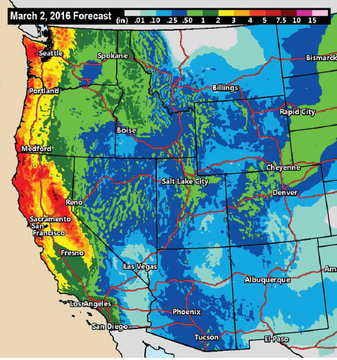 Kicked off in March 2017, the Sub-Seasonal Climate Forecast Rodeo comprised of a year-long, real-time forecasting competition. The Bureau of Reclamation sponsored the competition in partnership with the National Oceanic and Atmospheric Administration (NOAA), U.S. Geological Survey, U.S. Army Corps of Engineers, and California Department of Water Resources.
Competition Results
-- Click here to view the Rodeo Leaderboard and Forecast Results --
-- Click here to read the press release from the Bureau of Reclamation --
A big congratulations to all of the teams that participated. In all four of the competition categories, teams outperformed the benchmark forecasts. Of the six teams that participated in the year-long portion of the competition, three ultimately met all criteria for receiving a prize award:
Team Salient | Total prize of $250,000
Raymond Schmitt of Woods Hole, Massachusetts
Stephen Schmitt of Cambridge, Massachusetts
Eric Schmitt of Boston, Massachusetts
Team StillLearning | Total prize of $200,000
Lester Mackey of Arlington, Massachusetts
Judah Cohen and Ernest Fraenkel of Newton, Massachusetts
Jessica Hwang and Paulo Orenstein of Stanford, California
Team Lupoa13 | Total prize of $75,000
Anthony Lupo and Joseph Renken of Columbia, Missouri
Joshua Herman of Oshkosh, Wisconsin
Teams PRXWX (led by Richard James of Prescient Weather) and bgzimmerman (Brian Zimmerman) also out performed the benchmarks over the 12-month competition; however, they partnered to integrate bgzimmerman's solution into Prescient Weather's commercial forecast product rather than seek a competition prize.
Sub-Seasonal Forecast Rodeo II
Reclamation is planning to launch Sub-Seasonal Forecast Rodeo II this summer to further improve sub-seasonal forecast skill and engage an even broader community of solvers.
Competition Background
Competitors submitted forecasts of temperature and precipitation for one year, competing in real-time against the other teams as well as official forecasts from NOAA. A variety of prizes were to be awarded as part of this competition, the total of which was $800,000. The prize categories were based on skill at two outlook timescales (temperature at weeks 3-4 and at weeks 5-6; precipitation at weeks 3-4 and at weeks 5-6). Teams that outperformed these benchmarks in the real-time portion of the competition and also meet hind-cast and documentation requirements were eligible for prizes. 
Improved sub-seasonal forecasts for weather and climate conditions (lead-times ranging from 15 to 45 days and beyond) would allow water managers to better prepare for shifts in hydrologic regimes such as the onset of drought or occurrence of wet weather extremes. The challenge with sub-seasonal weather and climate forecasting is that it encompasses the time frame where initial state or condition information and slowly varying long-term states, such as sea surface temperature, soil moisture, and snowpack, become more important to predictions. In addition, the relative importance of the initial state or condition, versus the longer term state, depends on the lead time, region of interest, and time of year.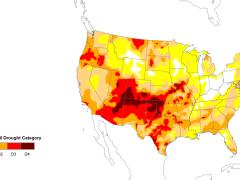 Published on
March 19, 2019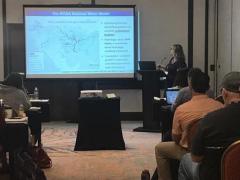 Published on
April 4, 2019