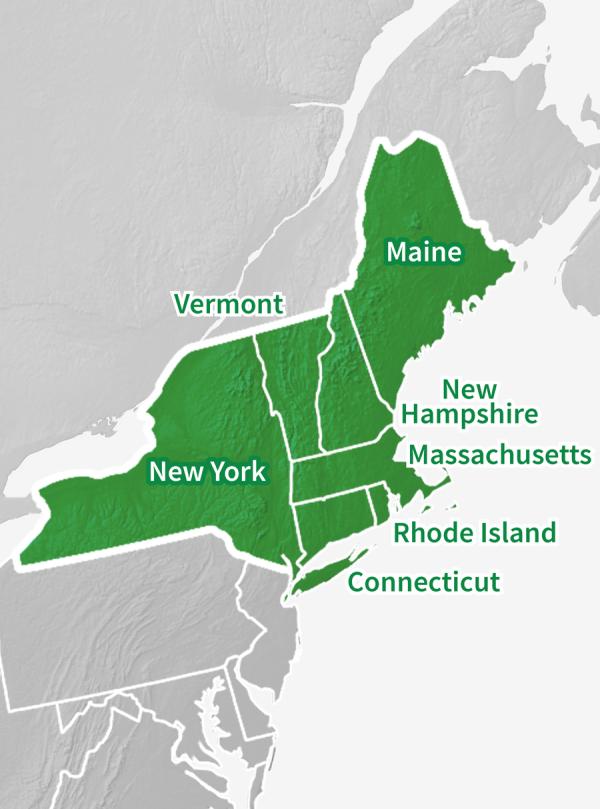 Site Section
Drought Early Warning System
Northeast
The Northeast DEWS consists of the New England states and the state of New York. Known best for its autumn foliage, thick forests, rocky soils, and abundant freshwater resources, the northeastern United States is characterized by a diverse climate that is not often associated with drought. However, in 2000, 2016, and 2020, New York and New England experienced historic drought conditions not seen since the 1960s. The Northeast also frequently experiences "flash" droughts—short-term intense dry periods that can follow a period of normal to above-normal precipitation. While these flash droughts may last only 2–6 months, they can have profound impacts on a local region, resulting in shortages in public water supplies and very low streamflows. The Northeast DEWS is a collaborative federal, regional, state, and local interagency effort to improve drought early warning capacity and build long-term drought resilience throughout New England and New York.
Primary contact: Sylvia Reeves, Regional Drought Information Coordinator
The 2022–2026 Northeast Drought Early Warning System (DEWS) Strategic Action Plan documents regionally identified needs and offers a guide for future activities that will improve drought early warning and preparedness in the Northeast DEWS. Partners from across New England and New York attended virtual listening sessions in late 2020 and 2021 to discuss progress made and identify next steps and priorities for the region.
Regional Activities
Regional Activities Summary
The following table highlights activities in the Northeast that are ongoing efforts related to drought, involve multiple partners, serve as a unique way to address regional drought needs, and are related to at least one of the components of drought early warning. Please contact Sylvia Reeves (sylvia.reeves@noaa.gov) for more information about the table or to inquire about getting an activity added to the list.
Description
During the 2020 Northeast drought, the NIDIS communications team and the Northeast DEWS team published weekly updates on drought impacts and forecast…
Key Partners
NIDIS, Northeast Regional Climate Center, NOAA, USDA Northeast Climate Hub, U.S. Geological Survey, American Association of State Climatologists
Description
The Northeast Regional Climate Center (NRCC) uses a Google listserv to collect and share information on drought conditions. The listserv allows for…
Key Partners
Northeast Regional Climate Center
Description
Beginning in June 2020, Northeast DEWS region states held drought response coordination meetings. Current condition reports and forecasts from water…
Key Partners
NIDIS, NOAA, Northeast Regional Climate Center