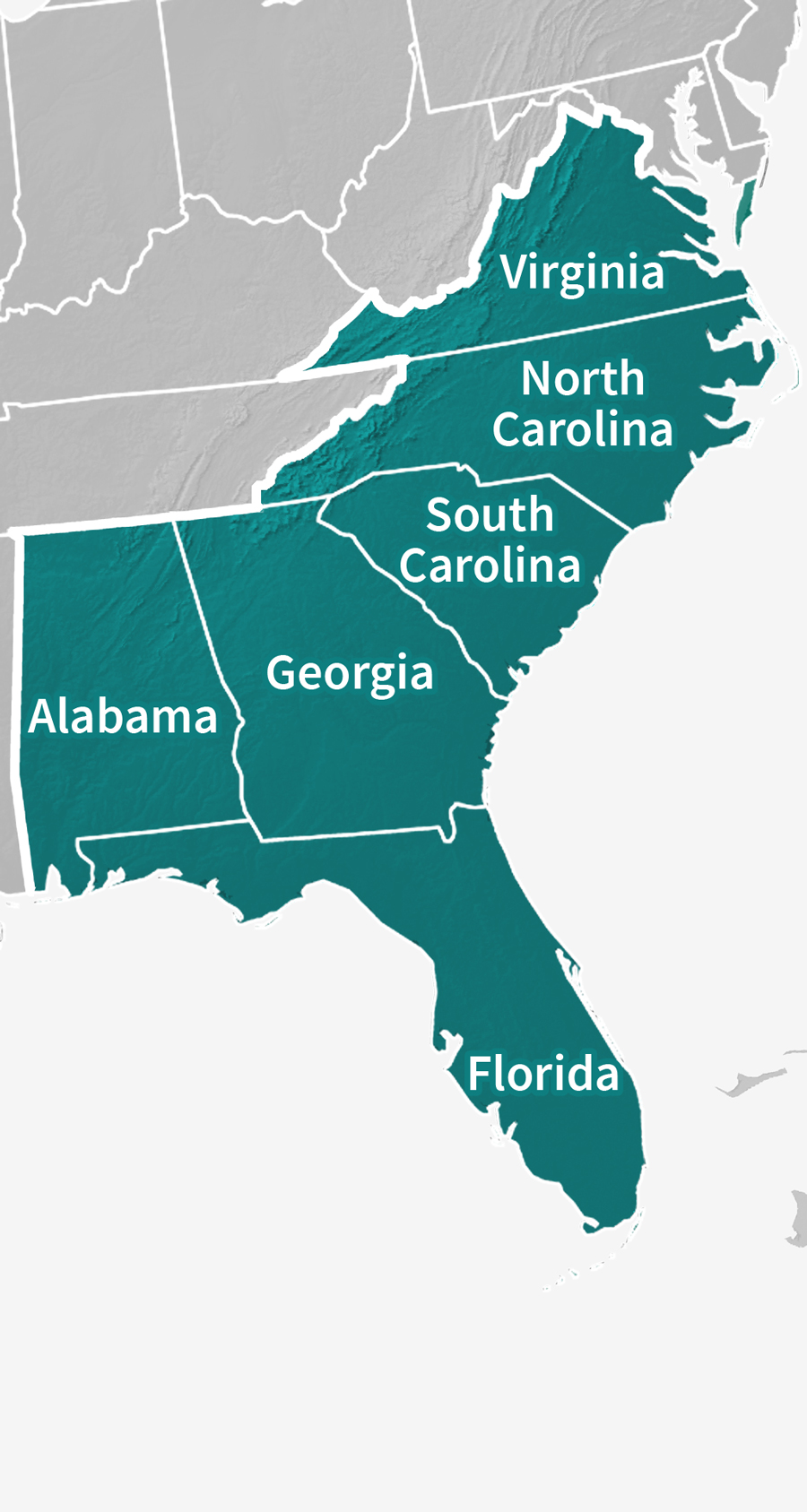 Site Section
Drought Early Warning System
Southeast
The Southeast region generally receives substantial precipitation and is often considered water rich. However, the region is increasingly experiencing record-breaking droughts, highlighting competing water demands. Drought conditions can develop rapidly in the Southeast, especially when the lack of rain and high temperatures combine to increase evapotranspiration of water in the soils. Recurring droughts in 2009 led NIDIS to establish the Apalachicola-Chattahoochee-Flint (ACF) River Basin Drought Early Warning System (DEWS) because of the breadth and complexity of the Basin's ongoing water management challenges. The Coastal Carolinas DEWS was established in 2012 following a series of droughts that exposed existing and emerging drought vulnerabilities that are particular to coastal regions. 
Recognizing a need to improve drought early warning across the full geographic footprint of the Southeast, and in response to requests from regional stakeholders, NIDIS launched a newly expanded Southeast DEWS in 2020. This Southeast DEWS will build on the partnerships and successes from the ACF River Basin and Coastal Carolinas DEWS, while replacing these two DEWS with a larger geographic footprint that allows for enhanced information sharing across this unique region. The Southeast DEWS is a collaborative federal, regional, state, and local interagency effort to improve drought early warning capacity and build long-term drought resilience throughout the region.
Primary contact: Meredith Muth, Regional Drought Information Coordinator
This regional gathering on August 9–10, 2022 in Atlanta, Georgia will bring together partners for the first time under the newly established Southeast Drought Early Warning System (SE DEWS) network to share and discuss ongoing drought-related activities, learn about new and innovative drought research and resources, explore emerging issues and opportunities, and identify collaborative paths forward that advance drought early warning and preparedness in this region.
Regional Activities
Regional Activities Summary
The following table highlights activities in the Southeast that are ongoing efforts related to drought, involve multiple partners, serve as a unique way to address regional drought needs, and are related to at least one of the components of drought early warning. Please contact Meredith Muth (meredith.f.muth@noaa.gov) for more information about the table or to inquire about getting an activity added to the list.